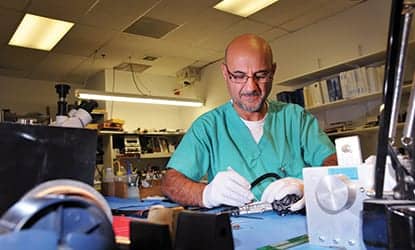 Ramez Issa, biomedical equipment specialist senior III, inspects a high-definition gastroscope.
Mixing a business approach with a patient-centric focus, the team at Thomas Jefferson University Hospitals delivers innovative and effective solutions
By Renee Diiulio
Patient-centric? Check. Smart business? Check. The right people? Check. Three checks, and a proposal is a go. Any less than that, and the biomedical instrumentation department at Thomas Jefferson University Hospitals health care system in Philadelphia will find another way.
"We are very patient-centric, but we manage the department as a business," says Mark Heston, MS, CBET, the biomedical instrumentation department's director. Customers are constantly surveyed for business needs, and new ideas are evaluated with an eye toward long-term economic feasibility.
Team member Jay O'Connor is not only a clinical engineer, but he also holds the title manager of business development and handles the outreach responsibilities. As he recounts the history of successful initiatives, the first chapter in each story includes the words, "We created a business plan."
The approach has led to numerous successes for the department, and the group has served as a role model for many others. One of the first area hospitals to form a biomedical instrumentation department some 30 years ago, the team was asked for and shared its expertise with neighboring hospitals exploring the opportunity, as well as developed an arm that provides actual services to outside clients. Today, a division of the department continues to be devoted to providing repair and maintenance to health care facilities outside of the Thomas Jefferson University Hospitals health system—and it generates revenue doing so.
The department is now blazing a trail in surgical instrument repair and maintenance, and finds that it is fielding more requests for information regarding its instrument repair program. Initiated 12 years ago through a hospital administration looking to reduce costs, the effort resulted in a new facility where roughly 95% of the surgical instruments at Thomas Jefferson University Hospitals are repaired and sharpened—plus some of those for outside clients.
"One of the good things about having an in-house program is that we can perfect a service in-house and then offer it to outside hospitals," says Tom McLaughlin, MBA, clinical engineer. He lists sterilization services, imaging support, and the surgical repair service center as examples. However, with the broad scope of the health care system, there continue to be opportunities for innovation.
The team of 75 staff manages 61,000 devices and 200,000 surgical instruments. The in-house facilities include three hospitals: Thomas Jefferson University Hospital—Center City Campus, the Jefferson Hospital for Neuroscience, and Methodist Hospital, all three in Philadelphia. Outside clients, including competing hospitals, surgical centers, and physician offices, are spread throughout the tri-state area of Philadelphia, Delaware, and New Jersey. The team also handles some mission work for groups such as Operation Smile and Doctors Without Borders/Médicins Sans Frontières. Workload among the team is divided by specialty and/or location: some biomeds do one thing at multiple hospitals (eg, CT repair and maintenance), while others do many things at one location.
When a business plan is created for a new venture, it factors patient care and instrument uptime into cost/value equations.
Getting the disparate group together can be a challenge, but the entire team does gather about four times a year. All other communication takes places via typical methods, including a lot of e-mail. "The objective is to make sure everyone knows everybody on the team," O'Connor says.
The camaraderie fosters collaboration, sometimes key to getting things done. "We rely on other technicians if we need something that department can do," says Fred Bergmann, surgical instrument repair specialist at Thomas Jefferson University Hospital.
The strong support within the department means strong support both for clients and from clients as well. The hospital administration and clinical departments are happy to work with biomedical engineering because of its successful history improving patient care, providing economic value, and delivering great customer service.
In-House Model
Approximately half of the clinical engineering team at Thomas Jefferson University Hospitals works at one of the three main facilities; the department reports to the chief information officer. Each hospital has a core group of personnel who manages the general inventory, but they also share personnel for specialty services among the facilities, such as sterilizer, analyzer, and clinical laboratory support.
Each program has been tailored to meet the specific needs of the department being served and the health care system as a whole. For instance, the scope of the clinical laboratory service has changed over the years. Nineteen years ago, the group saw opportunity in the clinical labs and began servicing them with the objective of including the larger analyzers within the mix.
"But with the cost of training, the rapid advances in technology—they swap out analyzers every 2 years—and the better economies of reagent agreements, we decided it wasn't in our best interests to continue down that line," McLaughlin says. Today, a team of four individuals handles the smaller equipment, while the more complex instruments are managed through reagent agreements and service contracts.
Those contracts, along with all of the other service contracts throughout the Thomas Jefferson University Hospitals system, fall under the purview of the biomedical instrumentation department, a transition that occurred about 15 years ago as a result of meetings with administration. "It made sense to have all of the contracts in one depository, and since we were essentially the holders of that technology, it made sense for us to be that depository," O'Connor says. In addition, Heston notes, clinical engineering has the expertise as well as the vendor relationships.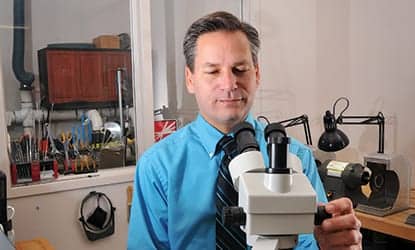 Tom McLaughlin, MBA, clinical engineer, inspects a surgical instrument.
With all of the contracts in hand, the biomedical instrumentation team was able to deliver significant cost savings. Some agreements were renegotiated to reflect a larger inventory. "For some types of equipment, there were two different service contracts with the same vendor for two different departments," O'Connor explains. Others were altered to include training. Both moves saved money for the hospitals.
More importantly, however, singular-department contract management has also helped to ensure better service to clinical clients and improved care for patients. When a business plan is created for a new venture, items such as patient care and instrument uptime are factored into cost/value equations. In the clinical laboratory, the cost did not justify the expense; in imaging, however, the effort has been well worth it.
The biomed group assumes responsibility for at least first look on the majority of the modalities, including CT, MR, and linear accelerators. The latter were brought in-house about 20 years ago when hospital administration asked how to improve uptime and, subsequently, patient outcomes and satisfaction.
"Many of our patients have to travel quite a distance for their treatments, and if a machine is down, then they are not only inconvenienced but risk negative consequences as a result of a missed treatment," Heston says.
In response, the team wrote up a business plan to decipher whether it was economically sensible and feasible to take on the training, risk, and liability. "We found that if we hired trained engineers, it was an opportunity to save on many first-look calls where the machine had a simple malfunction or needed a reset," O'Connor says.
Over time, the group was able to negotiate manufacturer training into its service contracts. Five engineers (two with manufacturer experience and the others trained in-house) now currently service the 12 linear accelerators in the inventory, which are located within seven facilities. Heston notes uptime is currently greater than 98%.
"We do a lot of the major repairs as far as tube changes, board replacements, PMs, calibrations, and such, which has reduced our costs and dependency on the manufacturer, but at the same time has allowed the manufacturer to employ fewer people in the area to support our inventory," O'Connor says, noting the win-win philosophy drives most of the team's negotiations.
Ideal Outreach
The win-win mentality was a key driving force behind the development of the Jeff Tech arm of the Thomas Jefferson University Hospitals' biomedical instrumentation department. "We provide the community a service, broaden our scope of experience, and happen to make a little money," Heston says.
Jeff Tech started as an offshoot of the biomedical department in response to requests from neighboring health care facilities for information about what was then a new concept. "We had sought out the right people and brought them in to initiate a biomedical engineering program, and word spread around town. Other area hospitals asked for our help, and Jeff Tech was formed," O'Connor recalls.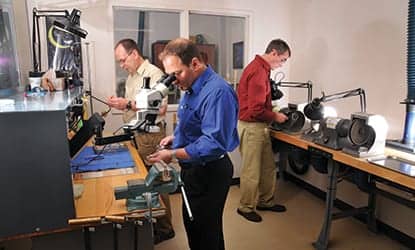 Surgical Instrument Repair Specialists Fred Bergmann (foreground), Joseph Muolo (back left), and Jack Leonard work at different work stations within the surgical instrument repair shop.
Today, the group—which employs the other half of the Thomas Jefferson University Hospitals' biomedical instrumentation department—services roughly 12 hospitals along with surgical centers and physician offices. Workload is divided similarly to the in-house structure with on-site generalists and mobile specialists. "By having technicians who work solely on specialized modalities, such as radiology, CT, MR, ultrasound, anesthesia, and sterilizers, we can reduce our overhead and offer competitive prices," O'Connor says.
This has enabled the team to expand its market into smaller centers, such as surgery clinics and physician offices, which do not normally offer a profit to larger organizations. Again, the situation is a win-win. "The centers save money by eliminating full vendor support, the vendors save money eliminating low-profit centers, and we have the opportunity to bring in revenue and employ some people," O'Connor says.
The Thomas Jefferson University Hospitals health care system as a whole benefits from the specialized expertise as well, bringing in some of the outside client technicians for in-house initiatives when needed. "We've taken on some extremely expensive projects, such as CT and MR, but have been able to subsidize them by using some of the outside employees," O'Connor says.
It is also why communication among the group is so important. Shared expertise is a clear advantage to such a large team and one in which a large proportion of technicians are nearing retirement age. New-hires are mentored to expose them to typical and atypical maintenance, and a mix of experience exists on every team to ensure different, but valued, perspectives. A technical career ladder provides opportunity, though Heston admits a leadership track could be better developed.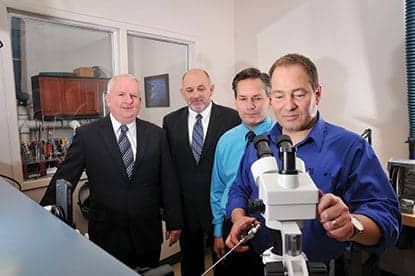 L-R: Jay O'Connor, clinical engineer, Mark Heston, MS, and Tom McLaughlin, MBA, look on while Fred Bergmann inspects a surgical instrument repair.
Most importantly, however, the supportive atmosphere scores big points with team members. Bergmann notes that the attitude appealed to him when he first came to the hospital as a vendor representative and was what drew him to accept a position working within the surgical repair and maintenance center.
Sharp Plan
"It was great to come into a situation where the hospital was willing to make the necessary investment to ensure a world-class facility," Bergmann says. "One of the first things we saw when we came in was that the facility has an expensive dust-removal system, making it almost completely dust-free, and we knew right away this was going to be an exciting opportunity."
A division of the department provides maintenance to health care facilities outside of the health system—and it generates revenue doing so.
The facility has all of the equipment and space to perform almost any kind of repair. "There are some processes that don't make sense to do at our facility because of the environmental concerns and we send those out, but we handle more than 95% of the instrumentation, perhaps as much as 98%," Bergmann estimates.
The surgical repair and maintenance center works primarily on surgical equipment, including scopes and drills. When the biomedical department was first approached by hospital administration 12 years ago, they were interested in reducing the amount of money—upward of half a million dollars, O'Connor estimates—spent on the sharpening and repair of these varied tools. The existing processes of using vendors, both on-site in mobile units and off-site through shipping, were typical but expensive.
The biomed team worked on a business plan to determine the best way to accomplish the goal. "Our analysis showed that if we could bring the service in-house, there could be significant savings," O'Connor says.
First, they had to get the OR teams on board, which took a little time. "We've always had a good relationship with the department, but now we are really partners in terms of processes and product, and we work together quite well," Heston says.
Next came developing the right team and the right space. They identified a location in close proximity to the hospital (the real estate on-site was too expensive) as well as other services, such as FedEx, and a new facility was built. Bergmann, whose early career was spent with manufacturers making surgical instruments for ophthalmology procedures and as a machinist, was brought in along with two other technicians, all with similar experience to ensure they could "hit the ground running."
"Anyone can fix an instrument or ventilator, but if you don't have the right people working together, it will never work. So the administration allows us to wait and make sure we hire the correct people," O'Connor says. The approach helps to avoid learning curves that could result in short-term complications.
Sharper Performance
Expertise was important for the surgical repair initiative because the objective was to take on as much of the instrumentation as it could. Most of the surgical instrumentation is kept in sets coordinated by procedure. Before work could start on maintenance, however, the group wanted to ensure that all of the backup instrumentation was in proper working order and all malfunctioning equipment was purged.
"We knew once we started going through the instrument sets, we would find some in poor working condition, but we didn't realize the scope until we started the project," Bergmann says. "We wound up working on 26,000 to 28,000 of the backup instruments before we even started the maintenance program."
It still represented a smart business move. The extra step, though more involved than expected, brought unseen advantages. "It gave us an opportunity to identify the tools we wanted to add to support the maintenance program, and we were able to make a very large impact before it even started, which really helped to gain buy-in from the clinical staff," Bergmann says.
Today, equipment is tracked through a database that pulls sets for maintenance based on the number of uses. For instance, "we may put a threshold of 25 or 30 surgical uses on a set, and when it reaches that number, the system lists it on a routine report identifying instrumentation that needs service," Bergmann says. In this way, the department ensures that all of the instruments used in the hospital are seen on a regular basis.
The workload—estimated conservatively at 200,000 instruments but quite possibly closer to 300,000, according to Bergmann—is enough to keep three technicians busy on a full-time basis on the day shift; rarely is 24-hour service needed. Most of the tasks involve sharpening and repair, but the team does respond to more unusual requests.
"Each doctor likes to have his trays serviced a little differently to match his comfort level, and as part of the hospital team, we can respond to those requests," Bergmann says. The team meets regularly with the surgical departments to obtain these preferences and tracks them in the database. Occasionally, they get requests for modified equipment.
The team mentors new-hires to expose them to atypical maintenance and a mix of experience to ensure different, but valued, perspectives.
"Our surgeons are cutting edge and have developed many new procedures, so they often work with manufacturers to develop corresponding tools. Sometimes, we make the modifications in advance so they can form an idea of what exactly they want from the outside vendor," Bergmann says.
Once again, the biomed team's business plan delivered everyone with a win. The surgical teams enjoy customized service, the patients receive better care, and the hospital garners significant savings, as much as 50%, according to Heston's estimate—and that is just on maintenance costs.
O'Connor believes the routine service has saved money on capital expenditures through longer equipment life cycles, and by bringing in outside contracts, the center is able to generate some revenue as well, which helped to offset the initial investment, O'Connor notes.
Word is now getting around the city, and the country, again, and the team has been approached by other facilities requesting more information. The group recently trained staff for a hospital in Maryland to implement its own surgical equipment sharpening and repair program. "It won't be nearly as intense as ours, but it's a start so they can begin to reduce costs in that area," O'Connor says.
He would not recommend the move for a small community hospital, but larger systems with multiple hospitals could consider whether such a move makes sense for them—using a business plan, of course, and checking: Is it patient-centric? Will it be smart business? Do we have the right people? Three checks, and it's a go. 24×7 Cover profile November 2012
Renee Diiulio is a contributing writer for 24×7. For more information, contact the editor.
Winning Hearts
The biomedical instrumentation department of Thomas Jefferson University Hospitals is used to requests for information from local and national health care organizations. It always responds, viewing the sharing of information as a benefit for all.

One of the first area hospitals to create a biomedical department, it served as a model for the region. Now, with its unique surgical instrument sharpening and repair center, it is fielding requests from national health care systems for information regarding that initiative. Recently, the hospital connected with a group located even further away and hosted two clinical engineers (and a translator) from Japan interested in gathering information about everything their US counterparts do.

The relationship developed through the university's international connections. "The Japanese biomedical engineers were interested in observing our best practices," says Mark Heston, MS, CBET, the biomedical instrumentation department's director.

While on-site, the group toured the Philadelphia facilities, observing the responsibilities of the biomed team and noting surprise at the scope. "They shared that they primarily handle equipment setup and told us they would never conceive of doing these types of repairs because of the liability issues in Japan. They always call the manufacturer," says Jay O'Connor, clinical engineer and manager of business development.

Although the different methods of operation were a bit surprising, the team is familiar with differences due to geography. They have provided equipment and service support to physicians on staff who have worked with international volunteer organizations, such as Operation Smile and Doctors Without Borders/Médicins Sans Frontières. Technicians have traveled to Zimbabwe and other areas to provide on-site support, and at home they refurbish equipment that the hospital no longer needs to send on missions.
    
"The doctors are very excited to get this equipment that we don't use here but has a life somewhere else, and now the hospital knows before they discard anything to contact us to see if we can find a home for it," O'Connor says. The effort helps to reduce waste and allows the team to help those in need, a winning situation for all.
—RD