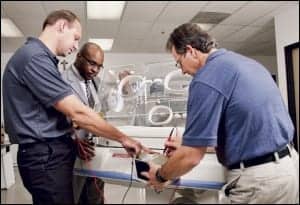 L-R: Jeff Quid, lead tech; Tracy Williams, parts procurement specialist; and Gasper Grasso, BMET II.
With a biomed culture steeped in a can-do philosophy, the growing shift toward in-house service is viewed by many as almost inevitable. A year and a half ago, administrators at Illinois-based Alexian Brothers Health System took note of the trend and brought in 28-year biomed veteran Ray Ongirski to transform the department.
By January 2010, all Alexian biomeds became part of a consolidated corporate department reporting through the capital management chain. Prior to the consolidation, two separate biomed shops reported to the head of facilities, while another answered to administration.
As a newly minted director of clinical engineering for the five-facility health system, Ongirski unified the departments under the same umbrella and set about retooling service contracts for 8,000 pieces of equipment spread out over four Alexian sites in Elk Grove (two facilities), Arlington Heights, and Hoffman Estates. The fifth facility, which accounts for about 6,000 units, will remain under an original equipment manufacturer (OEM) service contract until next year.
When Ongirski started 18 months ago, 180 service contracts were in effect. As of September, that number is down by about 50%, and that percentage will likely progress to 85% by year's end. "We are consolidating into a field service model, and bringing all possible contracts in-house," Ongirski says, who heads up a department with nine full-time biomeds that includes one lead and three imaging techs. OEM contract employees round out the remaining positions.
According to Ongirski, excellent field service involves identifying different modalities for general biomedical devices and specialty equipment such as lasers, ventilators, heart/lung machines, and imaging. "We have set ourselves up as an organization that can react to high-end equipment in rapid succession," Ongirski says. "We have the training that allows our technicians to effectively repair that equipment. We still station our general biomedical technicians at each facility, but then we dispatch specialty and imaging service technicians from a centralized point out to the facilities, and that is where we get the term 'field service model.' "
Patrick Trim, assistant vice president of capital acquisitions at Alexian, brought in Ongirski specifically to captain the transition to the new model, which is still undergoing refinement. "The model right now is really kind of a hybrid," Trim says, who, like Ongirski, has spent 28 years in the medical field. "The typical field service model that you would find with the OEM would not include the supply chain. We believe there is great advantage in bringing clinical engineering to the whole supply chain."
Incorporating biomedical engineering into the supply chain started by building a knowledge database and collecting best practices. "We were able to create a central repository to collect all the valuable information," Trim says. "Clinical engineers touch equipment on a daily basis, and the struggle within the hospital has always been, How do you keep up with your assets? How do you know what you are spending on your assets? How do you tie procurement into repair history, parts, and labor? You need to get a full look at the equipment from cradle to grave."
Purchasing Savvy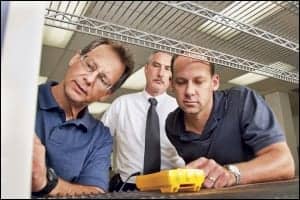 L-R: Gasper Grasso, Ray Ongirski, and Jeff Quid troubleshoot an electrical surgical unit.
To avoid buying what it does not need, a technology director works with Ongirski. If the item is on recall, or safety issues are cropping up, the sale does not go through. Ongirski and the technology director often consult with physicians on potential devices and then, together with the director of capital acquisitions, the three work together during purchases to maximize leverage, drive down service contract costs, and get good deals on training.
"Clinical engineering and tech assessment bring huge value because they can sit down with physicians and clinicians and find out what the docs really need from a particular piece of equipment," Trim says. "They make sure we are not buying extra software packages or options. We would rather buy what we need now and add later as need dictates."
The detailed devotion to capital management eventually yields a quote, complete with justification forms that go into yet another chain of review. Mike Busdicker, biomedical operations manager, believes the exhaustive process is worth the effort, and his colleagues in other departments are keen to agree. "If IT is involved, then IT takes a look," Busdicker says. "The same goes if it is facilities, nursing, or education."
The cradle-to-grave mentality follows each device as it is rolled out to a central distribution center. If the biomedical engineering staff suspects that the equipment is near the end of its usefulness, the distribution center serves as a location where everyone can check the device and know that it is available for reuse throughout the system. If it is not slated for reuse, the item is put into an auction or bid process, or donated to other countries. The final piece of the capital management puzzle is Tracy Williams, a parts procurement specialist. Such a job title is a relative rarity in the biomed world, but Ongirski says Williams helps the department obtain the highest-quality parts at less than the OEM cost.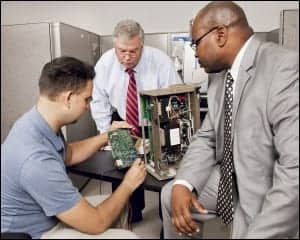 L-R: Imaging II Tech Brett Marach, Diagnostic Imaging Service Manager Jim Kuhn, and Tracy Williams troubleshoot a contrast injector board issue.
Hearts, Minds, and Dollars
Ongirski, Trim, and Busdicker know that changing perceptions is half the battle in the effort to bring ever more work in-house. "The end user departments always think that the OEM can do better service than an in-house model," Trim says. "It is our role to go in, build that confidence, and make sure the clinicians know that we attend the same training schools and we can repair just as well as the OEM. However, we are on-site, and we can provide better response time and better uptime for the equipment. It is all about building rapport and making sure end users know we have their best interests at heart. We are here for them, because we're all on the same team. Since we are on-site, we can handle situations with skill in a timely manner."
Support from physicians at Alexian has been nearly unanimous as they see the benefits of top-notch in-house service.
Will the in-house movement continue to flourish? Industry veteran Busdicker, for one, thinks it's inevitable. "I absolutely agree it is a growing trend," Busdicker says. "The reasons are numerous—patient safety, quality, response time, and the fact that we can understand that equipment much better than the OEM. Yes, they obviously have their specialized engineers, but we know our equipment and can respond quickly to ensure that downtime is minimized."
With Alexian's new model, Ongirski says, "As time has gone on, the vendors have realized that this program is viable and it is progressing. They have come to us and asked, 'How can we work in partnership to make sure that your needs are met?' "
The administration at Alexian was impressed during Ongirski's convincing presentations, and the CFOs, when presented with the hard data, usually have no problem converting service contracts in favor of in-house work. Hospitals stand to gain financially because of reduced operating expenses and less patient revenues deferred due to rescheduled exams caused by downtime. At Alexian, those savings ultimately help to support the biomedical engineering program and the hospital system as a whole. "In the first year, we had hundreds of thousands of dollars in savings while at the same time adding dollars for capital equipment training," Busdicker says. "We spent the money for the necessary training, got the technicians up to speed, and still produced savings above and beyond that. We managed to a budget number, and that number included all of capital equipment, training, and vehicles for equipment transport."
Justifying Help
It stands to reason that more work requires more full-time employees (FTEs), and here the cost justifications are more important than ever. Ongirski began making the case for additional help as soon as he came to work at Alexian, a process he began by standardizing all information in the inventory database.
Seemingly simple things, such as making sure everything was named correctly, became important details. "We may have a three-channel infusion pump, and every three-channel pump has a different name in the inventory, but every single infusion pump must have a consistent name such as 'pump infusion multi channel' or 'pump infusion general purpose,' " Ongirski says. "You must make sure that your inventory is standardized to that level. You are then able to analyze your inventory based upon historical information, come up with average PM and repair times per device for that specific description, and then develop a matrix that shows how many hours you need to be able to support that inventory."
Once you establish that number, properly calculated inventory and support hours allow you to develop total hours and total technicians needed to support that equipment. "That was probably one of the most challenging and time-consuming things that I did through the first 6 months of being here last year," Ongirski says. "We started the program officially on January 1, but I started last May to compile, analyze, and standardize all that information to be able to reach that point, and then get the approval to hire those FTEs based upon that real data."
It was not necessary to bring everybody on at the same time, so Ongirski looked at what contracts were expiring and grouped them together in an effort to phase in employees as needed. He is now up to 13 team members, and expects that number to rise to 23 by the first quarter of 2011.
Every new employee who joins the fold learns immediately that harmony with IT is critical to success, and Ongirski is keen to foster a culture of cooperation. Since the modern biomedical engineer is far more likely to gaze at computer screens than handle soldering guns, IT pros are a large part of the picture at every facility these days. Alexian biomeds work hand in hand with IT every day in areas such as PACS and patient monitoring. Since 90% of modern equipment includes some type of PC system with networking capability, interaction and cooperation are a must. If hospital officials happen to call a biomed, they will never be told to "call IT." "If anyone calls, we will take the call and get in contact with IT, if necessary, to make sure that they understand what is going on," Busdicker says. "That way the customer, and everybody out there is our customer, never has to make more than one phone call. It is never handed off, and it is always addressed correctly."
Training and More Training
Alexian Brothers Health System Stats
Alexian Brothers Medical Center: 387-bed acute care hospital,
Elk Grove Village, Ill
Alexian Rehabilitation Hospital: 66-bed rehab facility, Elk Grove Village, Ill
St Alexius Medical Center: 339-bed community hospital, Hoffman Estates, Ill
Alexian Brothers Behavioral Health Hospital: Hoffman Estates, Ill
Alexian Brothers Center for Mental Health: Arlington Heights, Ill
The movement toward in-house takes loads of preparation—which takes expertise, time, dedication, and investment. Ultimately, the old adage is true: You have to spend money to make and/or save money. Part of the initial investment is training. "We had a substantial budget for training this year, and we have a substantial training budget for next year—and that is based again upon the ROI that we put forward," Ongirski says. "By investing in our employees and in our technicians, we provide that much more back to the facility."
Growing the corporate department in 2011 will provide yet another mechanism to boost customer service, a goal that Ongirski plans to realize by instituting a fresh dispatch program in the new year. "We will have all calls routed through a customer service center," Ongirski says. "Right now, they are calling each department individually and we are contacting the technician individually. By going to the customer service center, we are ensuring for clinical engineering that every call is responded to. If a technician is occupied, it is escalated to his backup, and then the third backup to ensure 100% call coverage."
With so much change in a relatively short period of time, it naturally took time for all biomeds to get on board. Gasper Grasso, a BMET II, initially feared that service might suffer under increased in-house pressures. "I felt that due to the recession we were already short-staffed with too much of a workload," Grasso says. "I did not see how we would have the budget to be sent to service schools and be expected to service more equipment as the current service contracts ended—and still keep up with our present responsibilities." Grasso ultimately kept an open mind and now encourages clinical/biomedical engineers in similar situations to do the same. "If presented to administration correctly, the funds will come to get the needed training, go to service schools, and add the necessary FTEs," Grasso says. "We can handle the extra work as the service contracts get reduced. I also believe education adds to job security, so I look forward to more changes as they come."
---
Greg Thompson is a contributing writer for 24×7. For more information, contact .