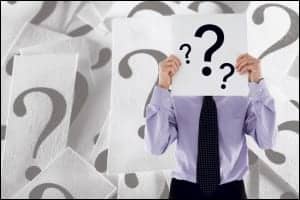 Things change from day to day in the clinical/biomedical engineering shops of most any health care facility. This means there is no routine, and workloads change daily as well. A biomedical/clinical engineer can find his or her schedule has openings one day and is suddenly overbooked the next.
"If planned maintenance were the only factor, it would be pretty easy to determine appropriate staffing levels, but you never know when corrective maintenance is needed," says James Cross, BS, CBET, clinical engineering manager for Riverview Hospital in Noblesville, Ind. So one month, everyone can get their planned maintenance done, and we can use five people, but the next month, some major systems go down, and we'll need six or seven people."
In these demanding times, clinical engineering departments face additional challenges, such as organizational transitions to serve under the umbrella of a new department, increased workloads due to expansion coupled with hiring freezes, and increased pressure to learn new tasks without adequate training.
Difficult workloads—whether constantly heavy or constantly fluctuating—and transitions can sometimes have a negative impact on both the performance and morale of the technicians and engineers in the shop. Overworked departments are likely to see their delivery of service suffer as well, negatively impacting the perception of the department in the hospital at large. Here, the insides and outsides match, but in a negative fashion. Management must stay alert and work to keep it positive, putting a little more effort to keeping departments on track during times of organizational stress.
"The perception of a department in transition can be managed positively if you remain committed to customer satisfaction and quality service," says Ken Mitchell, clinical engineering manager at Eastern Maine Medical Center in Bangor. "In many ways, 'over communication' becomes your new reality."
This communication takes place both within and outside of the department, directed to team members and internal customers. It can identify areas for improvement, provide employee motivation, and present biomeds as "rock stars" of the hospital.
Ducks in a Row
One certain way to "rock stardom" is to save money. With today's tight budgets, finding ways to reduce expenses often gets the attention and respect of upper management. In some facilities, the effort to save money is driven even harder by economic need. Typically, then, many managers are open to cost-saving ideas, and when a biomed announces intentions to leave, consideration may be given to leaving the position unfilled. Removing a full-time employee (FTE) from the budget can save significant dollars, particularly if the FTE was not needed. However, if that FTE is needed, it can negatively impact the department as a whole.
Cross has learned how to properly evaluate when a departing FTE should or should not be replaced through experience. After a biomed on his team announced his departure, Cross decided to take advantage of the potential cost savings. However, over time, the workload became too much for the remaining staff, and he reversed his decision, supported with results from a productivity study.
Now, Cross advises others considering attrition to also consider the workload and quality of service expected to be supported by the remaining staff. He suggests asking such questions as, "Will it take longer to get the medical equipment repaired? Will it get repaired? What happens if, instead of having two venous Doppler machines working, one is down? How many tests can they still perform?"
As Cross began to notice the symptoms of an overworked staff in his department—poor documentation, a drop in customer service, delays in call-backs and parts delivery—the hospital coincidentally decided to complete a productivity study to provide staffing standards throughout the facility. The process took 2 months and used a fairly simple approach in the clinical engineering department: the number of devices in the inventory was compared to the number of staff. "They had a standard they used based on adjusted discharges versus total hours for my department per pay period," Cross says.
However, Cross is not sure this model best captures the needs of a clinical engineering department. And, as a result, he has developed his own approach using "Takt time," a formula derived from Lean manufacturing processes that compares the time spent servicing equipment against customer demand.
"I have to try to get as many variables as possible to get an accurate Takt time," Cross says. He incorporates the time spent working on a device, filling out paperwork, and getting around the facility. The time expense on both scheduled and corrective maintenance is also estimated using work orders, device history, and monthly averages. "If a major system goes down, it can throw this out of whack, but for the most part, it's pretty good."
However, even the simpler formulations of the hospitalwide productivity study confirmed Cross' suspicion that Riverview's clinical engineering department was understaffed—by two to two-and-a-half FTEs. "So I decided to take advantage of that result, and I added another FTE to increase customer service," Cross says. "Hopefully, the technicians will have more time to talk with their customers instead of trying to run around putting out fires."
Work Balance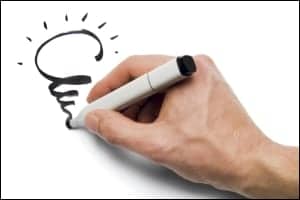 A decision to boost staffing numbers, reduce them, or in some cases, even maintain them, may require a shift of responsibilities among team members to ensure workload balance. For biomeds, this is not easily done on a per-piece, per-department, or even equipment-type basis, but it does present an opportunity to align a technician's interests, experience, and personalities with facility needs.
Managers should "take the time to reevaluate each technician's skill set, education, personal interest, and career goals to match their area of responsibility," Mitchell advises. "Attempt to better match technician and engineer's personalities with other team members for backup and cross-training opportunities." Workloads should be balanced, and flextime should be permitted to allow staff the ability to complete their work—particularly "technicians managing complex equipment and repairs," Mitchell says.
Workflow should be streamlined to reduce waste and its subsequent effect on morale. Mitchell recommends analyzing high-volume inspection and PM equipment for opportunities to save time; reevaluating and readjusting service contracts to match need; implementing Lean methodology to create efficiencies, such as reducing equipment travel across the hospital; and utilizing volunteers for simple tasks, such as the delivery of repaired equipment to end user departments.
Mitchell also has tips for the daily workload that can help to create balance during particularly unbalanced times. For instance, "utilize any and all 'loaner' or 'spare' devices to buy time for high-priority repairs," Mitchell says. He also recommends completing PMs alongside repairs, working with end users to reduce avoidable calls, and taking the first troubleshooting steps whenever possible.
Keeping Spirits Up
Of course, during some periods, tough times cannot be avoided, a fact the "great recession" has made clear to many. In these instances, management may benefit with a focus on motivation and morale boosting. Sometimes, a simple thank you note, shared success story, team meal, or reminder of the role played in patient care is enough. Other times, a little more is needed.
Expanding a biomed's control over responsibilities can help. Technicians can participate in creating schedules, adjusting job descriptions and associated materials, taking advantage of training and association opportunities, and providing input to administration on time-reducing, money-saving, or safety-increasing innovations.
"Whenever they look for new ideas or new resources to save money, they document and help present that, and that seems to keep morale up—to try to figure out who can save the most," Cross says of his team.
Paying attention to the environment, both physical and mental, can also identify opportunities for morale boosters. A shabby shop can produce shabby attitudes. "Renovate a dilapidated tech shop," Mitchell suggests. "Donated flooring, in-house painting, and better lighting will make a remarkable and cost-effective difference. Appearance promotes professionalism."
On the other hand, poor performers can bring everyone down. "Praise high performers; address any perceived low performers and hold them accountable," Mitchell says.
Similarly, a shared goal can inspire. "Rekindle the troubleshooting spirit in employees with 'parts-only' contracts and offer others new career opportunities," Mitchell says. "Attempt to grow all revenue-producing areas of the department. Make future expansion a goal and engage employees."
Rock Stars of the Hospital
At Saint Mary's Health System in Waterbury, Conn, Ted Barbeau, the director of clinical engineering and safety officer, has found a new way to boost biomed perception, both inside and outside the department—with the inventive application of technology that indirectly promotes the team.
"I felt there was a lot of untapped potential here," Barbeau says. "We love tinkering with technology, we have lives outside of the hospital, and I thought there had to be a way we could bring that passion into the hospital to illustrate that we're not just a bunch of guys who fix things."
The major goals of the projects have focused on helping the hospital achieve specific wellness goals, which would not typically fall under biomed's purview. The department was already perceived well throughout the facility, but Barbeau wanted to extend awareness to patients, visitors, and vendors, and provide his team members with a little "star power."
Each effort typically starts within the department and advances as far into the development process as possible until input or approval is needed from administration. The team prefers these launches to be a surprise.
Sani-talkers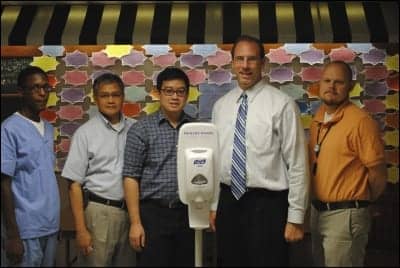 Clinical engineering director Ted Barbeau and his team with one of the Sani-talkers, L-R: Student Nathaniel Martinez; Alex Pinoliar, BMET II; Tristan Ramas, MS, CE; Barbeau; and Anders Johansson, BMET II.
The first project focused on hand hygiene and was modeled after a device seen on YouTube, essentially a hand sanitizer that speaks upon activation. "We built a small, self-contained system, about the size of a digital camera, that mounts directly to the back of the sanitizers and runs off the same battery. A customizable, pre-recorded message runs up to 3 seconds," Barbeau says.
After a prototype was developed, the team presented it to the quality management director, followed by a building tour to identify appropriate sanitizers. Six high-profile sites were selected, including the children's center, cardiology, and the main lobby.
"We selected the sites where we could get the most creative in terms of what kind of sounds they make," Barbeau says. For instance, the sanitizer in pediatrics features popular cartoon voices while the one in cardiology sounds like a heartbeat.
"We can change the outgoing message whenever we want, and we've started using a new Web site that is solely devoted to sound bites to get more ideas. The possibilities are endless," Barbeau says.
The cost per unit is low for the "Sani-talkers," and the organization is planning to expand the program throughout its entire health care system, including satellites and walk-in centers.
Over the Rainbow
A second project nearing completion will remain more localized but is expected to generate equal attention. Based on another YouTube inspiration, the Saint Mary's biomed team is modifying the 21-step staircase in its main lobby to have the stairs light up as they are used. The effort supports a facility-wide campaign to encourage staircase use.
The existing initiative used signs placed on elevator doors to remind people to take the stairs by asking if they had tried the stairs, pointing out the nearest staircase, or listing the calories that could be burned on the stairs. Barbeau notes this made little difference in people's tendency to use the stairs.
The committee was brought into the project earlier than with the sanitizer project due to the scope and expense. The biomed team collaborated with the wellness committee to develop, promote, and advance the program as well as select the staircase colors. "We presented all different-colored glossy pictures of what it might look like and let them decide what they wanted," Barbeau says.
The hope is that the light-up staircase will increase awareness in general and encourage stair use throughout the facility; however, there are no plans to expand the project beyond the one staircase. In addition to property ownership issues, the expense is prohibitive for every location.
"It's a more significant investment, on the order of a couple of thousand dollars," Barbeau estimates. Most of the cost is for the LED lighting, which can be expensive, particularly color versions (which add more pop, according to Barbeau). With a rainbow theme planned, he expects the price to run between $2,000 and $3,000 for lights alone.
Upkeep is uncertain, at this point. "I'm hoping that it's rock solid," Barbeau says, referring to the quality of the chips and the reliability seen in the build-out phase. The components have been fairly standard, off-the-shelf components. Barbeau's biggest concern is the possibility of an overzealous mopper, although he has been assured the components are waterproof.
As these projects advance, Barbeau is already looking ahead to the next initiative, with a list of ideas to keep the team busy for the next 3 years. To avoid adding too much work, each biomed is assigned one "fun" project a year as part of annual goal setting, and interns handle the majority of the work. "Interns are a very valuable asset. It's inexpensive labor, and they have a lot of eagerness to show what they're capable of doing," Barbeau says.
The projects keep things fun and are likely to boost the perception of Saint Mary's biomed team outside the "guys-who-fix-things" box and into an area that reflects the 'rock-star' nature of the biomeds on the team. It also communicates the clinical/biomedical engineering department's commitment to hospital goals, mastery of technology, and the ability to keep things "light"—pun intended—matching the insides to the outsides in a good way.
---
Renee Diiulio is a contributing writer for 24×7. For more information, contact .
Tips for Improving Morale and Productivity
According to a survey released by ComPsych Corp (www.compsych.com), Chicago, in July of this year, approximately 31% of human resources (HR) managers said morale and employee productivity represent their biggest concerns over the next 6 months.
"The morale and productivity issue has far surpassed concerns over health care legislation and organizational change," said Richard A. Chaifetz, PsyD, chairman and CEO of ComPsych. "Many managers are attuned to workplace discontent, which is becoming more widespread as organizations continue to operate with lean staffs. Managers must take steps to ensure employees receive recognition and that workloads and other issues related to morale, such as opportunities for growth and development, are addressed."
ComPsych Corp, a provider of employee assistance programs (EAP) and integrated EAP, behavioral health, wellness, work-life, and crisis intervention services, creates "build-to-suit" programs to help employers attract and retain employees as well as improve employee productivity and performance. It recommends companies follow the following top four tips in times of low morale:
Communicate. Let employees know how the company is doing, and keep the rumor mill—a major source of anxiety, distraction, and poor morale—in check.
Show appreciation. Sponsor lunches, recognition programs, or customer service awards, for example, so that employees feel they are a part of something and can see the work that others are doing.
Show support. Remind employees of additional benefits such as the EAP, work-life services, and wellness programs. These benefits can also be promoted via lunch n' learn seminars that can give valuable tips for coping with stress and work-life issues, and make employees aware of how to access the benefits on an ongoing basis.
Show investment. Managers should meet individually with employees to show that the organization is invested in his or her success. Take time to talk about goals, career path, and the employee's contribution to the company while, again, showing appreciation.