Replacement CT Tubes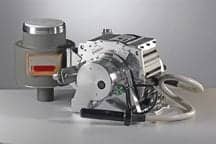 Medical imaging components manufacturer Dunlee, Aurora, Ill, offers the Reevo 240G replacement CT tube, specifically designed as a replacement for use in the GE LightSpeed VCT and Pro 16 CT series systems. Product specifications include a 228-mm (9-inch) target diameter, a 7° target angle, and a 0.7 x 0.6/0.9 x 0.9 focal spot. Dunlee also offers AKRON replacement tubes, designed for use on Siemens' multislice CT scanners.
Dunlee replacement tubes match the original tube in fit, form, and function, and feature a warranty equivalent to the OEM's. The company also manufactures replacements for all major brands, including GE, Siemens, Toshiba, Picker, Elscint, Shimadzu, and Philips.
(800) 238-3780
www.dunlee.com
---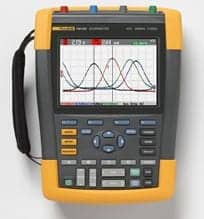 Portable Oscilloscopes
Fluke Corp, Everett, Wash, introduces the Fluke ScopeMeter 190 series II handheld portable oscilloscopes. The four-channel scopes are the first ones that are safety rated for CAT III 1000 V/CAT IV 600 V environments. The four input channels are fully isolated from one another to perform differential floating measurements. The scope chassis is sealed from the environment with no cooling slots or fans to expose the instrument. Also, it carries the International Protection (IP) -51 dust and drip proof rating. Their fast sampling rate—up to 2.5 GS/sec and 400 pico second resolution—helps users capture electrical noise and other disturbances to diagnose exactly what is going on. Two USB ports, electrically isolated from measurement input circuits, make it easy to capture and share waveforms. It comes in both 100-MHz and 200-MHz models. Li-ion battery technology keeps the series II ScopeMeter on the job for up to 7 hours. It also features an external charger and easy-access battery door.
(800) 443-5853
www.fluke.com
---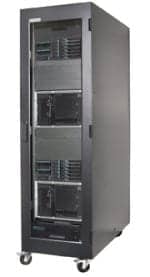 Noise-Reduction Cabinet
Silentium Ltd, Rehovot, Israel, offers the AccoustiRACK Active (ARA) soundproof cabinet that reduces noise, which promotes a quieter environment and healthier staff, patients, and equipment. In critical care environments such as hospitals, the cabinet helps reduce patient and clinician stress that is concomitant with the unnecessary noise emitted by medical machinery.
The company utilized the active noise control (ANC) theory to develop the product, which provides up to 30 dB(A) sound reduction. The ARA utilizes ANC theory by producing an opposing signal (anti-noise) with the same amplitude as the unwanted noise, but in the opposite phase, eliminating the unwanted noise. The noise reduction translates to a 96% elimination of environmental noise. The ARA provides 8 kilowatts of heat dissipation by allowing free air movement and heat exchange with the outside of the unit while maintaining a dust-free environment, extending the equipment's life. By combining Silentium's proprietary noise-canceling technology with acoustic materials, the ARA achieves spatial noise reduction over the entire frequency bandwidth of the audible spectrum of up to 20 dB(A).
(469) 429-5350
www.silentium.com