During his speech at the 1977 World Future Society meeting, Ken Olsen, the founder and CEO of Digital Equipment Corp, famously said, "There is no reason for any individual to have a computer in his home."
The context of that quote is often omitted—he was, in fact, referring to powerful central computers that would be tasked with controlling every aspect of life within the home—but without a doubt, technology has taken on an even larger role in everyday life than most people dreamed it would.
The last decade's rapid transformation of what computers are capable of, as well as what they are expected to do, is evidenced in the hospital setting more so than almost anywhere else. From patient data to telemetry to how staff members talk with one another, it seems everything in a medical center has a network-based component. As a result, clinical and biomedical engineers are under increasing pressure to learn the technology associated with the infrastructure supporting the systems under their care.
"I don't think biomeds necessarily need programming knowledge yet, but in the long run, getting as much IT knowledge as possible will be beneficial," says Roger A. Bowles, EdD, CBET, department chair and professor of biomedical equipment technology at Texas State Technical College, Waco, Tex. He suggests biomeds make the effort to interface with their IT department and to stay in tune with the latest technological advances in the facility. "There are biomeds I know who have actually been folded into the IT department, so there has to be some cooperation there. And, really, they need to know each other's jobs to some extent."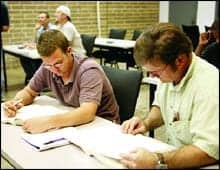 Biomeds who are serious about acquiring IT skills can attend a fast-paced certificate-based program, or obtain training at a community college, at a technical school, or through a vendor-provided class.
Fortunately, biomeds are well-equipped to take on this type of challenge. "I think a person needs to be very adaptable to succeed in a biomed environment," says Garrett Seeley, instructor in the biomedical equipment technology program at Texas State Technical College. "You are requested to work in the lab and surgery and radiology and nursing. You have to know a little bit about everything all of those people know. The field itself is a sum of small bits that all merge together into one very unique field."
Pick a Starting Point
Knowing there is a need for technical training and knowing exactly where to start are often two entirely different realities for biomeds already working in the field. For those lacking computer experience beyond how to send an e-mail or write a letter, the first order of business should be obtaining a solid footing in the core skills.
"There are two different sets of core skills for IT: one is networking, and the other is applications/programming," says Jim Rizzo, technical instructor and developer for GE Healthcare, Madison, Wis. "Both of them deal with products that are networked, so training in the fundamentals of networks or application-specific integrated circuits (ASIC) would be valuable." He notes that such training would encompass a range of topics, including addressing, connectivity, switching, and routing. "Biomeds need to start with those fundamentals and then focus on the area the bulk of their products are in, such as wireless or security," he says.
Once they know the ground rules, biomeds can pursue additional education in keeping with their specific interests.
"In the IT world, I certainly see people learning the basic core skills of conductivity, then moving into a track they find personally enjoyable," says Leanne Cordisco, business development manager of education services for GE Healthcare. "Individuals who find switching, routing, and connectivity to be interesting move into the infrastructure aspect of the field, while those who enjoy digging through an operating system head into the applications—based or database work—and they all find a very fulfilling career."
Going beyond the basics, there is no clear consensus on the absolute need for certification, which is essential for those working strictly within the IT industry. And though employers looking for certification from techs may increase as the numbers of biomeds obtaining certification grows, one argument against it is that the A+ and Net+ courses are still tailored to IT professionals.
"Certification-based training is difficult for biomeds because it is extremely fast-paced. It is like drinking from a fire hose," Rizzo says. "Also, there is a lot of information that is not germane and doesn't pertain to their skill set. Because these classes are preparing students to pass the certification, it's basically like having to memorize a dictionary in a week and then dump it out on a test. It doesn't really give biomeds the skill set of how to perform the tasks on the job."
Turn, Turn, Turn
If certification is not the goal, then where should CEs and BMETs turn to get the technical know-how they need? A number of options exist, including community college programs. While many are comprised of generic IT courses, numerous biomed-focused programs are popping up across the country.
"Technical or community colleges are a great resource because of the lower cost, but it ultimately depends on what is available to the BMET in his or her area," says Bowles, who adds that one benefit to taking courses at this level is they will often be credited toward a 4-year degree, if that is the ultimate goal. "The amount of time biomeds have available is another consideration," he says. Community colleges provide information in a traditional format, with classes meeting two or three times per week for months.
Should biomeds be either unable or unwilling to commit that amount of time, vendor-provided classes can be an industry-focused, efficient way to gather knowledge. Though sometimes cost-prohibitive, this type of training can be of particular importance when biomeds are assigned to maintain specific pieces of equipment. Tech schools offer another, often more affordable, alternative.
The IT Career Track
Once well-versed in the basics, there are a number of career areas in the IT industry available to biomeds. Leanne Cordisco, the business development manager of education services for GE Healthcare, Madison, Wis, offers some insight into various options.
Wireless. Biomeds who support wireless systems such as those commonly employed in monitoring, telemetry, and infusion pumps are counted on to know the configuration of access points and troubleshooting wireless systems.
Security. Regardless of the network—wired or wireless—HIPAA laws apply, and securing patient data is of paramount importance. Biomeds specializing in this aspect will learn how to build a secure network and tactics for preventing common network attacks.
HL7 and DICOM. "These are the advanced 'languages' spoken on health care networks," Cordisco says. "The configuration and troubleshooting of these protocols will allow large amounts of data, including large digital images, to move seamlessly across a network."
Data and database management. Patient records, images, physician notes—the health care industry is at no loss for data. Someone has to store, retrieve, and back up these bits and bytes in the most efficient way, and there is no reason it couldn't be a tech-savvy biomed.
Project management. Learning the knowledge, skills, tools, and techniques required to keep a detailed project on track translates directly to the tech world, where understanding the process behind lengthy and complex installations will be an asset to the health care organization.
EMR/HIS workflow. "Understanding the big picture of connectivity between all the major areas of a hospital is also very important, especially as the industry moves toward adopting fully digital hospitals," Cordisco says.
—DH
"A technical-oriented program will really focus on the career-specific skills a person needs to build. Our program is 72 semester hours focused solely on the technical aspect, without requiring liberal arts classes," Seeley says. "English and mathematics are important things to learn, but they're not absolutely required in the field. The field is more about knowing where your hands have to go."
Not only is knowing what to do with your hands important, but also having the opportunity to put them to work. "Hands-on is king," Seeley adds.
And he is not alone in that sentiment. "What we found with biomeds is that they learn by doing, more so than any other group I've ever met," Cordisco says. "Unless we can put our hands on it, take it apart, touch it, feel it, understand it—there is a loss there. By getting biomeds on the equipment and having them actually perform the configurations and the programming, having them do the troubleshooting and make the physical connection—by doing that, their knowledge retention shoots up astronomically."
Because of this need for interaction, learning IT skills remotely can sometimes present a challenge. However, advances in the technology (what else?) have been a key factor in making online classes more feasible.
Faster Internet connections and video-posting sites make a plethora of information readily available. Instant messaging puts students in immediate contact with instructors and classmates, providing quick answers to any questions that may be stumping them. Several years ago, John Noblitt, BS, CBET, program director for Caldwell Community College and Technical Institute, Hudson, NC, was given the responsibility of developing online classes, also called distance learning (DL). While he echoes the sentiments of his colleagues that, for many aspects of training, nothing replaces hands-on, he does see some advantages to the approach.
Noblitt is in the process of putting together training for the 3D virtual world of Second Life, and he currently provides audio files of his lectures for DL that students can download. He also finds reference materials online he can send students to. Traditional classes also benefit from the access to technology.
"Years ago, I would divide my class into groups to research the details of a monitoring system, for example, and then they would present that information to the class. And as I assigned their topics, they would all have to leave the room and head to the library to do research," Noblitt says. "Now, many students have laptops—and we are a totally wireless campus—so they are staying in the room to do the research. As a result, I can answer questions, point them in the right direction, and it's just a much more vigorous environment."
Venturing Out
When formal training is unavailable or unaffordable, a biomed serious about acquiring the skills can dive in anyway.
"If a shop notices a networking need in the hospital, I recommend they get some old computer equipment and just play around with it," Seeley says. He suggests trying to acquire abandoned networking components the medical center already owns. "I learned networking because I went out and bought two computers and a switch, and I went home and I learned how to program it. The resources to learn how to network are probably some of the most readily available resources of any field. There are a multitude of different Web sites dedicated to making more computer technicians and computer networkers."
Self-taught techies are completely at home and respected within the IT world where, as is also the case with biomeds, what you can do often holds more value than where you went to school.
"If I see an applicant with a 4-year university degree and no experience, or someone with a 2-year degree and 4 years of experience, I'll take the experience any day," Noblitt says. He notes that once a biomed starts looking at his or her career path, the bachelor's degree will be an asset for upward mobility. "It's like getting your CBET; there is very little financial incentive from employers, but when you apply for a another job, it shows that you have taken the initiative and that you take pride in what you're doing," Noblitt says.
And while some biomeds find this concept somewhat daunting, in reality, resistance is futile. "You have to get over being afraid of the technology," Noblitt says. "You no longer have a choice. This is where the technology is going, and you better get on the train, because it is leaving the station."
---
Dana Hinesly is a contributing writer for 24×7. For more information, contact .
Dollars and sense: Some creative ideas for
getting smarter about health care IT
Not only is time at a premium for many overtaxed biomeds, but so are training dollars. "A lot of the biomed shops already work with IT to some degree because there are networks built for IT, and then there are networks that have been added on for the biomeds and their equipment," says Jim Rizzo, technical instructor and developer for GE Healthcare, Madison, Wis. "And generally, IT gets a fairly large training budget compared to what the biomeds get. "For those serious about expanding their IT skills, he recommends finding opportunities through the IT department that allow biomeds to perform on-the-job work alongside the IT professionals. "Let's say there is a large, wireless patient-monitoring system IT would like some help supporting because they don't understand the biomedical aspects of it. Why not have a biomed go to IT training—paid for by IT—so that they can support it together?" he asks.
Another approach is to bring together a larger group of students, which can cut the per-person fee for educational sessions. This can often be accomplished by inviting trainers to conduct a class on-site, and then inviting biomeds from neighboring facilities, regional professional societies, or area biomedical programs to attend.
"In the past, we've had success by having a vendor come here," says Roger A. Bowles, EdD, CBET, department chair and professor of biomedical equipment technology, Texas State Technical College, Waco, Tex. "We pay a set price, so then if we can get people in the area to come in, we can make it much more affordable. If they come to the school here, then our students get a chance to benefit from the training, too."
Looking Ahead
Facilities in the purchasing cycle are also encouraged to exercise the considerable clout that comes with writing multimillion-dollar checks to vendors. Including biomed training during the negotiations is often the most affordable route to educating the in-house techs.
"Many hospitals are now purchasing medium- to large-sized systems, multiple devices at a time, and it is common for training classes to be rolled into the purchase price of that equipment," says Leanne Cordisco, business development manager of education services for GE Healthcare. "When it is worked into the deal up front, it makes it much easier for biomeds to get this training. When that happens, the clinicians and the staff are happy, because there is someone on-site to support the new piece of equipment, and the biomeds are happy, because they get the training they feel they need to do their job effectively and to stay relevant in their position. The end result is that patient safety is protected and the biomeds are working toward a better standard of patient care."
The Price Is Right
HIMSS, the Healthcare Information and Management Systems Society, offers up another solution at the best possible price: free. Regularly scheduled Webinars and audio conferences (see www.himss.org/ASP/education_webinars.asp) are available through the not-for-profit organization's online education department.
"They're typically a half-hour to 1 hour in length, and it's just a great kind of way to put your finger on the pulse of what the health care IT industry is thinking and the kind of trends it's moving forward with," Cordisco says. "Not only is it a great way for biomeds to pick up the vocabulary and to get exposed to this larger health care IT community, but it is a free way for them to start interacting with their peers."
Recent topics of the HIMSS Webinars, which are scheduled at least once per month, include "Patient Safety and Quality Outcomes," and "Utilizing Wireless Voice Communications in Hospital Disaster Planning and Response."
—DH