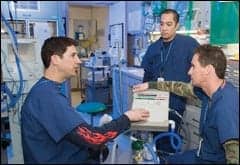 L-R, George Panfili, manager, biomedical engineering, instructs Alan Pascual and Chad Price, A+, on ventilator maintenance.
Not so long ago, Rady Children's Hospital in San Diego needed some innovative cost-saving solutions. So it reengineered and then outsourced its biomedical engineering department (along with several other departments). But the savings were not realized. So Rady Children's brought the biomeds (and the others) back in-house. Times of challenge can end up creating a stronger and more inventive team, and as a result there were some changes. The biomedical engineering department did not just take on the responsibilities that it had before, it also assumed new ones—at its own request.
The new department combined biomedical engineering with two others: central equipment distribution and respiratory equipment. In addition to overseeing the maintenance and repair of much of the facility's equipment, Rady Children's current biomedical engineering department manages all of the institution's equipment rentals, medical equipment service contracts, and cables—programs that have saved the hospital significant amounts of money. It also handles the hospital's inhaled nitric oxide delivery and charge program, becoming a model for other institutions. Equipment specialists, who collaborate with the biomeds, have helped to increase the overall performance and efficiency of the department and save the hospital more money—about $200,000 in salaries. And the group is not done yet. It is currently expanding as it takes on pediatric and cardiac room setups, with the intent of eventually assuming all complex equipment room setups.
Yet, despite assuming these additional tasks, the department has not grown its staff significantly since returning to the hospital's folds. The biomedical department is comprised of a director who also oversees a number of other departments, a manager who is also a biomed, five biomed techs, and seven equipment specialists, which will increase to eight as the room setups are centralized within the biomedical department. The team is efficient, managing more than 12,000 pieces of equipment with a 99% preventive maintenance (PM) completion rate, and innovative. No idea is too silly to consider, particularly when the group is seeking a solution to a specific problem, which is what usually drives their efforts.
The team collaborates with clinical and other support programs in developing creative improvements but has sometimes encountered resistance to its plans. Administrators and other departments are often more secure when they maintain control—of rentals, contracts, or personnel. But the proposals Rady Children's biomedical department presents are so reasonable (eg, "we take on this work and this cost and save you money") and patient-focused, that buy-in, or at least agreement, is "simple to achieve." And the results have been so successful that the group now rarely meets resistance to new proposals. "Now we have people asking, 'Can you do this for me?' " says George Panfili, manager, biomedical engineering, Rady Children's Hospital.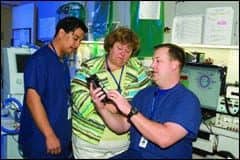 L-R, Nestor Damasco, Esq; Chris Abe, the facility's senior director of safety and support services; and Michael P. Heim, CBET.
You Buy It, We Service It
One of the first things the department assumed was responsibility for all service contracts. Chris Abe, RN, BNS, CIC, HEM, the facility's senior director of safety and support services, describes the move as part of the effort to bring costs down.
"When we started, each department managed its own medical service contracts," Abe says, noting that often a new piece of equipment meant a new service contract. "We could have seven different service contracts under the same vendor," she says.
The first step was to gather all of the contracts, a process that took 6 months and met some resistance. "No one wanted to give them up," Abe says, but the potential for cost savings was too great.
Once the contracts were assembled, the team worked with vendors and third parties to determine all of the possible options. The solution included bringing some work in-house. Abe let these needs influence hiring for open positions: one hire had an imaging background; the other had imaging, anesthesia, and dialysis experience. Techs already on staff were sent for training and/or certification. "The ultimate goal is to bring management of all equipment in-house, but it can be a challenge," Abe says.
To meet the outsource needs, much of the remaining work was brought under an umbrella contract signed with a third party. Conditions included specific criteria on outcomes and uptimes. Other contracts with vendors were renegotiated.
The changes resulted in first-year savings of $350,000—a little short of the $450,000 that had been estimated, but still a significant amount. The annual savings since the program was implemented runs about $200,000, Abe estimates. And, every department benefited. "The other departments no longer had to deal with these contracts or spend money on them," Panfili says. "They just had to call us to get their equipment repaired and save money." The biomed department has an easier time assuring competencies (making regulatory requirements easier) and maintaining maintenance and repair records.
You Need It, We Rent It
That same theory has held true across rental equipment and cables, for which the department has also assumed responsibility. Costs in both areas have been reduced as a result.
"We track all the ordering and return of rental equipment, which keeps rental costs to a minimum," Panfili says. When someone wants to order a rental, they call the biomedical department, which then steps in to repair it if possible and save the rental fee altogether. If the equipment does need to be rented, the biomedical department also knows when the equipment can be returned. "We are the guys delivering the equipment that is needed, so we know when it is fixed and ready and the rental can be returned," Panfili says.
The same goes for cables. In the past, nurses and other personnel would swap cables if one did not work, making it difficult to find the object of a complaint and subsequently eliminate the problem. One bad cable could be passed from room to room, resulting in multiple calls to the biomed department and significant time wasted on the part of someone in search of the offending cable. Now, when a cable is bad, the nurse calls the biomedical department, and an equipment specialist pulls one—"from a giant cart with cables for every monitor in the hospital," Panfili says—and delivers it to the floor. The old one is taken and the information recorded. "All usage is tallied and given to the care director to illustrate and justify the costs," Panfili says.
Because of the size and number of cables throughout a hospital, most biomedical/clinical engineering departments would shy away from assuming responsibility for this entire inventory, particularly financial responsibility. But by assuming that responsibility, Rady Children's biomedical department saved the facility money, both in time and materials. Panfili estimates that about 70% of questionable cables are actually not damaged but are set up incorrectly. Those that are damaged can sometimes be repaired or reclaimed through warranty. "Many times in the past, these cables would have gone into the trash," Panfili says.
The administration is happy with these cost savings; the floors are happy because they always have working cables; and materials management is happy because they no longer have to carry them around the facility. The biomeds are also happy: since the change, fewer cables have gone missing and calls complaining of bad cables have been eliminated.
You're Missing It, We Deliver It
The team is expecting similarly successful results from the new program regarding room setups. Currently, the program covers the cardiac and intensive care units. Eventually, Abe envisions it encompassing much more, saying, "It's just a tidbit of what it is actually going to be."
Previously, housekeeping or some other individual helped to set up rooms or restock them as needed. But, as Abe notes, the increasing complexity of cardiac setups requires more specific knowledge.
The biomedical department aims to assign an individual to this position, who will spend the majority of his or her time on the floor, checking setups, cables, and modules daily. When a new patient is expected, the charge nurse will page this equipment specialist, who will then run through a checklist or diagram of the setup required. "Being a pediatric hospital, we have a challenge in that there are different size beds that need to be set up for each patient," Abe says.
If something is not up to standard, it is up to the equipment specialist to repair or replace it. If there are any special needs, the equipment specialist will take care of those as well.
The team is hiring so that it can expand the program. However, it did not have to add any full-time employees (FTEs) to the hospital's personnel. Rather, the department absorbed positions that would no longer be needed. "We had to convince the people who controlled those FTEs—an equipment professional in another department, for example—that they would get better productivity by transferring them to us," Panfili says.
Abe notes those departments currently receiving the new service are already impressed. "As a nurse, I don't know why I can't track my own equipment, but it does help, particularly in an emergency setting," Abe says. Nestor Damasco, Esq, the team's PM coordinator, notes that everyone can accomplish more. "The nurses need to be secure that they have the equipment they need," Damasco says.
Panfili credits the willingness of the other departments to collaborate to both Abe, whose nursing background commanded respect from the nurses and clinicians, and the department's past successes.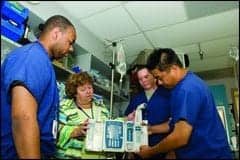 L-R, Louis Washington, Chris Abe, and Kelly Martin, CBET, watch Jay Damasco as he demonstrates data retrieval from the pump.
You Want It, We Got It
Some of this success is also credited to an efficient team comprised of both biomeds and equipment specialists. The latter position has evolved since Abe merged the departments. "They decentralized respiratory and didn't know what to do with the small group of specialized techs who worked on that equipment only," Panfili says. "They did such a good job in their specific world that we added to their responsibilities."
According to Panfili, the equipment specialists now manage all of the facility's ICU warmers and isolettes by prepping, testing, and delivering them; they handle basic equipment checks, which often tend to be batteries and bulbs; they perform patient prep, decontamination, and testing of about 70% of the mobile equipment in the hospital, including ventilators, IV pumps, and other apparatuses; they take first response and night calls; they stock equipment; they find and return equipment up for PM; and they are now assuming the room setup responsibilities.
"Their work supports completely the repair and maintenance side of the department," Abe says. "We maintain a low tech-to-equipment ratio because of their efforts."
Mike Heim, CBET, a biomed tech III on the team, concurs, saying, "Their work helps us to be as efficient as we can be because we are spending more time working on complicated equipment problems that we can focus on without being sidetracked."
The same is true for nurses who do not have to spend time seeking out equipment. "If the nurse needs a syringe pump, all they have to do is call, even if the device is in the room next door," says Jay Damasco, a biomed tech III. "An equipment specialist will go up and deliver it to them so the nurse can spend that time at the bedside."
The team has been able to maintain a 99% PM completion rate since the equipment specialists have been on board. As they go about the floor completing other tasks, the equipment specialists keep their eyes open for equipment that is up for PMs, saving other employees from having to search the hospital for pieces that are due. Similarly, they also bring down equipment that they notice has been tagged for repair, which speeds turnaround and "keeps the repair guy at the bench doing what he is good at," Panfili says.
The equipment specialists can eventually move to the bench, with education, training, and their experience on the team, but initially, they may have as little as 1 year of experience in a hospital. "The minimum requirement is a high school diploma, and we request a year of hospital experience, but we leave it open-ended after that," Panfili says. Backgrounds of current team members include a law degree, a computer science major, a social science degree, and an electronics student.
Personality is as important as past history, particularly since the equipment specialists are on the floors so frequently. "It's an entry-level job, and we train them, so what I really look for is someone who is personable and gets along with our group. They are our ambassadors," Panfili says.
Finding recruits is not difficult. Panfili will often look within the hospital first. "I find a lot of hidden talent," he says. "Many people accept positions just to get their foot in the door of the hospital. If we advertise within the institution, we get some wonderful applicants who then have cross-training." In-house professionals also often stay around longer. "We've had only one turnover in the past 5 years, and that wasn't the individual's choice," Panfili says.
The program also saves money. Abe compares the average equipment specialist wage of $17.50 per hour to that of the biomed's $28 to $29 per hour. Since she has overseen the department, they have hired one additional equipment specialist and a biomed to replace Panfili when he was named manager of the department. During that same time frame, however, the department has expanded its inventory by almost 4,000 pieces of equipment. Abe estimates that without the equipment techs the hospital would have hired at least 2½ additional biomeds, meaning a savings in salary of roughly $200,000.
With each success, the hospital gains more confidence in the team, and they have found it easier to implement new programs. "Once you save the hospital $300,000 or $400,000, the administration thinks you're great and wants to know what else you can do," Panfili says. "When you come up with a new program, they listen."
Panfili credits Abe with much of the department's success. "Our director being a nurse gets the clinicians' respect. The collaboration and friendships we've gotten out of her connection has made it much easier for us to get projects done," Panfili says. Abe, however, credits Panfili with the department's success.
"He's the one who, on a day-to-day basis, has high expectations for customer service and patient safety," Abe says.
Together, they've made a great management team, inspiring and enabling those who work with them to offer their best, whether in performance or ideas. The group is always looking for opportunities to increase efficiency, improve patient care and safety, and save money. And they are always willing to ask for more.
---
Renee Diiulio is a contributing writer for 24×7. For more information, contact .