Here in Boston this May, we had an incident where a Green Line subway train operator was involved in a serious collision resulting in many serious injuries. He admitted to authorities that he had been texting at the time of the accident and missed seeing a signal light. In a similar, more deadly accident last year, it was alleged that the driver had been talking or texting on a cell phone and that a few brief moments of inattention led to that train wreck. Distracted driving is already a proven killer and a major safety topic in the news. Many states are now unveiling laws that prohibit or restrict cell phone use and texting while driving.
A recent posting on Biomedtalk led to a lively discussion about key members of a surgical team using their iPhone-type devices during surgery. The siren call of the "Soapbox" could not be denied.
Yesterday's restrictive cell phone use policies are falling out of fashion as equipment manufacturers are now producing medical equipment that meets tough new radio frequency (RF) immunity requirements that are a part of the IEC 60601 standard. Who amongst us reading this article hasn't turned the car around to retrieve a forgotten cell phone? Scrub shirts have an "inside pocket." Does your cell phone live there while you are working?
Caregivers have a need to be tuned in, turned on, and connected in ways we are only beginning to imagine. Most of us now carry these devices and use them for business and personal reasons during all of our waking hours. Wireless multimedia devices are more advanced, provide richer interactive content, and are more addictive to the user.
This new generation of devices can remind us of appointments and we can also surf the Internet; read and compose e-mail; play music, games and videos; chat in real time; as well as receive medical alarm notifications and other potentially life-critical information. The most fortunate amongst us process work orders and close PMs in real time using these wireless wonders.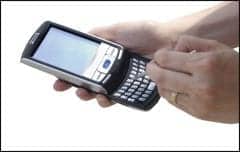 But for every upside there is a downside. For example, should anesthesiologists or nurse anesthetists and other key members of a surgical team be accessing their wireless multimedia devices such as cell phones, iPhones, and BlackBerries while they are supposed to be engaged in keeping a patient alive on the table? How about a monitor tech in a central monitoring war room? There are certain times in our lives when we probably should not be so tuned in and turned on. As a RF safety officer, I have read the studies and articles on the topic. I believe the possibility of a wireless personal electronic device invasively interfering electromagnetically with the medical electronics in an OR room is remote at best.
But is texting, chatting, surfing, reading, watching, listening to, and/or using these devices distracting enough to cause an adverse reaction with the cognitive function of a member of a surgical team or caregiver? Should this become a risk management issue?
What is the risk to patient safety if an anesthesiologist or doctor is texting, checking stock quotes, or reserving a tee time on his iPhone when he is supposed to focus on the patient's status? These devices and activities have the potential to refocus so much of one's attention that effective multitasking can become questionable.
If communications from wireless devices are that important, there may be a whole new "job" in the OR for a person who watches and answers the cell phones of all the scrubbed-in medical staff and reports truly emergent communications by passing an old-fashioned note.
Would you want your airline pilot using his BlackBerry during your final approach? As a patient, do you have the right to expect that a key member of your surgical team is not texting or surfing the 'net while your belly is opened up? On the other side of the coin, how can these devices be productively engaged to reduce incidents of failure to rescue? Should we have alarms that not only flash and beep but also send out a broadband SOS on Bluetooth or Wi-Fi?
It will be interesting to see how The Joint Commission may someday address "Use of personal wireless communication devices by health care personnel engaged in life-critical activities." Will the ECRI Institute or Center for Devices and Radiological Health issue a "Guidelines for Use" type of document?
It will be interesting to see how this topic plays out as we roll down the information superhighway. What track will your hospital be on?
---
J. Scot Mackeil, CBET, is the senior biomedical engineer and laser/radio frequency safety officer at Jordan Hospital, Plymouth, Mass. For more information, contact .
What's on Your Mind?
Got a gripe? A recommendation? Does someone or something deserve praise? Share your opinions and insights with your peers. Soapbox columns should be 700 to 750 words in length and can be e-mailed to .