24×7 explores radiology specialists and CRES certification
These days, proving one's mettle in the workplace is about more than just performing your required tasks. In an age of all-too-frequent layoffs and pay cuts, it's about developing an edge, strengthening your skills, and becoming an integral part of your organization. Specializing in a particular field, such as radiology, can often open doors to advanced positions and can help a biomed become more valuable to a hospital.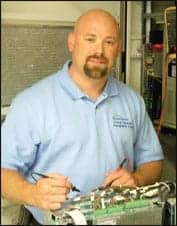 Newman widened his skill set and put himself through training to become a radiology equipment specialist
Stuart Newman II, a radiology engineer from Winston-Salem, NC, had already completed his associate's degree in biomedical engineering and had been working 2 years when he made the move to radiology equipment specialist to broaden his horizons and widen his skill set.
"I chose to transition because I felt like there would be a lot more opportunities," he says. "Having a biomedical background and a radiology background would only make me a greater asset to my employer."
After deciding on the path, all that was missing was the training. Newman put himself through the Radiological Service Training Institute (RSTI), where he learned the fundamentals of radiology in a four-phase training program. He was even able to parlay his military veteran status into tuition savings through the Montgomery GI Bill, which provides tuition benefits to veterans in higher education programs. "I was actually the first student to use the GI Bill at RSTI," he says.
Armed with an x-ray certificate from RSTI, he landed at nonprofit health care system Novant Health, Winston-Salem, NC. There, Newman provides technical service and support for medical imaging equipment, which entails the inspection, troubleshooting, repair, calibration, and performance verification of equipment and systems.
According to Newman, individuals interested in radiology may find just getting started a bit tricky. "If you have no x-ray experience, the only way to become trained is to go to an institution that specializes in the training of radiology engineers," he says.
RSTI and DITEC, both located in the Cleveland area, offer comprehensive radiology training programs. Getting into these programs will likely require either a degree in electronics or some previous experience in the field. The most popular ways to acquire this experience is either in the military or through training at an existing job.
What's in a Name?
As hospital networks move into the future at warp speed, they are growing more and more inclusive, which means greater interaction with IT departments and PACS networks. Troubleshooting may determine that the problem is on the network side, but the radiology equipment specialist will still be responsible for making sure it gets resolved. As Newman sums it up: "We need IT to just determine where we are losing data."
And as imaging technology advances, so does the equipment. At first, learning the necessary equipment and technology may seem like a Herculean undertaking. Part of the challenge comes from the increased pressures put on radiology service personnel.
"In radiology you typically don't have a spare sitting around," Newman says. "If a room is down, it needs to be repaired as soon as possible. While it's down, the hospital is losing money and patients can't be treated, so there is a lot more pressure to get it repaired and back up and running."
Another challenge for hospitals and new recruits alike is simply figuring out exactly what to call a radiology equipment specialist. At some hospitals the radiology equipment specialists are known as imaging specialists. Others titles used include radiology engineer, radiology specialist, rad tech, radiological engineer, medical imaging specialist, or imaging engineer.
And the duties are often as diverse as the titles. Radiology equipment specialists may be expected to work on general radiography, fluoroscopy, and Cysto rooms; C-Arms; and portable x-ray devices. In a pinch, they may be expected to work on CR readers and film processors, or help out in cath labs and interventional rooms.
Are You Certifiable?
Those getting serious about a career in imaging and radiology often must come face to face with the prospect of official certification. Perhaps the most recognizable certification for radiology is the certification for radiology equipment specialists (CRES), administered by the International Certification Commission (ICC).
This certification grants formal recognition from the ICC that an individual has successfully demonstrated extensive theoretical and practical knowledge of radiology equipment. In addition to keeping a biomed well versed in the best safety practices, codes, standards, and technologies, certification is often attractive to employers as it signifies a biomed's extensive commitment to a chosen field.
To achieve full CRES certification, individuals must meet certain eligibility and work experience requirements and pass a test. Industry newcomers who do not yet meet the full requirements can apply through candidate status as long as they meet full certification requirements within 5 years.
The test itself is divided into five sections: anatomy and physiology, public safety, equipment function and operation, fundamentals of electricity, and equipment problem solving. A passing score requires test takers to get 105 out of 150 questions correct, or 70%.
To test as a candidate, applicants must earn either an associate's degree in a biomedical academic program, an associate's degree in electronics with 1 year BMET experience, or else have 2 years of full-time BMET work experience. Completion of a military biomedical equipment technology program is also acceptable, but applicants must be prepared to meet additional eligibility requirements.
Since it is rare for there to be too many candidates in one place testing at the same time, studying for the exam is often a solitary affair. While candidates can review test information and sample questions in the ICC handbook available online, the ICC does not sponsor study sessions or refresher courses, nor does it publish specific study guides.
Study sessions such as AAMI's "BMET Evaluation and Review" course may prove somewhat useful as there is always some crossover on ICC exams, covering safety and basic electric codes and standards. However, candidates should be prepared to either hunker down and hit the books on their own or attend a professional review class. Both RSTI and DITEC offer CRES review courses, and their grads often find themselves extremely well prepared for the exam.
James Remeschatis, CBET, CRES, a medical imaging specialist at Eastern Maine Medical Center, Bangor, Me, achieved the highest score in the nation for the CRES in 2007. To prepare, Remeschatis studied extensively on his own and attended DITEC's review class. For biomeds looking at limited amounts of study time, he remarks that test takers can save serious time by intimately familiarizing themselves with the exam beforehand.
"I used one study guide that had me figuring vector triangles for the impendence of AC circuits only to find out that it was not on the test," he says. "I also worked on binary, octal, and hexadecimal problems only to find that calculators are allowed that have this function programmed in. I chewed up a lot of time studying things I didn't need to."
Undoubtedly, this will be welcome advice for future CRES candidates like Stuart Newman, who has just wrapped up his second year as a radiology engineer and is now looking to pursue candidacy. "There were a few requirements that I've just now fulfilled," he says. "Now, it's something I'm looking into. I'm looking forward to it."
Newman's optimism is certainly contagious, and he hopes some will rub off on other biomeds eager to find their niche. "You might not want to pay the out-of-pocket expense," he says, "but remember this: You are investing in yourself and your future. If you are dedicated, it will certainly pay off."
---
Stephen Noonoo is associate editor of 24×7. Contact him at .
Smart Studying
While a good few test-taking strategies won't guarantee a perfect score, they will keep your focus and concentration sharp, which can make all the difference. Manny Roman, founder and president of DITEC, Solon, Ohio, offers some of the tips he recommends to his students to help them ace the CRES the first time around:
Read the answers to the questions first, and from the bottom up. This forces your mind to get a better understanding of what the question is. Reading bottom up precludes being "captured" by the distraction that normally appears in the answers.
If there are any answers that say, D: "All of the above," or D: "Both A and B are correct," try to eliminate one of the included answers (such as A or B) and thus eliminate "D."
Use the Sherlock Holmes law: After eliminating the impossible, whatever remains, no matter how improbable, is the answer. Eliminate all the wrong answers rather than try to find a right one that may not make sense to you.
Do not spend too much time trying to solve any particular question. Save it for later so you do not run out of time.
Take a hit. If you just cannot get it, realize that it is one question out of 150, or about 0.7%. Pick an answer, and be prepared to take the hit.
High Scorer
Medical Imaging Specialist James Remeschatis, CBET, CRES, at Eastern Maine Medical Center, Bangor Me, nabbed the highest score in the nation for the CRES exam in 2007. Here he shares his own personal CRES "cheat sheet" on what to know and how to learn it for three of the exam's most challenging parts:
Electronics
Resistors, capacitors, and inductors. Series and parallel circuits. Know how to figure Xc and Xl and resonance;
Ohm's law and power calculations;
Transistor types, PNP, NPN and biasing, voltage drops, different types of configurations: CB, CC, and CE. Know input, output, and phase shifts of different configurations;
Op amps, summers, differentiators, integrators, voltage followers. Positive and negative feedback. Know how to figure gains for both;
Logic gates, AND, OR, NOR, NAND, etc;
There may be some Boolean algebra questions on the test. I'd recommend taking the hit and moving on. Spend time studying something more productive;
Binary, octal, and hexadecimal are on the exam, I'd recommend buying a TI 36 or similar calculator and learn to do the conversions on it. Much less painful;
One's compliment and two's compliment;
For resistor codes, remember: Bad Beer Rots Our Young Guts But Vodka Goes Well. Gold 5%, silver 10%, and no band is 20%;
FET and JFET's;
Filters; low pass, high pass, notch, band pass;
Know how to figure D/A resolution; and
Electronic study links: openbookproject.net/electricCircuits; www.wisc-online.com.
Anatomy
Know the heart and the blood flow through it. RA, RV, LA, and LV. The blood goes through the valves in the following order. TPMA: tricuspid pulmonary, mitral, and aortic. SA is the pAcemakerS of the heart;
Einthoven's triangle: nobelprize.org/educational_games/medicine/ecg/ecg-readmore.html;
Know the skeleton and be able to label it;
Planes of the body: training.seer.cancer.gov/anatomy/body/terminology.html;
Know the different sections of the spine, cranial (head) to caudal (foot); cervical, thoracic, lumbar, sacral, and coccyx;
Different lobes and sections of the brain and their functions; and
Basic medical terminology: Proximal/distal, etc.
Safety and Regulations
NFPA document 101 is the Life and Safety Code;
Leakage current limits and intervals, ground resistance;
Gas tank colors, diameter, and pin index safety system;
Know the three different types of fires and the correct fire extinguisher to use. A: Paper, wood, etc. Remember: ashes. B: grease and oil, remember bacon. C: eleCtrical;
LIM's: Line isolation monitors. Trip points, alarms, etc; and
American and international hot, neutral, and ground color codes.
—SN