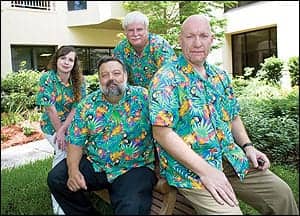 L-R, Jenna Barker, Dean Williams, Alan Ormsbee (standing), and Alex Jordan.
When you are on an island, a streak of independence comes in handy. Nothing against OEMs, but Alex Jordan, director of biomedical engineering at Hilton Head Hospital, Hilton Head Island, SC, and a master sergeant, biomed technician, in the South Carolina Air National Guard, is keen to cultivate self reliance whenever possible.
Only two items at the 93-bed hospital are under OEM contracts via warranty. One is a Toshiba Aquilion 64-slice CT unit, and the other is a Toshiba radiographic/fluoroscopic room. Items under service contract are digital mammography machines (three of them) and a Covidien urology suite.
Why so few? It comes down to a management philosophy increasingly embraced by biomeds in facilities large and small. If you can support it in-house while maintaining the highest standards, it makes sense for the hospital, and especially the patients.
"When I'm making these decisions, I also want to know if we can get the parts to support the equipment in question," Jordan says, who, along with his staff, is technically part of Aramark Healthcare Clinical Technology Services. "Are the parts economically feasible to buy outright, or is it prohibitive, which is the case with our mammography units. If you promise customers you can support it, and you can't due to logistical barriers, you are setting up yourself for failure."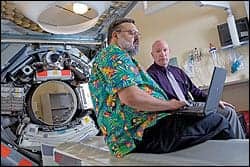 L-R, Dean Williams and Alex Jordan troubleshoot an issue with a CT and research error codes via a laptop.
Despite its reputation as a popular vacation playground, Hilton Head Island is still relatively remote, and logistical barriers are indeed a constant consideration. Key urban areas such as Savannah, Ga, Jacksonville, Fla, Charleston, SC, and Columbia, SC, are all more than an hour or more away.
Creative arrangements such as co-op agreements can bridge the gaps and offer a compromise between OEM service and all in-house work. When 93-bed Hilton Head Hospital acquired a new MRI, price and parts availability were issues. Jordan struck a co-op agreement with an ISO called MRI Technical Services Inc (MRITS), and the fruits of the new deal blossomed in a big way this year when one of the components that regulated temperature on the MRI machine malfunctioned on Easter Sunday.
Imaging Services Engineer (ISE III) Dean Williams swung into action with a first look, aided by 27 years of experience and a proactive nature. Williams identified where the unit was physically down and relayed critical information to MRITS. "MRITS responded to Dean's call on Sunday afternoon and made arrangements to be here on Monday with parts in hand," Jordan reports. "Dean brings a lot of experience and education to our imaging services, but that's a great example of how this co-op agreement can really come in handy."
The ISO comes in once a quarter for an after-hours PM and offers tech support anytime. In fact, Williams believes the MRITS online monitoring mechanism is probably better than the OEM's system. "They monitor our chillers remotely," Williams says, who this year also began maintaining the Siemens Somatom four-slice CT. "They call me if they notice something. Things such as RF-amp glitch errors—they monitor the daylights out of it—and it's to their benefit because they supply the parts."
Williams has the "first-look" responsibilities, serving as the hands and eyes on-site. If Williams can fix it, and he often can, it ends there. If not, then parts will likely be on the way soon. If additional expertise is needed, MRITS sends a technician as part of what amounts to a smooth "shared risk" plan. Hilton Head shoulders much of the labor risk while MRITS takes care of the parts.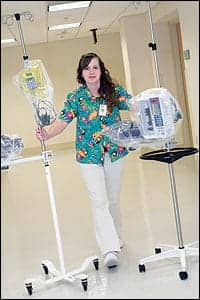 Jenna Barker, equipment distribution technician, distributes medical equipment requested by a health care provider.
A solid rapport with IT and the PACS department fosters a culture of shared responsibility at Hilton Head. Jordan maintains the relationship through regular meetings where biomed input is highly valued. "We are semi remote for most OEMs and vendors," Jordan says. "To get things going, you use the resources you have on hand, and that means relying on each other. I will ask IT questions and they will ask me questions."
In the case of severe weather such as a hurricane, biomeds will literally jump in and throw PCs on the cart with the IT guys. In return, IT professionals will help Jordan and his team to shut down and secure equipment. The culture of cooperation spreads all the way to plant management, facilities, security, and housekeeping whom all watch each other's back.
In one instance, Jordan had to complete the installation of a GE Mac-Lab (patient physiological monitoring and information system) in the cath lab and needed the intervention of the PACS team. It was a complicated endeavor requiring new setups for IP addresses, gateways, and subnet masks for workstations to communicate, and for patient information to be sent to hospital information management for electronic record keeping. Thanks to a solid working relationship, assistance from the hospital's IT department made it easy to coordinate the networking and implement the proper cable to accomplish the task.
All three departments also participated in the installation for radiology's Fujifilm Medical Systems USA Inc imaging network. This system sends the image from the imaging modality to either a laser printer or to a cassette reader for downloading or reading at a remote location. Again, the PACS department assigned IP addresses while IT and biomed performed vital roles.
To further increase efficiency among all stakeholders, Jordan developed an online work order entry program that allows any hospital person to request medical equipment maintenance by inputting data into an online program. "It gives customers a work order number and a tracking mechanism so we can apply metrics and benchmarking," Jordan says. "We'll know how long a job has been open, the primary obstacles, and if parts were difficult to get. This system reduces the hallway encounters where people ask about certain jobs in a random fashion. Instead, we need work orders, and we did this to get rid of the obstacles that prevent positive communication."
Big Heart
In an area surrounded by carefree vacationers, Jordan's staff members manage to maintain a serious mission to provide big-facility services in a small-hospital setting. Like so many clinical/biomedical engineering departments these days, bodies are few and work is plentiful at the hospital. For Jordan, the task is a little easier since he and his two staff biomeds have a combined 70 years of experience.
While she is not technically a biomed, another important piece of the puzzle is Jenna Barker, a dedicated equipment distribution technician who ensures that crucial details are not missed. Barker is the one person who makes it her job to know where virtually all of the high-volume patient equipment is hiding. "Nurses have a problem with hoarding stuff, but you just have to find their hiding spots and go check them every day," Barker says. "I do rounds, clean up pumps, and make sure they have what they need. I make sure they are cleaned and sanitized."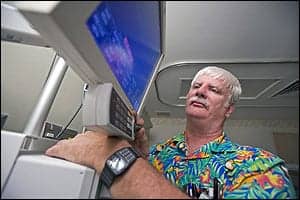 Alan Ormsbee troubleshoots a bedside patient monitor that is not sending data to the central station monitor.
Barker ensures that hallways are not lined with IV poles that look disorganized and are potentially unclean. "Jenna organizes them, sanitizes them, bags them, and delivers them when the health care provider needs them," Jordan says. "Items such as pain pumps, feeding pumps, sequential compression devices—Jenna rounds them up and makes sure they are operational. I don't have the hard numbers, but I have no doubt that Jenna's valuable work contributes to a reduction in infection rates."
Alan Ormsbee, biomed specialist at Hilton Head Hospital since 1994, points out that Barker's efforts also save the hospital money. "Out of the 165 IV pumps, 85% are leased," Ormsbee, an Air Force veteran, explains. "If she finds all of them, she is going to reduce the lease we currently have, and reduce the demand for leased items because she finds them. She keeps the volume on-hand and ready, and that helps us keep our own products in continuous use, reducing the volume of necessary equipment."
Barker's contribution is all part of an overriding philosophy that stresses attention to detail and an awareness that the hospital is a vital part of the community. "This is a place that I use, my family uses, and my friends use, so we want it to have the best care and equipment we can provide," Ormsbee says. "If it means we can take on the risk as well or better than the OEM, then we do it. If we can't, then we look at the alternatives."
With more than 2,500 devices to look after, Barker's help allows Jordan, Williams, and Ormsbee to focus on an array of programs that are not offered at most small hospitals. After all, who would think that a little biomed department in a remote hospital could house an open heart surgery program? "We are one of the smallest hospitals in the United States to have such a program," Jordan confirms. "That takes a lot. We have a first look for that Terumo 8000 heart lung bypass system, and we will bring in the OEM, if necessary. We have a good rapport with the cardiovascular/thoracic surgeon who will call us to handle things right away."
"We have full cardiac rehab, two cath labs, an off-site surgery center, and spine surgery," Ormsbee adds. "These are programs and setups that you don't find, so it's a challenging and rewarding environment. And because of our devotion to teamwork, we pass our inspections with flying colors. Our customers know our first name, and we are part of the brain trust of the hospital."
The Aramark Era
Just over 3 years ago, biomeds at Hilton Head Hospital exchanged shirts with hospital logos for garments with the familiar Aramark emblem. Change is never easy, but Alex Jordan says Aramark officials did an excellent job of transitioning to the new company, with minimal disruption and a focus on patients.
Living with MD
Over the course of more than 2 decades as a biomed, Alan Ormsbee has seen the relentless progression of medical device technology. As an electronics expert and a meticulous restorer of automobiles in his home garage, the biomed specialist at Hilton Head Hospital, Hilton Head Island, SC (as an employee of Aramark's clinical technology services), has put manual dexterity and nimble thinking to good use in hobbies and in work. "He is an electronics guy and a craftsman," says Alex Jordan, director of biomedical engineering at Hilton Head Hospital. "It is rare to see those two talents in one person."
Keeping up with technological progress has never been a problem for Ormsbee. However, his current battle with muscular dystrophy (MD), a hereditary disease that weakens and even kills muscle tissue, is an entirely different animal. Thanks to a medical device manufacturer that paid for a small scooter to use at the hospital, Ormsbee can still get around the 93-bed facility.
On the job, Ormsbee is still more than able to pull his weight. And when the progressive disease gets worse, the 55-year-old Air Force veteran is confident he will know when it is time to retire. "I will quit before it ever becomes an issue of having to fire me," Ormsbee says. "I will know when it's time."
Ormsbee and the staff will soon benefit from an additional biomed in a move that will lighten the load a bit for everyone. With a new person dedicated to PMs, Ormsbee can use his expertise in the imaging realm to be a floater between biomed and imaging.
In the meantime, Ormsbee is by no means finished. While he freely admits to getting more disabled with time, he appreciates the understanding fostered by Aramark. "I'm not dead yet, and I actually feel blessed, which speaks volumes about the company," Ormsbee says. "I won't be able to do this job as long as I had hoped. But God willing, I will go as long as I can. I hope I maintain the same integrity at the end of my career that I have shown throughout my career."
—GT
Steve Koenigshof, district manager, Aramark Healthcare, Charlotte, NC, says the culture change begins with a capable coach or liaison. "A good coach will ensure the key facility contacts are introduced to the Aramark team and allow these individuals to express any concerns that they may have with the transition," Koenigshof says. "Once the initial meetings have taken place, the Aramark team will engage with the facility staff by a process we call 'rounding' to create a relationship. As time goes by, the facility staff will realize the new Aramark team really wants what they want, and that is for all medical equipment to be properly maintained and ready for use."
Whether Aramark is involved or not, most training budgets have been affected in some way over the last couple of years. "Aramark is gung ho on training," Williams says. "The more you can do, the more you can take on. I wanted to go to one of the training seminars at one point, but the workload just did not permit it, so I passed. But Aramark is great about getting us the training we need."
Regardless of the economy, Koenigshof believes that training must remain a priority. "It is vital that we continue to develop our people," Koenigshof says. "Training dollars will always be a challenge for any company in the medical equipment management business. Whether your budget has $30,000 or $300,000 for training, you can always find a need for more. The key is to manage the training dollars you have to provide better service to the facility, either by adding a new service to save the facility money, or developing the talent on the biomed team so they can provide first-class service."
When training is not enough to overcome the workload and another biomed is needed at an Aramark-contracted facility, Koenigshof considers many factors. One variable would be benchmarking data that looks at the types and volume of inventory maintained at the hospital. At press time, Jordan had asked for and received permission to post for another position. "We look at the types and modalities of the inventory and apply the hours used to maintain these types of devices," Koenigshof explains. "Take the number of hours of full-time employees (FTEs) and compare the hours of inventory maintenance hours, and this will give a ratio that can justify an additional FTE."
A Lighter Side
Patients rely on equipment for their very lives, but that does not mean that biomeds cannot loosen up and have some fun. In an effort to do just that, the crew wears tropical shirts every "casual Friday" while the dietary department bakes cookies and provides punch. The always open door swings a bit wider that day, and anyone who drops by can discuss what is on his or her mind.
When you consider that the "Biomed Beach Bum Fridays" are literally just 5 miles from the actual beach, it does not take much to spark the sun-and-sand mood. When employees go off the island and go back to homes in Bluffton, SC, and elsewhere, Jordan hopes they will reflect on a department that values communication, respect, and excellence above all. "Our staff in both the biomed department and the equipment distribution department are committed to the leadership of Hilton Head Hospital, as headed up by our CEO, Mark O'Neil," Jordan says. "And we are striving to become a five-star facility."
---
Greg Thompson is a contributing writer for 24×7. For more information, contact .