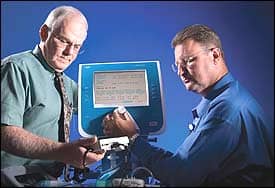 Louis Hudson, CHFM, director, facilities management, BJRH, left, provides the support Robbie Liles, CBET, needs to get the job done.
"I am 'one deep'," laughs Robbie Liles, CBET, humbly acknowledging the fact that he is the lone biomedical equipment specialist responsible for more than 1,200 pieces of equipment at the Betsy Johnson Regional Hospital (BJRH), Dunn, NC, along with several related physicians' offices and satellite clinics. "The leadership here is very supportive of me and that makes a big difference."
In fact, Liles gives a great deal of credit to the management team he reports to—headed by Louis Hudson, CHFM, director, facilities management—for providing him with the decision-making authority and autonomy necessary to get his work done in a timely manner.
"There is a lot of trust here, so they just let me handle things, and that does make life easier. If I had to stop every minute to go and explain things to three or four different people, I probably wouldn't be able to get this job done," he says.
Recruited by an independent firm that specializes in developing in-house biomedical departments from the ground up, Liles joined the 101-bed facility about 3 years ago.
The consultants had been brought in to revamp a struggling department and in short order compiled an inventory, requisitioned new test equipment, and established operational procedures for the hospital. Being able to step into the role of sole biomed at this time proved to be a luxury for Liles, whose extensive biomedical training and experience aided him in making the transition a smooth one.
Much of that education, both classroom and real-world, was provided courtesy of the US Air Force, in which Liles served for more than 2 decades. The last 12 years of that tenure were spent as a biomed tech, working in a wide range of shops and medical settings.
"The experience I gained in the military is probably one of the biggest things that has helped me and made me a good fit for this job," he says. "In the military you travel around, so I had experience in small shops where I was the only tech; I've worked in medium-sized facilities and shops; and I have also been responsible for large shops, where I ran the maintenance program and had 12 people working for me."
The work ethic and discipline gained through his years in the military shine through. "He is very, very disciplined; he does an excellent job," Hudson says. "In fact, sometimes I feel bad that I don't spend more time with him, but he is extremely reliable, so I know things are getting taken care of, even when I don't meet with him."
It is precisely that work ethic that has given Liles firm standing as the "go-to" guy for BJRH. It also played a key role in building the foundation of trust between him and his employers—something he says is critical for him to thrive in his work, and a trait he believes should be fostered in any biomed shop, regardless of the number of techs on staff.
"To be successful in this position, the leadership, first of all, has to find someone they can trust," Liles says. "And when they do, they really need to give him or her a lot of latitude to get the job done, like they do here."
Exactly how much latitude depends on the individual, of course, but once the right person has the job title, supporting him or her helps everyone. At BJRH, for example, vital decisions don't stop when Hudson leaves the building.
"Robbie has demonstrated time and time again that he is a very, very capable individual," Hudson says. "We have so much trust in him that if I am not here in the facility, he has the authority to make decisions for the hospital regarding anything in the biomedical field."
Making the Most of Technology
Managing the workload for BJRH would not be possible for one individual without the assistance provided by automated programs. Liles employs a software program specifically designed for medical equipment management.
"It allows you to do a tremendous amount of reporting, and it keeps an excellent record on each and every individual asset," he says, explaining that the solution makes it possible to assign each piece of equipment an individual asset identification number. "This means that every device has its own historical database, and all of that information is stored in the system."
This type of automated record-keeping simplifies The Joint Commission review process, keeps equipment up and running, and saves time in the long run. During the last Joint Commission visit, the surveyors commented that Liles' documentation was the best they had ever seen.
"My philosophy is that while PMs for medical equipment can sometimes be a little bit monotonous, it needs to be done and to be done properly," he says. Specific examples include avoiding work-arounds by changing parts out as needed, taking care of wear and tear on a piece of equipment, and collaborating with directors and the capital equipment committee to replace obsolete pieces as necessary. "If you go through and take the time and you do PMs properly, it really does add value to the program and can cut down on service calls. Also, applying a risk-based approach to the maintenance program will allow you to use your time more effectively."
By entering the desired maintenance schedule into the system, Liles can easily see what devices need tending to and when. The technology also makes quick work of rolling new equipment into the existing routine. As products are purchased by the hospital, Liles performs an initial inspection and incorporates them into the maintenance program. If a piece is similar to one already in the database, he simply adds it into the rotation. For gear that does not fit into an already established category, Liles can create a procedure, set the maintenance schedule, and assign it to the appropriate department—all in a few minutes.
"I schedule different sections of the hospital for different months of the year. For example, our second floor is the labor and delivery, med/surge area, and I have set it up for January and July to do the scheduled PMs," Liles says. These rounds are set so each section is visited every 6 months, allowing all semiannual and annual inspections to be completed based on the risk of the equipment. "The software makes scheduling very easy," he says. "At the first of each month, I generate a scheduled work order report and print the work orders that are due."
Building a Reputation
Of course, biomed techs in any hospital are responsible for more than just routine care. The day-to-day and last-minute calls come to Liles in a variety of ways. Whether he is paged, called, e-mailed, or handed a printout of a work order, customers take top priority.
"First and foremost, it's important to be as responsive as you can to the work orders and to take care of your customers as best you can. A lot of it does come back to my experience and training I received in the military," he says.
Through that experience, Liles has learned that replacing parts according to specifications—even if it costs a little bit more—will increase the longevity of both the repair job and the product. "In the long run, it's worth it to take that extra step and make sure things are done properly. That way you won't have as many repeat problems."
He is also a big believer that "if you take care of your customers, they will take care of you," and he practices what he preaches. Liles consistently receives high marks on internal customer service surveys and, even more important, people simply enjoy having him around.
"Our goal is 100% customer satisfaction no matter who that customer is, and Robbie delivers," Hudson says. "Just about every department he comes in contact with absolutely loves him. They have a lot of respect for his knowledge, and they have no fear about calling him for any type of problem because of the way he takes care of it. As one example, when he's helping the nursing staff with user errors that would present an opportunity for someone to really degrade the nursing staff who are making those mistakes, he always treats them with respect, and they appreciate it."
Liles reaps the rewards of his approach. "Our managers and directors realize I am the only biomed tech. I try and make myself available, but at those times when I can't, they understand," he says. Even in such cases, the customer is kept in the loop. "If I can't respond to them physically, I will at least give them a call and let them know that I received their request and approximately what time they can expect to see me. I believe that goes a long way toward letting them know I am here for them."
His amiable demeanor is also evident in the relationship between him and the IT department. Though the two teams do not work together extensively, when their paths cross, the interaction is always positive.
"I believe you have to make your job as easy as you can, and sometimes you can be your own worst enemy. You have to ask yourself, 'What's going to make my job easier? Do I need to spend 3 to 4 hours in a meeting butting heads with somebody, or can we find a solution and work through it together?' " Liles says. "If you can get the right attitude and work well with people, it helps everything."
Managing Time
Without hesitation, Liles explains that he would not be able to accomplish nearly as much as he does if he had not mastered the art of time management. Without a crew of trained techs as backup, the responsibility for every task falls on his shoulders, which can quickly fill up the daily to-do list.
"When you're by yourself, you really need to manage your time properly," Liles emphasizes. "You have to stay on top of service requests and scheduled maintenance so the work doesn't get away from you and you don't end up in a situation where you are trying to play catch-up."
The automated scheduling system is one tool Liles uses to keep up with his ongoing workload. Another is staying knowledgeable about the equipment in the hospital and how repairs have been done in the past.
For instance, the hospital has two independent telemetry systems: One is used by the med/surge staff, the other is dedicated to cardiac rehab. Liles is responsible for both.
"Not every time, but in many cases, you are going to see recurrent-type problems in similar pieces of equipment: The same error codes will pop up or there is a loss of signal," Liles says, adding that when dealing with the same equipment all the time, there are a lot of things that simply do not require an extensive amount of time for troubleshooting. "One example would be that I've been servicing the same physiological monitors for 3 years, so if I've seen the error before and took the time to troubleshoot and repair it, then when I see it again, I don't have to go back to square one. It's that type of experience with equipment that does help save time, and anything you can do to save time is your ally."
In addition to on-the-job experience, Liles attends training and biomedical conferences at least once every year and gets to as many training classes as possible. His dedicated approach is just as evident when he is off-site.
"He has won several prestigious awards and certifications and tied for the highest score in the nation on the CBET certification exam," says Hudson, who is a strong proponent of certifications for biomed professionals. "What that certification does is it gives me, as a manager, confidence that the individual doing the work has a good, basic knowledge of everything in the biomedical field. I feel it is extremely important and I would not want someone working here who was not a certified biomed tech."
Liles feels just as strongly about the topic. "While it's good to get a diploma or a technical certificate, being certified gives you more credibility," he says. "It's not necessarily a requirement to have it, but it shows your leadership that you are taking that extra step to be a professional in your career field."
Securing Backup
Operating with a single biomed is not without its downside. Resting the responsibility for the entire shop on the shoulders of one man significantly increases the importance of where that one man is and how he is feeling.
"The only drawback to it just being Robbie would be if he was ill or disabled for a long period of time," Hudson says, adding with a laugh, "or if he decided to find another job … That would be the major drawback."
To be prepared for any contingency, BJRH maintains a contract with the same firm that got the department on its feet in 2004. The agreement provides a temporary biomed tech to cover the hospital whenever Liles plans on being away for training, as well as on short notice should he require a sick day.
"It's an ideal situation, because they set the program up so they know exactly what we do here," Hudson says. "It gives us peace of mind and allows him to take a vacation, too, which is important."
Aside from that, both men believe the positives far outweigh any potential negatives. "Having a single biomed means that there is 100% accountability for the program with that one individual," Hudson says. "I've worked with contract services, and you just don't have the accountability for the entire program that you do with a single person employed by the hospital."
| | |
| --- | --- |
| Read other department profiles in past issues of 24×7 by searching the online archives. | |
"A one-person equipment management program can be successful," Liles says. "Establishing and maintaining a solid, risk-based maintenance program will help ensure that scheduled maintenance is completed on time. Being responsive to service requests is very important to customer satisfaction. It's a constant balancing act to make sure all tasks are complete, and at times it can be a bit overwhelming. As with most hospitals, we are constantly dealing with budget issues, so I try to limit the use of contract services, but some contracts are necessary to cover specialty equipment items. Having trust from leadership, experience, and a staff that mostly understands I am 'one deep' help make this a successful program."
Dana Hinesly is a contributing writer for  24×7. For more information, contact .