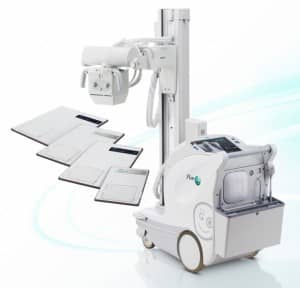 At recent industry events such as RSNA 2015, Fujifilm Medical Systems USA highlighted its FDR Go mobile x-ray system designed for care at the patient bedside, in the emergency department, operating rooms, ICU, NICU, or wherever general x-ray is needed.
According to Fujifilm, the FDR Go is a full-featured system in a compact design built on a 32kW mobile x-ray platform that offers speed, image quality, and dose control. The enhanced portable features in a smaller-sized unit allow for easy maneuvering in tight spaces.
The system uses FDR D-EVO digital detectors in standard 14- by 17-inch and full field-of-view 17- by 17-inch sizes. A long, tall-reach telescopic arm features full angulations for easy and precise tube positioning. The system's battery power lasts 4 to 5 hours and features an emergency reserve mode for additional exposures and travel after the low battery warning. FDR Go offers a full-functionality technologist workstation, equipped with time-saving features that are designed to simplify mobile exams. The flat panel detector is compatible with Fujifilm's FDR Go and room retrofit solutions.
For more information about the FDR Go mobile x-ray system, visit the Fujifilm Medical Systems website.