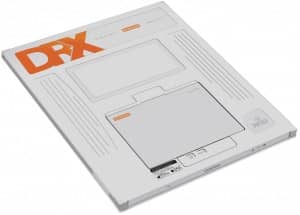 Carestream Health recently displayed its newly designed DRX Plus detectors, which can be submerged in 1 meter of water for 30 minutes without failure, at the 2015 meeting of the Radiology Society of North America. According to Carestream, its DRX Plus detectors meet IPX Level 7 rating for liquid resistance and IEC 60529.
In addition to enhanced image quality and speed, the detectors are also thinner and lighter than previous DRX detectors, and offer higher detective quantum efficiency for improved image quality and lower dose.
Increased battery life is intended to enable more imaging between battery changes, while a battery hot swap feature now allows a quick battery change without a reboot. A fast frame rate is designed to provide compatibility with advanced applications in the future.
To improve the durability, reliability, and image quality of the DRX Plus detectors in a range of conditions, the company performed extreme testing on them during. Carestream reportedly submitted the detectors to checks that included a bump test, vibration test, load test, humidity test, drop test, and water resistance test.
For more information about the company's DRX Plus detectors, visit the Carestream Health website.