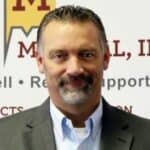 Husband and wife team Steve and Cathy Ziegenhagen founded their Minnesota-based company Gopher Medical in 2012. Focused on patient monitoring equipment, the third-party vendor specializes in a range of Philips and GE solutions. Steve, the company's managing partner, has more than 25 years of experience: he received his biomedical engineering degree in 1989 and spent years installing and servicing medical systems for hospitals and clinics throughout the Midwest. He spoke with 24×7 about starting his own company, the most in-demand features in patient monitoring equipment, and what steps biomeds can take to improve value at their facilities.
24×7: What was your professional background prior to Gopher Medical? How did you come to start your own company?
Ziegenhagen: My career began as a biomedical engineer in the 1980s for Narco Medical Services. I performed bench repairs on various types of medical equipment before moving into the field doing on-site repairs and installing cardiac central monitoring systems from various manufacturers. After a number of years, I then moved into sales as an account executive. I was responsible for revenue growth within my territory and also managing my customers' capital equipment needs through the equipment life-cycle process. After Narco Medical was purchased by UHS in 2001, I continued to work in this capacity until 2008. I then left UHS to pursue other opportunities.
In 2009, I took a sales position with Topline Medical, where I was responsible for generating and managing my own customer base. In early 2012, Topline was purchased and dissolved, and I was faced with the decision of what to do next in my career. All of my previous history at Narco, UHS, and Topline had given me an abundance of experience and knowledge. It was at that point that I, along with my wife Cathy, decided that it was time to create Gopher Medical.
24×7: How do you distinguish yourself from other independent service organizations? 
Ziegenhagen: Gopher Medical's staff has a combined tenure of over 70 years in the medical business and over 60 years of hands-on biomedical expertise. That experience is a huge benefit to our customers, because not only do we understand the clinical aspect of the equipment, we also understand the technical function, which gives our customers peace of mind. They can trust us to help them meet their equipment and service needs. I believe this sets us apart from some other organizations.
24×7: You specialize in new and refurbished patient monitoring equipment, as well as repair, parts, and service. What sector makes up the biggest part of your business?
Ziegenhagen: At this point, sales of refurbished equipment is the largest. We specialize in central monitoring systems, patient monitors, telemetry, anesthesia monitors, defibrillators, fetal monitors, EKG machines, and vital signs monitoring. With my biomedical engineering background—along with our biomeds, who have over 30 years of experience on bench-level repairs—we are continuing to grow the repair sector of our business daily.
We also offer turnkey solutions to healthcare facilities that are expanding services or undergoing new buildouts that require additional monitoring or telemetry beds. As part of this new growth, we offer custom-built central stations. During the process of customizing a central system for the facility, we perform a site survey by meeting with the biomed department and anyone directly involved (such as IT or department managers) and reviewing their current monitoring situation. At that point, we review the floor plan to determine coverage area and what is required for hardware, software, and other related components to complete a formal proposal.
24×7: What is the geographic scope of your service area? Do you perform repairs on-site? 
Ziegenhagen: The majority of our service business is conducted within the United States; however, we do have international customers. Also, the vast majority of our repairs are performed in-house or at our repair depot. We offer flat rate repairs, exchanges, and free estimates. We work with any healthcare facilities across the United States.
24×7: How do you acquire parts for that portion of your business?
Ziegenhagen: As a Philips trade-in partnership, we often get large lots of equipment and some of that equipment is allocated to our parts inventory. If we don't have the part in stock, we would then work with another third party to locate the part.
24×7: What is your warranty policy? 
Ziegenhagen: Our warranty policy is dependent on many factors, such as whether the equipment we are selling is new, demo, or refurbished, what type of equipment is being sold and to whom. We also offer warranties on our repair services. Again, that is dependent on certain factors such as what type of unit is being repaired and what the repair consisted of.
24×7: How has your overall business been affected as HTM departments try to cut costs? Are you seeing growth or decline in specific areas, such as more hospitals repairing rather than replacing equipment?
Ziegenhagen: With the declining capital and budget restrictions that hospitals are faced with today, we have seen growth in our business because we offer a solution for quality refurbished equipment and depot service. By providing hospitals with new or refurbished equipment and servicing it, we can maximize their capital and alleviate budget pressure, and essentially elongate the life of that equipment.
24×7: When your customers are ready to upgrade their systems, what kinds of features are most important to them?
Ziegenhagen: Ease of use for the nursing staff, alarm management, portability, modularity-based systems, wireless communication, ETCO2 monitoring (the measurement of carbon dioxide), and networking nurse call systems seem to be some of the features in highest demand.
24×7: What technology trends have you noticed over time in patient monitoring equipment? 
Ziegenhagen: There have been many over the years. However, the biggest by far is the ability to interface with the hospital's electronic health record system—a digital version of a patient's paper chart. EHRs are real-time, patient-centered records that make information available instantly and securely to authorized users. One of the key features of an EHR is that health information can be created and managed by authorized providers in a digital format capable of being shared with other providers across more than one healthcare organization.
24×7: What role, if any, do you play in integrating monitoring systems with the EMR for your customers?
Ziegenhagen: By closely working with our customers' biomed engineering departments, we take all necessary steps to be involved upfront to understand what is needed for interfacing to their EMR or EHR systems.
24×7: Underutilization remains a big problem at many facilities. How can HTM departments help their hospitals address this issue?
Ziegenhagen: By getting involved upfront with their equipment selection committees and assisting them in utilization studies prior to purchasing the equipment. By performing a weekly or monthly utilization study, the healthcare facility can track equipment usage patterns. Over time, this will assist them with making an educated decision about how many of a particular device they may need and ultimately save them capital dollars. We have seen a trend where equipment is overpurchased and ends up in storage. A utilization study would help eliminate, or at least lessen, that situation from occurring.
Another way is by working with companies such as Gopher Medical, who will buy that underutilized equipment, offer trade-in values, or provide an equipment trade. The healthcare facility is then able to recoup some of that capital and free up valuable space.
24×7: What advice would you offer to biomed departments trying to add value to their facilities?
Ziegenhagen: First and foremost, take advantage of all equipment training and further education opportunities offered by manufacturers or your facility. Also, get involved with hospital committees, such as the equipment selection process and patient safety. By getting involved upfront with these types of committees, you are proactively demonstrating to key people that the biomed department is a key part of any equipment decisions that are made.
In addition, review all service contracts on a regular basis to determine if there is a way to cut cost. By evaluating the level of service offered by the manufacturer, you may find that they are charging more for after-hours service or parts. Look at other third-party companies that have factory-trained engineers for the modality that needs service, as they may offer the same level of service for less. These are just a few ways that you can add value to your healthcare facility.
24×7: In what areas do you hope to expand your business in the future? 
Ziegenhagen: As our business continues to grow, we are moving forward with a detailed plan to grow the service and rental portion of our business. As part of growing the service aspect of the business, we also are looking into becoming a distributor for biomedical test equipment. This will open the door into more biomedical service departments to promote our products and repair services.
24×7: Finally, how did you come up with the name Gopher Medical?
Ziegenhagen: Honestly, we thought long and hard about the name of our company, and it was a rather difficult decision. We wanted a name that would associate us with Minnesota. Typically Minnesotans have a reputation of not only being "Minnesota nice," but also hardworking, dependable, and trustworthy, and we are all of those things. So after much thought and consideration, we asked our very good friends over for dinner one night to get their opinion. We tossed around idea after idea, and nothing seemed to fit. Finally, my friend Tom said, "What about Gopher Medical?" And that was it, it just fit! Along with the Minnesota Gopher colors in our logo, we added the tagline, "Trust….that's what it all comes down to," because it does.
For more information, contact chief editor Jenny Lower at [email protected].