Biomed Carrying Cases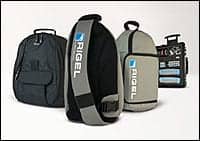 Rigel Medical, Peterlee, England, offers a range of lightweight carrying cases and backpacks for the transportation of medical device analyzers and simulators. A sling-style, water-repellent carry case is available for the Rigel 288 electrical safety analyzers and the combination vital sign simulator UNI-SIM. It is capable of holding several items of test equipment and accessories such as a label/results printer and a bar code scanner. The backpack-style Med-ePack can accommodate up to five items of electrical safety equipment, a vital signs simulator, and ventilator test equipment as well as a laptop.
Rigel also offers the Med-eKit trolley case for biomeds in the field, which contains a service kit for testing the electrical safety and operation of medical devices. The field service kit can hold up to two individual testers, as well as a label and results printer, bar code scanner, and PC software.
+44 191 5878730
www.rigelmedical.com
---
Electrical Receptacle Analyzer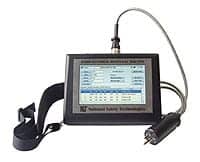 The R7000 electrical receptacle analyzer from National Safety Technologies, Paoli, Pa, features a touch screen for data entry and an expanded display that shows multiple test results at one time. The analyzer has the capability to preload outlet descriptor data to eliminate repetitive typing. The detachable reference cord offers two different test routines: an expanded program for comparative testing or a simplified program for troubleshooting and quick checks. Each test result is immediately recorded with a time and date stamp. The system has memory for up to 10,000 receptacle tests and generates compliant reports with the Report Commander software.
The R7000 performs the standard "OKX" test that checks such things as receptacle wiring polarity and isolated power wiring. The purchase includes an analyzer, a test probe, an independent charging cable, and a USB cable.
(800) 678-7074
www.NST-USA.com
---
Endoscope Testing Device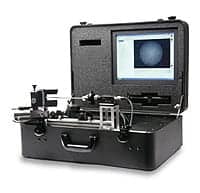 Lighthouse Imaging Corp, Portland, Me, has expanded its line of EndoBench measurement instruments with the new EndoBench XT and upcoming EndoBench XTB. The EndoBench testing devices, used to test and report the image quality of flexible and rigid endoscopes, offer a cost-effective method to measure and verify optical parameters throughout the entire endoscope life cycle, including during production, prior to patient procedure, and while validating repairs. The EndoBench XT, a portable device designed for endoscope service and repair companies and OEMs, measures image sharpness and optics transmission. It also tests fiber optics' brightness and distribution, and measures eyepiece diopter error.
The EndoBench XTB, currently under development, will be a bench-mounted solution for use by endoscope manufacturers and endoscope service and repair companies. The EndoBench instrument consists of a custom-designed opto-mechanical system and software to evaluate and report the parameters that are central to a clinical environment. Adapters and fixtures are included for measuring rigid, flexible, and video endoscopes.
(207) 253-5350
www.lighthouseoptics.com
---
iPad Case and Bluetooth Keyboard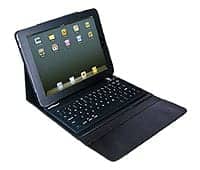 Specifically designed for the health care industry to address infection control concerns over iPad use in the hospital setting, Seal Shield LLC, Orlando, Fla, introduces the Silver Blue Bluetooth wireless keyboard and case for the iPad. Resistant to liquids, including blood and bleach, the keyboard is constructed of medical-grade silicone and can receive regular cleaning with health care-grade disinfectants to help prevent the spread of germs, viruses, and bacteria. The keyboard is also protected with a silver-based, antimicrobial additive that resists mold, mildew, fungi, and microbial bacteria growth. The medical-grade keyboard features Bluetooth V2.0 wireless technology and a rechargeable lithium battery for 100-day standby time.
(877) 325-7443
www.sealshield.com