Today, clinical engineering is in the early phases of what will be a true revolution in health care in the 21st century. We are already experiencing some of the disorienting effects of simultaneous and escalating changes in medical technology, information technology, national health care policy and economics, population demographics, and professional identity. These changes are transforming our 20th-century paradigm of clinical engineering in ways that sometimes seem beyond rational human control. Our medical devices, the scope of our professional practice and skills, our "best" business practices, and our working relationships with other professions are mutating at a rate that increasingly resist comprehension and coherent management.
Kaiser Permanente, the nation's largest not-for-profit health plan, provides care for more than 8.6 million of its members at 32 hospitals and 416 medical office buildings. To manage its clinical technology infrastructure, we have adopted an integrated, total life-cycle model that gives us significant leverage over device design and functionality, cost, contract terms, and operational support. To reflect the fact that we need to be able to understand and manage systems issues, we redefined our job title for clinical engineers (CEs) as clinical systems engineers. This charters them to work not only at the level of individual devices and departmental systems, but at wider organizational and societal levels as well, through participation in cross-functional advisory committees, in external standards and regulatory bodies, and in international consortia.
Many of the established models of knowledge, professional training, and leadership that guided us in 20th-century settings may not suffice to guide us in the transformations that face us now. Our guiding metaphors, our macro-level planning models, and our business language may all need to change radically if we are to be able to gain a rational core of control over health care systems that may otherwise reach the limits of manageable complexity. Vendors and consultants are always eager to step into the gap, but I believe that, as a profession, we owe it to ourselves to trust in and build on our own experience and creativity first before outsourcing our future to others.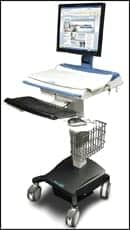 Photography courtesy of InfoLogix Inc
One important example is our recent experience at Kaiser Permanente in implementing wireless mobile carts in our inpatient areas to provide input to our electronic medical record (EMR) system (KP HealthConnect™). This cart technology may appear simple on the surface, but it is a complex point of convergence for clinicians, CEs, IT, facilities engineering, and vendors. We now have almost 3 years of experience in implementing thousands of wireless mobile carts in our California hospitals. These carts play a central role in our new EMR system, and they are jointly managed by CEs and IT. The main reasons for joint management are that these carts are used within the patient space, and poised to be used to monitor vital signs and display other medical device data, thereby gaining clearer status as medical devices.
It took more than 2 years to develop and fine-tune the joint support model for these relatively simple hybrid technology carts. Physicians, nurses, CEs, biomedical engineers, IT enterprise architects, third-party vendors, consulting companies, IT field services, and call centers, among others, were involved.
A central success factor of the support model was the cross-functional meetings among life-cycle stakeholders to identify support requirements and responsible parties. Summary and detailed process flows defined the agreements that are used for training and help desk support. From these meetings, other specific steps that led to success include:
MOU: A memorandum of understanding defines the annual budget for implementation and support services. It projects fixed predictable costs as a not-to-exceed budget, and forecasts a minimum level of variable costs (such as incident management), with provisions for adjustments if unforeseen costs materialize such as a rework required to upgrade malfunctioning peripherals.
SLA: Service level agreement defines the scope of responsibilities and response times for incident management and other services.
Operational Readiness Meetings: Cross-functional meetings bring IT and CE representatives together to ensure that all preparations are complete and that emerging issues are quickly identified, discussed, resolved, or escalated.
Active Vendor and Contract Management: Planning, testing, and managing a hybrid technology—composed of many components that were not initially designed to work together—requires vendors and implementers to budget for extra time, staff, and materials to manage unforeseen trouble, troubleshooting time, and rework.
Team Building: Clinical engineering and IT teams meet face-to-face prior to go-live to review the support model, answer questions, and set a baseline for cooperative working relationships to ensure professional incident management. In a complex wireless environment, where multiple systems are interacting (EMR, printing, bar code scanners, Bluetooth modems, laptops, network access, Citrix servers), the troubleshooting effort must be collaborative and solution-focused. An evasive attitude of "it's not my job" cannot be allowed to impair responsiveness or performance. All transfers of incident records between CEs and IT are to be accompanied by a warm handoff involving a phone call to the recipient of the reassigned record.
Training: Needs to be provided in advance by vendors when certification is required to support specialized devices and maintain warranty. Triage agents need to have a complete understanding of the range and types of typical incidents and solutions for jointly managed devices.
The lessons from this project are readying us for the next challenges. In the larger professional context, CEs will need a major educational focus on the systemic aspects of clinical technologies along the life cycle. The proper skill sets for the future should include in-depth familiarity with enterprise-scale business processes and process models such as Information Technology Infrastructure Library; software programming and network management troubleshooting skills (to evaluate and manage increasingly software-defined technologies); design relationships with manufacturers, to champion clinical preferences early in the production process; as well as a multilevel understanding of the entire force field of regulatory, legislative, public policy, political, and standards development activities that will become increasingly important as our society attempts to reconcile diverse—and sometimes conflicting—economic, moral, and clinical interests.
On the Lookout: 8 Tips for Assessing Potential Pitfalls
Managing IT projects in the clinical engineering workspace requires planning and productive meetings that include representatives from all departments affected. Over the past 3 years, Mario Castañeda, CBET, BS, MBA, national director, department of clinical technology, Kaiser Permanente National Facilities Services, Oakland, Calif, and his team have encountered—and resolved—various challenges while implementing wireless mobile carts and other technologies in a shared environment. Castañeda identifies eight points below that can help facilities working on similar projects become aware of possible difficulties and serve as a project-planning checklist for successful outcomes.
Operating systems (OS) upgrades that overwrite IT images on clinical engineering systems equipped with proprietary software that is not compatible with IT standards.
Untested IT patches that can interfere with clinical engineering system performance.
IT project managers who are unfamiliar with the clinical infrastructure who may inadvertently implement interfering IT wireless systems adjacent to telemetry systems.
Legacy/proprietary OSs requiring manual time changes for Daylight Saving Time that cannot accept current IT patches that are not backward compatible.
Stand-alone clinical technology systems that require laborious manual inventorying that does not include asset-configuration details essential to best practices for shared asset management and network impact planning with IT.
Hybrid systems and new configurations that have been designed by multiple vendors—but not tested as integrated systems—that create ongoing troubleshooting difficulties, with uncertainty about to whom incident calls should be routed.
Adding IT components to clinical systems that creates uncertainty about whom to contact for service. For instance, adding peripherals to hybrid systems without sufficient compatibility testing.
Vendors who change components without adequate testing or notification, causing malfunctions and rework.
---
Mario Castañeda, CBET, BS, MBA, is the national director, department of clinical technology, Kaiser Permanente National Facilities Services, Oakland, Calif. For more information, contact .