By David Tandet
Real change began for Jeff Lawrence his second day at Spectrum Health in Grand Rapids, Mich.
"I'd been with HP 10 years," recalls Lawrence, now architect—clinical technology at Spectrum. "I walk into a hospital room like this pumped-up IT guy knowing I'm going to make these biomedical devices more redundant. I begin work on an IP-based monitor, and I'm in my own little IP world."
He'll never forget what happened next. A visitor to a patient in the room stood up and started yelling at Lawrence for no discernible reason.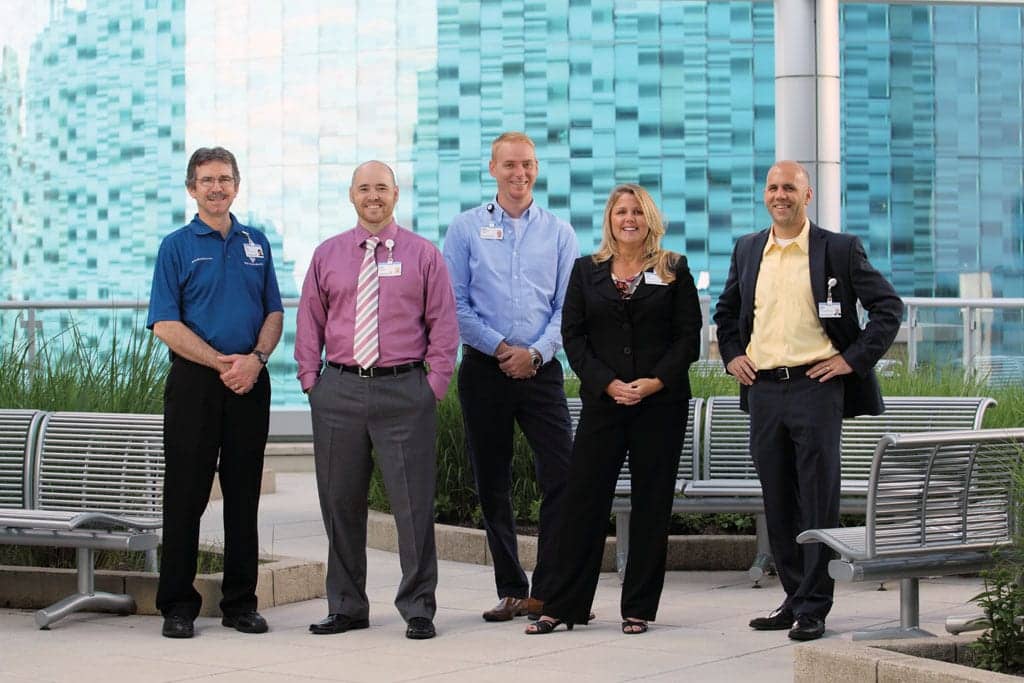 L-R: Doug Fletcher, Aaron Predum, Jeff Lawrence, Tanya Patino, Rob Rinck."I was completely stunned. Thank God someone who knew what he was doing in a clinical environment was there. Everything turned out OK. It was a quick turnaround for me," Lawrence says. That someone was Doug Fletcher, currently lead biomedical electronics technician. August 2013 marks his 30th year as a biomedical electronics technician with the organization.
The supremely important lesson Lawrence internalized was that, "You're working with people. You're not just going in and working on a computer or a modality that has an IP address." That is an idea that has taken hold on both sides of an IT and clinical engineering convergence now in its eighth year at Spectrum Health. The Spectrum Health integrated delivery system has nine hospitals, 190 service sites, close to 20,000 employees, 1,500 physicians, and 2,600 active volunteers. There is an insurance side of the organization as well. It is the largest employer in the western part of the state.
One of the goals of the convergence of biomed and information services (IS) at Spectrum is to "recognize and retain the unique strengths that both bring to a converged service model," as IS director Rob Rinck puts it.
Implementation of this convergence has proceeded in stages. One of the ways Spectrum Health has taken advantage of the increasing connectivity of technologies is through organizational changes.
"At Spectrum Health it's really the site manager model and the CSE [clinical systems engineering] team that I think are unique to the industry," Aaron Predum explains. Predum is the IS site manager—one of a number within the system—at Spectrum's Butterworth & Meijer Heart Center.
Within this approach, biomeds and client technology support team members report to the IS site manager at each location. After evaluating the IS site manager approach on a more limited basis, Spectrum Health expanded implementation last January.
Before the site manager approach was instituted, Predum's title was biomedical electronics manager. He had direct reporting relationships with all the biomed technicians. His expertise and experience enabled him to do his job.
"But to be honest," Predum says, "it was kind of unfair for the technicians because I'd only be able to get to a site to check how they were doing maybe once every other week. I was in their situation as well when I was biomed technician. I know the biomeds appreciate the uplink they now have in their work."
These days, Predum sees the people that report to him on an almost daily basis, just as the other IS site managers interact daily with the people on their teams. Issues can be resolved more quickly.
Predum continues to have oversight responsibilities for standardized biomed policies and procedures for the enterprise, and works with each IS site manager to ensure adaptation.
The diverse backgrounds of IS site managers are a testament to the interaction the model encourages. Predum has a biomed background. "Another site manager [among several others] has a nurse call and IPTV background. Another comes from the IS Cerner/Epic team," Predum says. All the IS site managers work collaboratively together to cross-train one another in their different backgrounds.
CSE: Not Site Specific
The clinical systems engineering (CSE) team is responsible for pushing standards and ensuring maintenance of standards across the enterprise. CSE grew as biomed technology advanced and integrated with the IS system.
"Much of the integration work to end user devices that touch the patient—patient monitoring and nurse call, for instance—has gone through clinical systems engineering," says CSE manager Tanya Patino.
CSE is not site specific. Because it functions in a system-wide capacity, the CSE team has a good understanding of the road map for the entire enterprise. Standards can be implemented throughout Spectrum Health.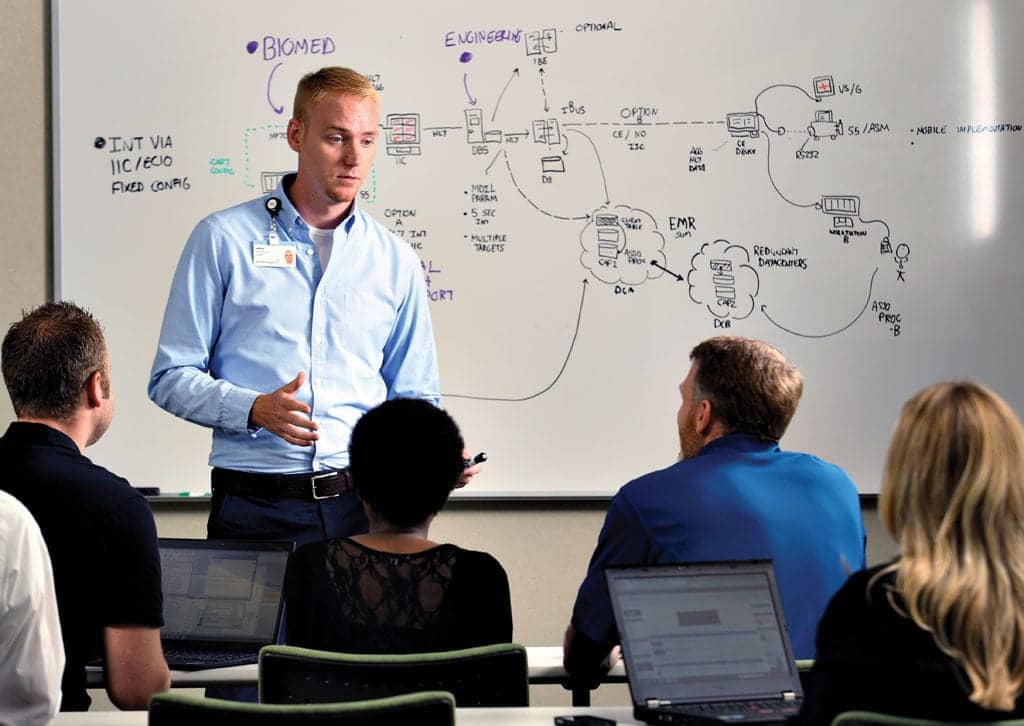 Jeff Lawrence explains the anesthesia information system design and support model workflow to the IS Biomed, CTS, and CSE staff.As with everything else in the convergence, this has developed in stages. The CSE team started out as the PACS Platform Support Team. It grew as the biomed technology department started to grow and integrate with IS.
"We started out at the two flagship hospitals, Butterworth and Blodgett. The first couple of years were really about forming the department and understanding what documentation was needed on all of the systems: how to implement properly, and how to operationalize and continue to support these highly available systems," Patino says.
"As we started honing in on those processes and documentation," Patino continues, "we began to teach some of the other areas under Rob's directorship around standards so that all of the documentation is in one location."
With many people in different departments across the enterprise accessing the same information, it was initially important to determine how to build processes and standards. The standards that developed enable anyone—whether a clinical technology support person, CSE, or biomed—to access whatever is needed.
When Spectrum Health was merging with other hospitals in the region, other facilities often came on board with their own technology. "Now," Patino says, "we're working to standardize across the enterprise." One of CSE's functions is to evaluate each site to determine what direction to go in to ensure a smooth merger of technologies. The team evaluates future goals and requirements in each individual environment, and works to put together a road map that eases the transition to enterprise standards.
When new technology is introduced, CSE helps smooth the change by teaching implementation and support.
People Helping People
"One of the critical success factors for the convergence has been proximity to the biomed team," Lawrence says. "The IS convergence—traditional IT and biomedical teams coming together—is one thing. Building a culture of awareness and safety is something more."
Lawrence believes the formation of an IS culture encourages a sense of trust that never has the chance to develop when traditional IT and biomed teams remain separate. When a real convergence takes place, Lawrence says, there is a sense that, "This is the front-line team. We're all here together."
The unexpected reaction from that hospital visitor when Lawrence began his job helped him realize convergence is an institutional shift—that each individual has a responsibility to make it work.
Lawrence now makes a quick assessment of whatever's happening in every hospital room he enters. He initiates some sort of interaction, if only a friendly greeting, when appropriate. He has also become an even more creative listener.
"I started as an architect looking forward to what we can do from a convergence perspective," Lawrence says, "leveraging opportunities that are industry best practices and other IT, and that sort of thing. I've shifted away from that to more of just listening to what the customers [clinical staff] are saying. We try to be helpful in the sense that we listen. We're building that relationship."
Not everyone has adapted to the new paradigm so completely, but positive change has taken hold and there's no going back. Lawrence cites the way issues are addressed at the daily safety check-in (DCI) as one example of the shift. Clinicians are represented. IT and biomeds are as well, but not as separate entities: "We crossed that very wide gap where there was a biomedical world and there was a IT world.
It's IS—information services—in our world now, and I think that speaks volumes as to how the perception has changed," Lawrence says.
On a similar note, Patino expresses the effect that being in a clinical environment has on individuals who have not previously had that experience: "We've hired quite a few people in the clinical systems engineering area and the client technology area that have not been exposed to a clinical setting before. I think that probably one of the biggest differences between our team and some other folks who aren't necessarily on-site is to really see and connect every day with the customers. To see the patients walking through the halls, I think, makes a huge, huge difference."
Likewise, Patino concurs that the daily safety check-in is supremely important for maintaining awareness of how important best practices, communication, and mutual support are in a culture of connectivity. "If a system goes down—even if it's for 2 minutes or less, whatever the case may be—we have to have the technology available at all times. Because we find out very quickly the next day that patients can be harmed if our technology fails. When people see that, it's part of what drives them to do the type of work that they do in the environment," Patino says.
As Predum explains, "There is a lot of really creative culture [taking place], whether a biomed technician responds to a biomed call, or whether a clinical support technician may be fixing a workstation, and a clinician says, 'This is also occurring,' or, 'We have an issue with this machine.' The response is no longer, 'You have to put a ticket in with the IS Team.' Rather, it's, 'We can help you, and we will help you now.'"
With collaborative teams for service, everyone in the room feels a sense of shared responsibility for serving. "Even if it means walking down, grabbing a teammate, or giving a call and saying, 'Can you meet me up here? The customer has an issue,' we try to resolve the problem within a limited amount of time, in a way that promotes patient safety. This allows the clinician to get back to doing what he or she has been doing: caring for patients," Predum says.
A New Kind of Workday
Not everyone can adapt to the new model. Fortunately, that determination can often be made before someone starts to enter the environment.
Predum describes talking to one candidate: "We interviewed a CTS candidate who wasn't used to being in a clinical environment. Part of the interview involved walking the applicant into a patient room—not when a patient was there—and showing technology the person might have to support. Thankfully, the interviewee was able to be honest and say it wasn't what he was looking for. That was an instance where the person was not able to wrap his mind around what we're trying to do. I very much appreciated that honesty."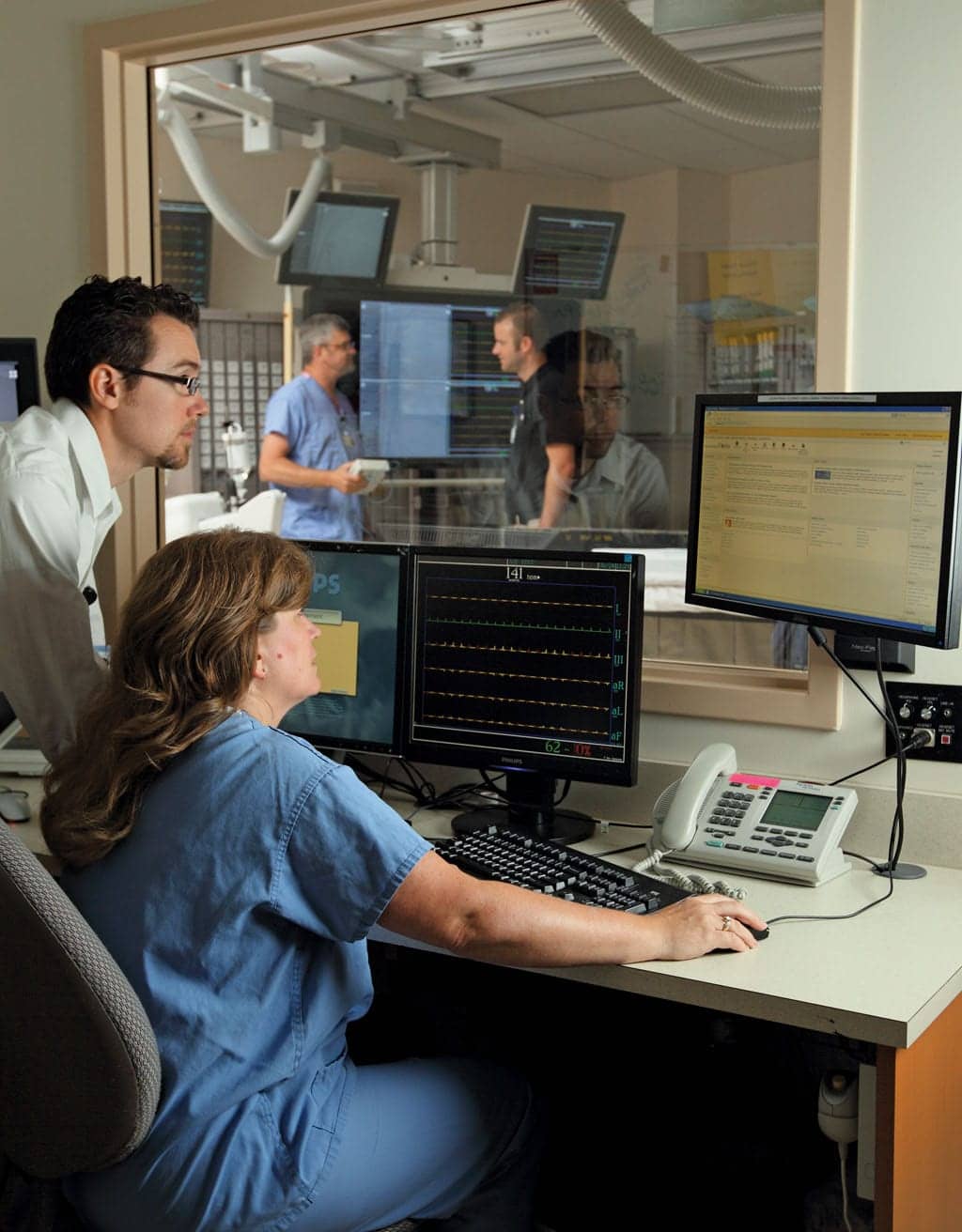 IS biomeds Kevin Parker and Lorri Bontrager (foreground) and engineers Sam Sherman and Aaron Dieterman work together on complex medical and IT-converged systems.It undoubtedly worked out best for the applicant, because sooner rather than later, that individual would have found himself in an uncomfortable situation. "It's a major shift for our culture, but some people don't get it," Lawrence says. "We're offering them other opportunities. It's not for everybody. It's not a traditional technician anymore."
Predum describes how a "single door for service" situation can actually be one of the most energizing and ultimately satisfying experiences for someone who realizes he or she is one member of an entire group of individuals that all make it come together. Predum explains that biomed and CTS technicians serve second and third shift. Technicians have been working closer and closer together on different things when help is needed.
Predum continues: "One night, the clinical staff in the hospital had to use their Cerner 724 downtime machines for a planned Cerner upgrade. Cerner is obviously an IT solution. Well, we had the biomed who was working on third shift help with that. That biomed was able to say, 'Sure, no problem. Let me learn what I have to do to help.' Then he did it. I think that's a testament to the professionalism, the attitude, fostered by this type of environment."
"Technician, biomed it's all IS. You'll get help no matter what. That IS person is not going to give you the runaround. That's my personal goal, and I think we share that across all the clinical technologies," Lawrence says.
Themes Moving Forward
When Rinck gives talks about the Spectrum Health IS convergence, one of the slides the audience sees includes the phrase, "Create one front door for service." Another phrase is, "Always, always focus on what is best for the patient."
Given that bottom line, where does the team take it from here?
"We've been in the process of trying to formulate our goals for next year. It's very much an experiment to figure out what work is most important, but there are some themes to the goals," Rinck says. "We view the goal process as a dialogue between the team members that are closest to work and leaders who are trying to get the work done, to help remove barriers that might block the team."
"One goal is that we want to be helpful and respectful to the people who provide care," Rinck says. Given the human-centered culture that the "one door for service" culture encourages, Spectrum Health seems to always be moving more and more in that direction.
"There are some subcomponents to that," Rinck says. "We want to learn to see problems and learn to fix those problems. And we want to provide exceptional customer service in doing so. We're very much a service-focused team," Rinck says.
Another goal, Rinck says, "is we just really want to be trusted stewards of Spectrum Health resources. A subcomponent of that is we want to recruit and develop and retain strong IS leaders who understand that patient safety is job one. A big part of what we do is to sustain and maintain equipment inventory across biomed and client technology. So we want to make sure that we sustain a safe and available equipment inventory."
Echoing CSE manager Patino, Rinck explains that the team intends to extend, expand, and standardize clinical systems across the enterprise—making sure that they're not simply implementing point solutions in hospitals, but rather leveraging the integration and standardization across many hospitals.
Most impressively, Rinck, as director of clinical technology, displays the knowledge and determination to carry out goals that have been decided upon. And he maintains the flexibility to ensure that the entire system benefits. The goals that are ultimately established are honed through a 2-month or longer process in dialogue with the people he works with and the people he reports to. When making the determination what needs to be done, he says, it's less about the "what" and more about the "why."
The convergence is at a point where more difficult projects necessitating growing collaboration and integration across teams will be undertaken. For example, doing an anesthesia documentation project, instituting more sophisticated physician documentation, or replacing an OB system.
"I think that maybe 10 years ago these would have been a lot more challenging," Rinck says, explaining that fear of ownership or fear of failure might have loomed larger. But now, the clinical engineering and information technology convergence can continue to move forward in the most constructive manner. The leadership team, Rinck says, "has set the stage to stay focused on providing service, and 'keeping the faith' through the transition."
Observing the enthusiasm, work ethic, and interaction of team leaders, it's impossible to imagine this not taking place. "The integration of biomed and IS has largely been about willingness to persevere and being humble enough to achieve it," Rinck says. And the continuing mission of Spectrum Health is to improve the health of the communities it serves. 24×7
David Tandet is a 24×7 contributing writer. For more information, contact jbethune@allied360.com.