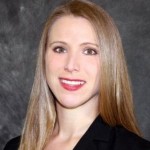 ECRI Institute engineering manager Erin M. Sparnon has been honored as the winner of the 2014 ACCE-HIMSS Excellence in Clinical Engineering and Information Technology Synergies Award. The award is sponsored by the American College of Clinical Engineering (ACCE) and HIMSS. It recognizes individuals who have best demonstrated leadership in promoting or implementing significant synergies between the clinical engineering and information technology professions.
At ECRI, Sparnon leads a team in testing and evaluating medical devices and serves as an in-house expert on health IT. She is an active member of several safety and standards groups within HIMSS, ACCE, and the Association for the Advancement of Medical Instrumentation (AAMI).
As described in the announcement of the award published on January 8, 2015, Sparnon "has been an advocate for patient safety in work with both ACCE and HIMSS, often serving as a neutral voice between facility-based and vendor-based colleagues." She will be honored at the awards event  on Tuesday, April 14, during the 2015 Annual HIMSS Conference & Exhibition in Chicago, Ill.