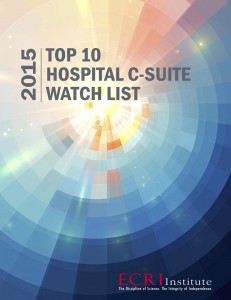 The ECRI Institute has published a list of the top 10 topics for healthcare executives to keep an eye on in 2015. Technologies leading the list are disinfection robots, 3D printing, middleware, and Google Glass.
According to ECRI, the 2015 Top 10 Hospital C-Suite Watch List answers key questions on new and emerging health technologies that potentially provide new ways to treat patients, improve care, and reduce costs.
This year's 10 topics in the publication are as follows:
Disinfection Robots: Do They Help Prevent Hospital-acquired Infections?
Three-dimensional (3D) Printing Buzz: How Many 3D Printers Should You Plan on in 2015?
Middleware Is Everywhere: Can It Help You Meet the National Patient Safety Goal on Clinical Alarms?
Postdischarge Clinics: Do They Prevent Readmissions and Save You Money?
Google Glass—Dead for Consumers but Maybe Not for Healthcare: Will Your Clinicians and Patients See Any Benefits?
New Anti-obesity Devices: Should You Plan to Add Them to Your Bariatric Armamentarium?
Caring for Millennials with Cancer: Should You Create Adolescent and Young Adult Cancer Centers to Improve Outcomes?
Fecal Microbiota Therapy: New Hope for Other Serious GI Disorders?
Artificial Pancreas Device Systems: What's Coming after the First-generation System?
Telehealth: Have We Passed the Tipping Point in Clinical Use?
ECRI Institute's 2015 Top 10 Hospital C-Suite Watch List is available as a PDF for complimentary download at www.ecri.org/2015watchlist (registration required).