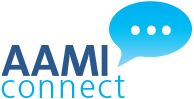 Members of the Association for the Advancement of Medical Instrumentation (AAMI) have a new way to connect with their peers, thanks to a recently unveiled online forum. AAMI Connect, an online community forum that has replaced AAMI's previous eForums, features topic-specific communities designed to enhance the user experience.
As with AAMI's former eForums, most AAMI Connect communities require AAMI membership before one can participate in a group. The one exception to this policy is the AAMI HTM discussion group, in which anyone can participate.
AAMI reports that conversations dating back to the inception of each eForum community are available in each of the new AAMI Connect communities. Each community also reportedly has a resource library that houses attachments and resources for easy accessibility.
According to the discussion groups page on the AAMI website, the member-only groups are centered around topics and user groups that include benchmarking, educators, students, and The Joint Commission. To register for the HTM community, contact AAMI at [email protected].