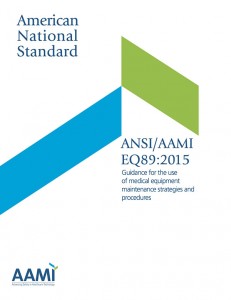 Several years in the making, a new ANSI/AAMI standard offers much sought-after advice on the best approaches to optimizing medical equipment maintenance. Published on February 26, 2015, ANSI/AAMI EQ89:2015, "Guidance for the use of medical equipment maintenance strategies and procedures," comes at a time when HTM departments are scrambling to comply with new CMS and Joint Commission expectations for preventive maintenance (PM).
As described in an AAMI news release, the new standard "is intended to help HTM departments standardize and document their maintenance procedures, as well as provide guidance to select the most appropriate maintenance strategy for a given type of device."
In comments to 24×7, Paul Kelley, co-chair of the committee that developed the standard, described it as "a framework and a guide to follow, with many options and factors to consider when making any change to procedures, frequency, and so forth involving medical equipment maintenance." Kelley is director of biomedical engineering, the Green Initiative and Asset Redeployment, at Washington Hospital, Fremont, Calif.
Kelley characterized the new standard as "very important" to HTM departments. "If HTM professionals are not following the manufacturer's [maintenance] recommendations, and they are asked how they decided on their alternative equipment maintenance strategy, the best answer will be that they followed AAMI/ANSI EQ89," he said. "It gives HTM professionals something to hang their hats on."
When asked if he felt the drafting committee had to leave out anything useful from the document, he replied, "Any consensus-based standard is what the committee as a whole can agree on." Given the diverse membership of the committee, he continued, "there were items that we had to keep massaging until they were acceptable for everyone. It is a very long process, and this is intentional, so that cooler heads prevail and we end up, as we did here, with something that everyone can live with."
Although the AAMI Store lists the paper version of the new standard as on back order, the PDF version is available for immediate download. The cost is $60 for AAMI members and $100 for all others.