It's up to managers to groom talented employees who can step up when they're ready to move on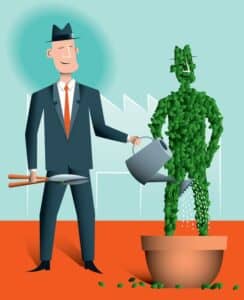 In the movie We Were Soldiers, Mel Gibson plays an Army colonel who gives a crucial bit of advice to those under his command. During one of the platoon training exercises, Gibson simulates a soldier getting wounded. "He is gone," he tells the next man in line. "What do you do?" Gibson then goes on to explain how every soldier needs to be prepared to step in to a new role at any moment: "Learn the job of the man above you, and teach your job to the man below you in rank."
Many organizations have this mindset; it is considered succession planning. This term refers to the process for identifying and developing internal candidates with the potential to fill key leadership positions throughout the organization. Succession planning increases the likelihood that experienced and capable employees will be prepared to assume these pivotal roles as they become available. According to this approach, leaders are always searching for someone to replace them and looking for star performers to cultivate for the next level of responsibility. Succession planning means identifying critical roles, starting at all technician levels and including supervisor, and extending up to the highest layers in the organization.
Although this strategy applies to employees at all levels, the focus of this article is on supervisors moving into a managerial role. Rick Davis wrote a very good article on this topic, "Making the Move from Technician to Manager," which was published in the December issue of 24×7. This article might be considered a continuation of that one.
To fully illustrate the concept and process, this article will provide background on succession planning, review the roles of a manager and supervisor in general terms, and illustrate how a manager might develop a supervisor to be better prepared for promotional opportunities. For the sake of explanation, it takes a single hospital as its hypothetical setting.
Why Succession Planning?
Any human resources professional will tell you that finding the right people to fill critical roles is not easy. The task becomes even more complicated if key employees suddenly resign, retire, become ill, leave for a better employment offer, or are terminated. To prepare for these transitions, organizations must have a pool of competent people primed to take over vacated positions.
Succession planning helps cultivate the next generation of potential leaders to assume key roles. Qualified employees from within the company are selected from a pipeline of internal talent, and then groomed using different techniques for a higher level of responsibility. Relying on several simple tools, succession planning is an effective way to assure the availability of experienced and capable employees going forward. Succession planning has long been the gold standard for large companies like IBM, Microsoft, Honeywell, and Procter & Gamble. It is widely regarded as one of the best, most reliable methods for helping companies place the right people in the right positions, no matter what the position is or how it became vacant.
When a key employee leaves, an organization has few choices: it can either suspend operations or find a replacement from inside or outside the organization. Companies that do not prepare their employees to assume elevated responsibilities when the time comes place themselves at risk of having to hire inexperienced people simply because they have none capable of taking over from where the last person left off.
With strategic planning and careful preparation, companies can weather these storms. All organizations, regardless of their size and hierarchical structure, should have succession plans in place.
How It Pays Off
[reference float="right"]Manager or Supervisor?
In some organizations, the roles of a supervisor and a manager are quite different. Each hospital, IDN, manufacturer, or independent service organization will differ, but the differences between the two positions can generally be thought of as internal versus external. The supervisor might focus on the department's internal operations, while the manager might work with other departments to provide equipment aging reports, attend EOC and construction meetings, and perform rounds to manage the department's reputation.
Profile of a Supervisor
Up-to-date technical skills
Communication skills
Focus on execution of departmental goals
Day-to-day supervision of the staff with regard to parts ordering, work orders, schedules, and workload balancing
May suggest training schools to improve technicians' skill sets and reduce reliance on vendors
Profile of a Manager
Financial skills
Focus on strategic planning of departmental goals
Builds external relationships with risk management, nursing, IS, leadership, etc
Meets with vendors
Reviews contract quotes to ensure they provide better value than a time and materials approach
Conducts financial analysis to determine if devices should be replaced based on their historic cost of service[/reference]
Succession planning strengthens organizational growth, profit, and stability, since it helps organizations ensure smooth staff transitions without suspending business activity. It helps build stronger business teams and thus a stronger organization. A study conducted by Booz Allen Hamilton concluded that in terms of profit generation, CEOs who were appointed to their positions from within the company outperformed those who were recruited from outside.
Instead of relying on the process only when replacing C-level executives, many of today's companies use succession development programs to prepare employees at every rung of the talent ladder. But even though growing leaders from inside an organization ought to be standard practice for all businesses, in many workplaces (especially healthcare organizations) this strategy is either not addressed, systemically broken, or nonexistent.
In hospitals, healthcare technology management (HTM) professionals can play a role in this challenge. If you were a supervisor who planned to become a manager, wouldn't you want a well-groomed person to step into the supervisor's position and serve as your right-hand support? The answer is usually "yes," but if you ask most leaders whether they have identified and helped prepare their replacement, the answer is usually "no." At the same time, while no manager would claim their successor has been preselected, most already know who their star performers are.
This familiarity with the strengths and weaknesses of their team is why supervisors and managers make better choices for overseeing succession planning than human resources professionals. Identifying, selecting, and developing internal candidates to assume a higher role should be done by the employees' leadership team. No other department or leader has more contact with the employees than the biomed department's manager and supervisor; they are the ones who collaborate with employees on a day-to-day basis. In addition to recruiting and retaining the best prospects, supervisors must also be responsible for mentoring and coaching them.
Creating a Succession Plan
Studies show there are clear objectives for companies to keep in mind when developing an effective succession plan. Many established organizations are using or have used the following practices:
Identify potential star performers
Identify who might be interested in moving up
Estimate the time until each person is ready to assume the next level of responsibility
Identify candidates' strengths and weaknesses
Start to train and develop strong candidates by assigning them projects
Below is a more detailed breakdown of each element. Depending on your organization, there might be certain categories you find more important and others you would like to add. These steps are not meant to be a single answer, but instead a starting point.
Identify potential star performers. In most organizations, there will be standout performers. These employees usually volunteer for additional technical responsibilities, offer to fill in for leadership responsibilities, are the first ones to complete task, complete projects ahead of schedule, and/or are the "go-to" person for anything you need.
Identify who might be interested in moving up. While you might have star performers, they might not all be interested in moving up. Some supervisors are great at their role and don't want to assume additional responsibility. Nothing obligates employees to move up the corporate ladder. The employee's buy-in is critical to the process.
Estimate the time until they are ready to assume the next level of responsibility. It is not uncommon to have more than one supervisor who would be poised to move into a managerial role. Some potential candidates might be more ready and prepared than others. You would typically place individuals you are working with into one of three categories: Ready Now, Ready in 1 Year, or Ready in 2 Years. Individuals who are ready now may have had previous management experience, or perhaps been cultivated by a previous employer to move into a management role.
Identify their strengths and weaknesses. Table 1 provides a sample template for evaluating employees' strengths and weaknesses. The strengths listed should be ones that will help the employee progress to the next level of responsibility. Weaknesses should include any traits that would hold that person back from moving up the ladder. As a leader, you have an obligation to identify those weaknesses and help your employees develop skills to eliminate them.
Start to train and develop strong candidates by assigning them projects. Once you have zeroed in on one or more promising employees, you can create a short-term training plan to start working on their weaknesses. The goals of this plan must be SMART. (If you are not familiar with SMART goals, do some research about them. SMART goals are: specific, measurable, achievable, realistic, and time-bound.) When one goal has been reached, create another short-term goal. As you string together these growth opportunities, you will season your employees and strengthen their potential to become leaders.
For succession planning to be truly effective, a "talent mindset" must become part of the entire organization's culture. This mindset includes the realization that any department, regardless of its size or scope, can develop internal talent at every level. With a coherent employee development plan in place and a solid commitment from their leaders, organizations can ensure they are prepared to respond to any personnel challenges that come their way.
Randell Orner, PhD, MBA, MS, is a 20-year veteran of the biomed industry. Shannon Barr-Marinetti, DBA, is a college professor and business consultant. For more information, contact chief editor Jenny Lower at [email protected].
Photo credit: © Smokingmonkey | Dreamstime.com