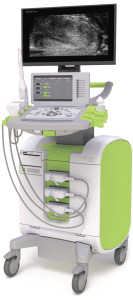 Exact Imaging, a producer of micro-ultrasound systems for real-time imaging and guided biopsies of the prostate, has introduced its ExactVu high-resolution micro-ultrasound platform for prostate imaging and biopsy. The system is designed to help urologists improve visualization of suspicious regions in real time and better target prostate biopsies, according to the company. Exact Imaging recently debuted the system at the American Urological Association meeting in New Orleans May 15–19, 2015.
"Today we are introducing ExactVu, our novel micro-ultrasound platform that will enable a new paradigm in resolution— 300% improved compared to conventional ultrasound and with comparable resolution to MRI—so that urologists will be able to clearly visualize and target suspicious regions for biopsy, in addition to performing systematic biopsy protocols," Randy AuCoin, Exact Imaging's president, said in a statement. "This is a true breakthrough technology in ultrasound and in achievable resolution with the goal being better imaging, real-time ultrasound-guided targeting of biopsies, and most important, improved patient outcomes."
In addition to enabling 29 MHz micro-ultrasound imaging for transrectal targeted and systematic biopsies, ExactVu will also support conventional probes and frequencies for routine imaging applications such as transabdominal and other urological procedures, the company says.
"ExactVu will provide the urologist with the most powerful micro-ultrasound platform for new visualization and targeting capabilities, while also providing a single in-office platform to address all of their routine urological imaging procedures," AuCoin said. "Rather than looking to other complex and costly modalities or other approaches to compensate for insufficient resolution, we have rather created a much better ultrasound platform. We believe ExactVu will enable urologists to achieve new improvements in clinical care and clinical outcomes."
The system has not yet received FDA approval or CE marking. For more information, visit Exact Imaging.