Toshiba America Medical Systems donated a Viamo ultrasound system to a recent medical mission conducted by Cincinnati Children's Hospital Medical Center (CCHMC) in conjunction with the nonprofit organization Mending Kids. During the humanitarian trip, which involved evaluating and correcting anorectal malformations in children, physicians performed 15 life-saving surgeries at Mwanza, Tanzania's Bugando Medical Centre.
Clinicians selected the Viamo for the mission because it combines the portability of a laptop system with an advanced radiologic system. In addition, the Digital Imaging and Communications in Medicine-compliant ultrasound system has a 12-second boot-up time and a touchscreen interface that is programmable in panel or tablet modes. Such features are especially beneficial in vascular, emergency, OB/GYN, and pediatric settings, Toshiba officials say.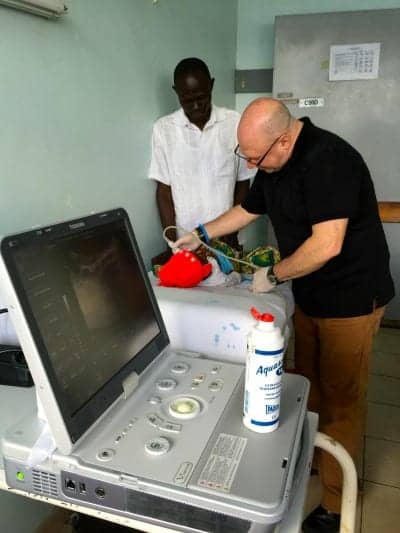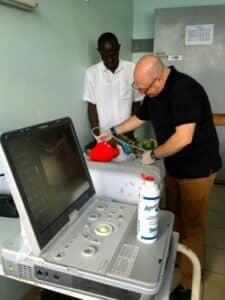 The Viamo's proficiency in the latter setting was an asset to the humanitarian trip, according to Steven Kraus, MD, chief of radiography and fluoroscopy at CCHMC. "Toshiba ultrasound's excellent image quality and ease of use enabled our team to successfully assist in the workup for all of the anorectal surgical procedures performed," Kraus says, adding that the team also used the system to help locate veins for intravenous access in an intensive care setting, as well as scan conjoined twins.
Satrajit Misra, Toshiba's vice president of strategic development, says his company's partnership with CCHMC and the Mending Kids organization highlights Toshiba's dedication to improving the lives of patients around the world. "Our ultrasound systems are designed to meet a diverse set of clinical needs, and [working] with Cincinnati Children's Hospital and Mending Kids has proven its diagnostic imaging success in remote locations and in challenging clinical circumstances," Misra adds.
For more information about this system, visit Toshiba America Medical Systems.