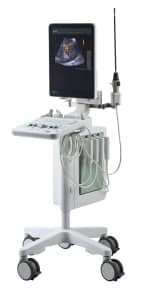 Analogic Corporation, a medical imaging and aviation security technology company based in Peabody, Mass, has announced the launch of the bk5000 ultrasound system, the newest addition to its flagship BK ultrasound brand products.
According to Analogic, the bk5000 is designed to give surgeons real-time anatomical guidance in the operating room, enabling them to verify anatomy with a higher degree of confidence during surgical procedures. The image quality of the bk5000 provides surgeons with anatomical detail, allowing them to confirm or adjust their procedure in real time. The new No-Touch Autogain feature is intended to rapidly and automatically optimize image quality without user intervention, independent of depth, by adapting gain to different environments.
Other features include elastography, which allows the surgeon to see subtle differences in tissue stiffness, and contrast imaging, which helps identify specific regions of interest. The company reports that bk5000 has sensitive color and pulsed wave Doppler, for easy viewing of flow location and direction. The system has standard presets that allow quick mode changes and customizable presets to provide immediate image preferences. A rapid boot-up time, typically under 20 seconds, ensures that the system is ready when needed, even if the on-board battery isn't fully charged.
The bk5000 has a 19-inch monitor and is compatible with an array of eight specialized surgical transducers that support clinical applications such as colorectal surgery, general surgery, and neurosurgery.
For more information about the bk5000 and other BK ultrasound products, visit the Analogic website.