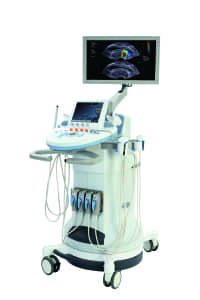 SuperSonic Imagine, a company specializing in ultrasound medical imaging, launched its Single Crystal Curved XC6-1 ultrasound probe. The new probe works in conjunction with the company's Aixplorer ultrasound system, and is intended to provide better performance and image quality through improved wide-bandwidth imaging, higher resolution, and clarity.
The single crystal technology of the XC6-1 is said to improve upon its predecessor's image clarity from near field down through deep structures with a greater level of detail. The probe provides advanced imaging capabilities for a variety of exams, including abdominal and pelvic assessments, which represent the majority of ultrasound exams performed.
A key feature of the XC6-1, according to SuperSonic, is its ability to enhance spatial and contrast resolution. The single crystal technology allows deeper penetration and higher efficiency in technically challenging patients.
The Aixplorer ultrasound system also includes the company's ShearWave Elastography, intended to provide physicians with the ability to assess and quantify tissue stiffness in order to identify potentially malignant or diseased tissue. A color-coded map of tissue elasticity is displayed in conjunction with the 2D ultrasound image to provide physicians a complete and accurate stiffness evaluation.
SuperSonic Imagine is also announcing additional upgrades to the Aixplorer System. The company has conducted a full re-optimization of all imaging modes and made overall improvements to the ShearWave imaging. It also added a new reporting tool, which automatically calculates relevant stiffness parameters to easily evaluate stages of liver fibrosis. The updated Aixplorer is said to offer a more intuitive user experience and, combined with the new XC6-1 probe, enables increased efficiency, streamlined workflow, and reduction of exam duration.
For more information about the XC6-1 and updated Aixplorer system, visit the SuperSonic Imagine website.