Save time by sourcing parts and accessories online, anytime.
As an equipment manufacturer, GE Healthcare understands that equipment maintenance, service, and uptime are key to providing high-quality patient care. But managing the service and repair of clinical equipment is not an easy task. Hospital schedules are full. Purchasing departments and biomed teams have a lot of responsibilities on their plates—from managing multiple brands of scanners, workstations, and medical devices to supporting clinicians to keeping team members current with the latest technology. There needs to be seamless integration from one aspect to the next in order to optimize system uptime, enhance workflow, and keep everything running smoothly.
As such, GE Healthcare has created an always-on solution to help buyers and biomed teams focus on patient care—by delivering what they need, when and where they need it. This online system, GE Healthcare Service Shop, provides instant access to equipment parts and accessories, repairs, and education resources directly from GE Healthcare, the original equipment manufacturer (OEM).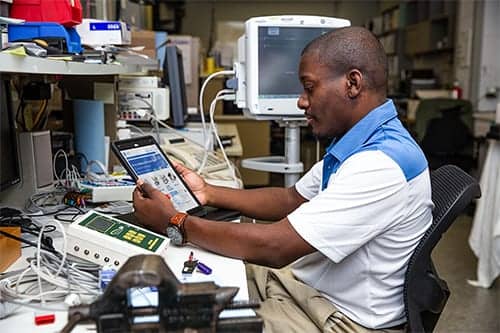 About GE Healthcare Service Shop
GE Healthcare Service Shop was originally created for GE Healthcare customers who do not have full-service contracts on their GE Healthcare equipment. Understanding that full-service contracts are not right for every customer, Service Shop gives GE Healthcare customers the freedom and flexibility to source parts, accessories, and supplies, 24 hours a day, 7 days a week. Today, customers can also access parts for diagnostic imaging devices from other vendors, as well as refurbished GE Healthcare and multivendor parts that are factory-checked and certified by GE Healthcare engineers and backed by a warranty.
GE Healthcare's ultrasound probe management solutions help the performance and lifecycle of ultrasound probes with a program that provides support, service, and replacement in one place. By taking advantage of diagnostic services that determine whether a probe needs to be repaired or replaced, customers have peace of mind knowing that they are maximizing their investment and keeping their ultrasound equipment running properly.
In addition to access to OEM parts and accessories, GE Healthcare Service Shop also offers complete equipment and parts repair solutions as well as educational resources.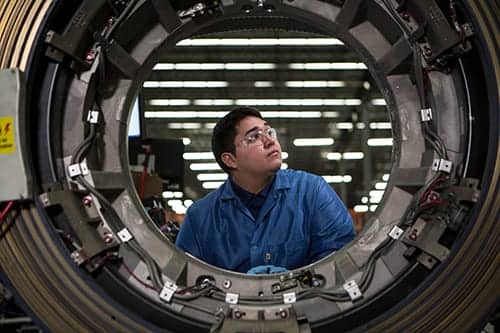 Save Time with Service Shop
GE Healthcare customers have reported that they've saved nearly 300,000 minutes1sourcing parts through Service Shop versus ordering by phone. Their 50-plus distribution centers across the country deliver 6,000 parts a day from a vast catalog of nearly 490,000 unique parts. With a 96 percent on-time delivery rate, the Service Shop team works diligently to get machines back up and running.
Service Shop can also accept next-day delivery orders until 10:00 p.m. EST. For those repairs that need immediate attention, we can make "Flight Out" arrangements within 39 minutes of the order being received for about 95 percent of requests, and we achieve 8-hour delivery times. With these kinds of stats, it's no wonder that GE Healthcare Service Shop is helping so many customers get the right equipment at the right time.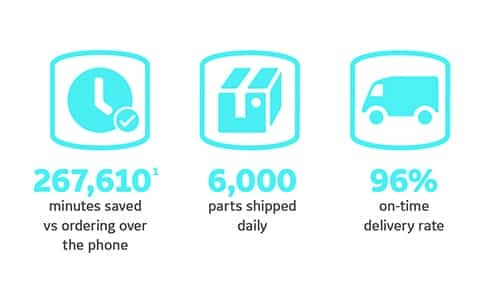 Save Money with Service Shop
As an OEM, GE Healthcare takes pride in the fact that Service Shop only provides GE-compatible parts for GE Healthcare machines. Our warranty-backed parts are rigorously tested for quality and reliability. In addition to new parts, GE Healthcare Service Shop also offers GoldSeal™ refurbished parts that are tested and certified by GE Healthcare engineers—giving customers budget-conscious options. Service Shop also offers discounts and promotions throughout the year for orders placed online.
Getting Started
It's easy to get started using Service Shop. New customers must complete a simple registration form. Within 24 to 48 hours of completing the form, customers receive a welcome message with Service Shop log-in information. Once logged in, customers can set up and save multiple billing and shipping addresses, rather than entering them manually for each order. Customers can view past orders and simply click to order those same items again, or for frequently ordered supplies, customers can set up auto-reordering.
Service Shop in Action

Recently, GE Healthcare partnered with Banner Health Center to perform a study to examine Service Shop's impact. Banner Health is recognized as being among the nation's top health systems for clinical quality. It operates 29 hospitals, including three academic medical centers, and other related health entities across seven states.
Working closely with Deborah Testa, supply chain management coordinator for Banner Health, it was easy to see just how much Service Shop could help improve the professional lives of biomeds and buyers. The biggest win was the amount of time Testa saved placing orders. "It's a huge time savings," she said. "I can complete my GE orders and get on to other orders a lot quicker. When placing multiple orders per day, it helps to get them out as quickly as we can."
Previously Testa ordered parts through call centers. The process—although pleasant—was extremely time-consuming. Testa first had to identify the appropriate department to call for the parts required and then wait until she reached a representative. If the part she was looking for was in another department, she had to be transferred and repeat the waiting time.
In addition to eliminating wait time, Service Shop also gave Testa the flexibility to work when she needed. "If I come in at 6 a.m., I can just go ahead and do my parts ordering," Testa says. "That's especially helpful for next-day orders; by ordering early, I know it's going to be sent overnight." She now uses Service Shop for all orders of parts that are available on their website.
About GE Healthcare
GE Healthcare is a leading provider of medical imaging, monitoring, biomanufacturing, and cell and gene therapy technologies. GE Healthcare enables precision health in diagnostics, therapeutics, and monitoring through intelligent devices, data analytics, applications, and services. With over 100 years of experience and leadership in the healthcare industry and more than 50,000 employees globally, GE Healthcare helps healthcare providers, researchers, and life sciences companies in their mission to improve outcomes for patients around the world. Follow us on Facebook, LinkedIn, Twitter, and The Pulse for the latest news, or visit our website www.gehealthcare.com for more information.
Learn more about GE Healthcare Service Shop at serviceshop.gehealthcare.com
Number derived from the Banner Health Service Shop Case Study (2016, JB38834US); multiply 7 minutes of time saving per order by the total number of orders placed through Service Shop.