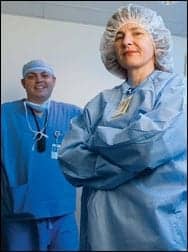 Left to right: Jason Fuhrman; Vickie Snyder, manager, biomedical engineering
It's good to be wanted. Thanks to a 2-year project to remodel the operation suites at Fairview Southdale Hospital, Edina, Minn, the hospital's biomeds know the staff backs them and is willing to fight for them.
"Toward the end of the project, the area designated for our shop became a very important space that people were fighting for," says Vickie Snyder, manager of biomedical engineering for Fairview Southdale. A previous visit from the fire marshal made it necessary to clear the hallways, meaning real estate in the department was at a premium. "In the final decision, the staff was adamant that they needed a biomed presence in the OR. Because of that push from the staff to make sure that we were there, we did eventually get our space."
This satellite shop may be a smaller, more confined area than the main biomed shop, but it provides adequate space for repairing devices. It also creates a convenient and consistent place for staff to drop off equipment in need of attention.
Clinicians in the operating suites weren't the only ones who believed having biomeds close to the OR was important—the techs were just as eager to have a place to call their own in the busy department.
"They wanted us up there, and I think it's good to have a footprint there, because it gives us quick access to our parts and tools," says senior BMET Jason Fuhrman. "And you can serve your customer a lot better when you're right there, versus their having to call someone."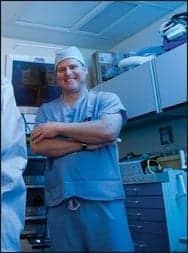 Wayne Ballantine
Cohabiting with the OR team is critical, not just for providing the sort of immediate assistance Fairview Southdale's techs have a reputation for, but it also goes a long way toward lowering overall costs for the hospital.
Because the BMETs are trained as the first-call servicers for all of the devices in the OR, including the lasers and information services equipment, their prompt attention means the OR stays up and running. It also means service contracts are almost nonexistent in the department.
Breathing Easy
Unlike many of their peers around the country, Fairview Southdale's biomeds service all of the OR's anesthesia machines. According to Snyder, this practice is not altogether uncommon in Midwestern states.
"I've heard vendors say we are a very hands-on group here in the Midwest. They've told me that trying to sell a service contract here is kind of a waste of time for them," she says with a laugh. "At Fairview Southdale we do all of the frontline troubleshooting, to help clinicians through whatever situation they are dealing with at that time—even if the patient is on the table."
The decision to accept this responsibility was made in the mid-1980s, based on demand from the surgical staff, whose needs often ruled out the option to wait for service until after the case was completed or until the end of the day. Still, the biomeds at Fairview Southdale are well aware that handling life-support systems is very serious business.
"We knew it was a risky proposition, but we decided we would challenge ourselves and do it," says Wayne Ballantine, senior BMET specialist. "Initially we worked with our surgery director, who used to be an anesthetist, so we had a direct tie-in to somebody who acted as our mentor in that area." Ballantine has worked at Fairview Southdale for 22 years and was part of the team that first worked on its anesthesia equipment. "It's always a good route to go when you start working in a new area, to have a mentor of some sort—whether it is a manager, director, or even a contractor."
Ballantine also emphasizes the need to remember just how critical it is that the anesthesia systems be maintained and repaired properly. "Clinicians have actually stated to me, 'This is my license,' and I appreciate how hard they've worked to achieve their licensure. They want to know that you know what you're doing, because if they trust you to repair it and something malfunctions, that is a big deal," he says. "So you have to build a personal relationship with each and every one of them until they feel comfortable enough to trust you."
To earn the confidence of the medical staff, Ballantine advises the techs to study the systems, practice whenever possible, and know what is realistic and what is not.
"They are expecting a level of service from you that is equal to that of the OEM, so you basically have to state what you can and cannot do," says Ballantine, adding that the clinical staff is more concerned about downtime than they are about being sensitive to a BMET's feelings. "If you don't act like you know what you're doing, they will call the manufacturer 5 or 10 minutes after you leave—if they don't do it while you're there."
A Changing Image
The only systems Fairview Southdale's biomeds are not fully responsible for is the imaging equipment, but even that is changing. Over the last 2 years, one of the hospital's techs has started maintaining several of the existing systems.
"He expressed interest in dealing with imaging, so we got him involved in it, starting with ultrasound machines," Snyder says. "He quickly took over the service work for one of our systems, which ended up saving us approximately $80,000 per year in service contracts."
As his training progresses, the tech will eventually assume responsibility for all ultrasound equipment.
Making headway within radiology started slowly. When Snyder joined the hospital staff in 2000, it held service contracts on every single piece of imaging equipment. Through conversations with the staff, she learned that one member of their team had been tasked with tracking all system service agreements, as well as recording service work done on every modality. She saw that as a golden opportunity.
"I said, you shouldn't be doing that, let us do it for you. And that was how we started establishing a level of trust," she says. When new ultrasounds were purchased, Snyder asked if the radiology team would be open to having techs work on them. "I asked, 'Can we look at getting into that modality and potentially saving you some money?' and then it was just a matter of proving ourselves to them."
After the first year, she met with the imaging administrator to see how imaging felt the biomed team was working. The feedback was positive, saying that the biomeds provided not only friendly and reliable service, but that it was much faster than what the department had experienced under the service contract.
In addition to overseeing all preventive maintenance (PM) for the radiology team, Fairview Southdale's biomeds also track PMs conducted on every piece of equipment throughout the facility. This monitoring is performed for all systems, even when a contract exists.
"The imaging companies are not good about doing their PMs, but one of the things we found is that when they know you are managing it, they are better at staying on top of it," Snyder says. When the time arrives for PMs, a biomed will be proactive in contacting the vendor to make sure it has been scheduled during the appropriate time frame. "We are also responsible for making sure the physicists carry out their annual checks on the equipment."
Constant Learning
Each of the five full-time techs in the biomed shop at Fairview Southdale has an assigned area of responsibility, but just for a month. There are five positions: two in the OR (a third tech will join them in the near future), one overseeing PM, and two "float" positions. These floats handle special projects and incoming inspections, as well as helping out where needed.
"Having a rotation is nice, because you don't get bogged down in doing the same thing all the time. It keeps it fresh and interesting, and you learn a lot more," Fuhrman says. "Also, because you're constantly working in every department you never forget how to take care of those systems."
For Snyder, one of the few downsides to this approach is that techs can get so committed to their current role that they develop a type of tunnel vision: Instead of looking at the big picture, including what their coworkers are involved with, they look solely at their own responsibilities.
"To make sure that doesn't happen, one of the things we have worked on here is learning how to communicate with each other," Snyder says. She recounts an extraordinarily hectic day experienced by one of her biomeds. "I said, you have float guys, why didn't you ask them? His response was, 'I thought it was obvious I was swamped.' "
As with virtually every hospital, however, the other biomeds were also busy. "We are all willing to help each other, and it's really about communicating and knowing it's OK to ask for help when you need it," she adds.
High-Tech Communication
A couple of years ago, the hospital tapped Snyder to locate a replacement for the hospital's wireless phone system, which was on its way to obsolescence. "I worked with a telecom representative and an ex-nursing manager in determining the type of communication system that would work best for the facility," Snyder says. "We started by establishing who had companion phones and what type of communication solution they would need to do their jobs."
After some vetting, the group decided against traditional wireless phones and went with a wearable device that provide hands-free voice communication through individual communications badges. Weighing less than 2 ounces, the communication device is worn either on a lanyard or clipped to clothing. Operating on an 802.11b network, it allows for instant two-way conversations or traditional messaging by employing voice-recognition technology.
Initial rollout included primary support areas such as biomedical engineering, the pharmacy, the lab, and materials management. A few patient care areas—respiratory, maternity, and the emergency room—were also included in the first phase of deployment. Less than a year later, it was implemented throughout the entire enterprise. Though it shined in its prepurchase, onsite demonstration, day-to-day use of the device was not without its difficulties.
"There were a lot of challenges in the beginning," Snyder says. "If, for instance, someone has a heavy accent, the genie has trouble recognizing commands. It is just an electronic device programmed to understand language based on a set of principles, so users have to train the genie to recognize their voices, and that was very much a struggle."
Another common problem was getting the system to recognize easy-sounding names with unusual spellings. One example is Somer. If pronounced "summer," the hands-free device was often unable to complete the call. To resolve the problem, Snyder's telecom counterpart entered phonetic spellings into the computer program for every confusing name.
One of the biggest problems for the system involved fine-tuning the wireless network within the hospital so the infrastructure supported the wireless communication from any point in the facility. "We get some dead spots at different locations, in some departments or different rooms. They're working on that, so I think it will improve over time, but I wouldn't recommend it at this point as the main communication avenue for biomeds," Ballantine says. He adds that it does work very well for interdepartmental communication, for locating a specific coworker, or to quickly relay a single message to multiple employees. "We are still using pagers, because we don't want to end up being in a dead spot when somebody is trying to get ahold of us to take care of an emergency."
User-Friendly
Even with the backing of its clients, Fairview Southdale's biomed team refuses to rest on its laurels. To ensure that the entire facility receives optimal levels of service, a customer satisfaction survey is distributed throughout the hospital every December. Respondents answer eight questions using a standard scale of excellent, good, fair, or poor:
How the staff is doing overall;
Courtesy and cooperation;
Professionalism;
Status reporting on works in progress;
Time needed to service requests;
Completion time for repairs;
Quality of repairs and services; and
Comments on the present method of requesting service.
"More than 70% of the responses in all of those categories are in the 'excellent' category," Snyder says. "In addition to the survey, we are rounding as well. Every month, I go around the hospital and randomly select 13 people and ask them how we are doing. I am consistently being told that it doesn't matter who comes from our department, that we deliver the same level of service. In fact, I just had somebody tell me that, of all of the departments within the building, we give some of the best service. I'm really proud of that."
According to Fuhrman, much of the credit for the positive feedback comes from having five techs who are well versed in virtually all areas of the hospital. But that is not the only factor.
"I think it's our employees. We bring something to the table, and we get along with our clients really well," he says. "We have really good interpersonal skills; we are all pretty social, and that helps make our job easier."
An extension of that amicable service includes teaching users how to do a bit of troubleshooting on their own. Not only does it build the users' self-confidence on the equipment, but it can also make it possible for biomed teams to do more work with fewer people.
"The biggest thing we've tried to do is educate the user through informal in-services on equipment," Ballantine says. "We try and make them the best operators we can with the limited time we have. If you do that, you not only get fewer calls, but you also have helped somebody start thinking in a different direction, because a lot of times they don't even think that they can troubleshoot."
Similarly, the biomeds have learned from the feedback received through the surveys. In the last round of results, there were several comments that nurses and other hospital staff knew their equipment was in for repair, but they were unsure of which biomed had it or how to check on its status.
In response, the biomedical team created a generic e-mail address specifically for follow-up questions. When customers send messages to this account, they are delivered to every single tech, as well as Snyder. When the biomed assigned to the device is available, he provides an immediate response to the customer, allowing everyone else to delete the message. If that tech happens to be out of the office, someone else will step up to provide a prompt response.
"The other thing we did was create a bright pink sticker that we put at the nurses' stations, not on all the equipment," Snyder says. The sticker lists the new e-mail address, along with the shop phone number, hours of operation, and on-call pager numbers. "What we are finding is that staff sometimes didn't even call us, because they thought it was going to be a really complicated process, but it's not. Since we put out the stickers, we have a lot more people calling us now."
While the increased contact has resulted in a bit more work for the team, on balance, it has been a boon for them.
"People are calling sooner rather than later, so we are not getting the frantic calls to fix equipment that's been broken for a week," Snyder says. "We try and maintain a friendly, approachable attitude so the staff will not be intimidated and no one will be timid about coming to us for help."
Dana Hinesly is a contributing writer for  24×7. For more information, contact .