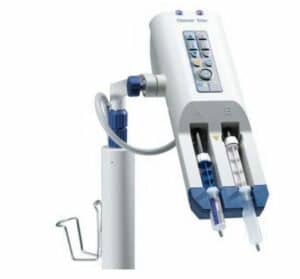 Mallinckrodt, a specialty biopharmaceutical company, has entered an agreement to sell its contrast media and delivery systems (CMDS) imaging business to Guerbet for $270 million. Guerbet is a pharmaceutical medical imaging company that offers a range of x-ray, magnetic resonance imaging, and interventional radiology and theranostics products, along with injectors and related medical devices.
Mallinckrodt's CMDS business manufactures and markets an array of diagnostic imaging products engineered to work across the radiology suite—computed tomography, magnetic resonance imaging, x-ray, and cardiac catheterization—as well as the company's urological imaging system and related components. The company's prefilled contrast media syringe is said to be the first of its kind and, along with its contrast delivery systems, such as the Optistar Elite MR, is designed to help simplify contrast media injections and improve technologists' efficiency, while also helping to reduce or prevent certain patient risks.
Mallinckrodt's CMDS operations encompass four manufacturing facilities and a total of approximately 1,000 employees located around the globe. This workforce and these facilities are included in the transaction, and upon closing will be transferred to Guerbet.
The companies report that the transaction aligns with Mallinckrodt's strategic focus on streamlining to its higher-growth, higher-margin specialty brands and specialty generics portfolio. According to Guerbet CEO Yves L'Epine, the transaction allows Guerbet to accelerate toward its goal of becoming one of the world's top three contrast media and delivery system manufacturers.
The transaction is subject to regulatory approvals and other customary closing conditions, and is expected to close in the next few months. For more information, see the announcement from Mallinckrodt.