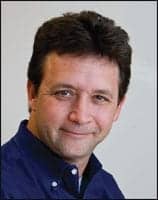 Greg Alkire
Five years ago, 24×7 interviewed Karl Ruiter, president of Pronk Technologies Inc, Sun Valley, Calif, a little-known startup marketing its first product—a portable NIBP analyzer. Interestingly enough, we asked the question: Where do you see your company in 5 years? By all accounts, the company has fulfilled all its expectations by making a name for itself in the manufacturing of quality test equipment that focuses on flexibility and ease of use. 24×7 recently followed up with Pronk and got vice president of sales and marketing Greg Alkire's take on the benefits of experience, the company's latest offerings, and why size is important to biomeds.
24×7: What are some of your duties?
Alkire: I am assigned to build and maintain our network of distribution. Directing marketing is another task of mine, as well as helping to shape new products so that they're the most useful to customers. I work a lot in the field these days, which helps us define what the customer's needs are and how they're currently doing testing.
24×7: What is the most important issue for biomeds concerning test equipment?
Alkire: Size, I would say. When our first product, the SimCube, came out, the NIBP simulators on the market were roughly 10 times its size. There wasn't anything out there that was portable that a biomed could take into a patient room. Often, the testing device was bigger than the device they were testing!
24×7: How did you scale the device down?
Alkire: The real breakthrough came from a concept Karl Ruiter had had for many years. Karl had always believed that by taking a cam and controlling it, and then turning that cam in such a way that you could squeeze a pneumatic tube, you could very effectively simulate noninvasive blood pressure as if it were a patient. By taking that approach, we were really able to miniaturize the mechanism.
24×7: Pronk has very experienced and specialized executive leadership. How has this wealth of experience impacted the way the company operates?
Alkire: Our president, Karl Ruiter, developed NIBP monitors for many years and was the director of engineering at our last company. His knowledge of how the NIBP monitor worked helped him tremendously in making a smaller simulator. In general, the impact of our past experience pops up all over the place in the company. For example, in technical support, Denize Machit really understands the environment in which biomeds operate, so when they need service or support from us, her team knows how urgent and critical that is, and they go out of their way to do their best to respond to that.
Also, while the products that we design and manufacture today are not FDA controlled, we've spent decades developing FDA-controlled medical devices. With our instincts and experience in working with FDA-controlled devices we bring the same care and thoroughness to the development, validation, and production of our test equipment. We have so many years of experience complying with the regulations the FDA wants you to have in place for quality, consistency, and ethics. We've applied a lot of that same approach to the test equipment we've developed.
24×7: What are some of the company's latest innovations you would like our readers to know about?
Alkire: The SimCube had a huge impact on the marketplace, so we've looked around at other products that fit that same mould. Just as the NIBP analyzers on the market were large, expensive, and difficult to use, we've looked at other testers and analyzers where there hasn't been a leap in technology in a while, and we ask ourselves how we can make an impact on biomeds and the biomedical market. We identified that the infusion analyzer market was very similar to the NIBP simulator market 5 years ago, and have been developing the FlowTrax for some time, which will be available later this year. It will be much smaller and less invasive, and allow biomeds to do their testing considerably faster than some of the other products on the market.
We also incorporated a lot of different simulations into the SimCube that were not in some of the other NIBP testers on the market. So we not only made it smaller, but we had features in it that enabled the biomed to carry fewer tools with them, and we wanted to do that with the FlowTrax as well. We therefore designed an IV analyzer that also acts as a full-featured pressure meter. Typically, biomeds in the field need both an IV analyzer and a pressure meter, but we've combined the two into one device.
24×7: How does Pronk interact and communicate with the biomedical community?
Alkire: Actually, the basic idea for Pronk's very first product was handed to us almost on a silver platter at a meeting of the San Bernardino chapter of the California Medical Instrumentation Association about 6 years ago. We got in front of a group of biomeds and asked them about what they needed the most. It became clear to us how important it was to interact with the community and kick around ideas with them, because if it hadn't been for that we might not have taken the direction we did with the SimCube's development.
We also attend a lot of biomed association meetings all over the country. We still firmly believe in educating ourselves on what they currently use for testing and focusing on what they like and dislike. This is everything in terms of our success. We don't claim to know everything about medical devices and testing equipment, but at least we know where to find the people who do, and they are usually found in the basement of hospitals.
24×7: And that's part of your job, correct? To meet with biomeds?
Alkire: Yes. When it comes to developing new ideas, concepts, and features, that's definitely a big part of my job. I get into biomed departments and just ask lots of questions and listen very carefully.
24×7: What types of upgrades are available for your SimCube NIBP simulator?
Alkire: Believe it or not, the very first SimCube we ever shipped can still be upgraded to the latest hardware and software. That's one of our core principles—not to ever leave a biomed in the lurch just because he/she was an early customer. Upgrades are available to any of our customers and include adding features such as ECG, respiration, invasive pressures, arrhythmias, and a battery boost option that gives more flexibility and portability.
In addition, we've added two other products over the past few years. If a customer has a SimCube they can add an SpO2 simulator (OxSim) without sending anything back to us. Some of these upgrades are actually physical changes; others, like the OxSim, are separate simulators. Our concept early on was to provide biomeds in the field with a single carrying case that would provide them with all the simulations that would enable them to test a vital signs monitor. A lot of biomeds, certainly before we got on the market, had a big cart full of equipment that they had to push around the hospital. We wanted to change that by introducing much smaller devices that allowed them to be more flexible.
24×7: What are some questions biomeds can ask manufacturers to ensure they are getting quality equipment that suits their needs?
Alkire: Ask about the warranty—we're very big on offering a warranty that makes sense for us and, of course, for the biomed users. Over the course of the last 5 years we've determined that because of the reliability of our product we can offer a 4-year parts and labor warranty as a standard on all our products. From a user standpoint, you want the manufacturer to stand behind its product. By offering this 4-year warranty, we're saying that we have a great deal of confidence that the product is going to stand up in the field.
I would say that if a biomed was looking to understand how rugged their test equipment might be, a good question to ask would be: Have you done any drop testing on your device? At Pronk, we test devices 50 times at 3.5 feet to make sure they are ready for the market.
And as far as features and ease of use, there's no substitute for a biomed getting their hands on a piece of equipment. Biomeds should ask for an evaluation unit to make sure it's going to fit their needs.
24×7: Is it challenging to be in the biomed business presently? Are you seeing growth in any areas of your business?
Alkire: We have been able to maintain growth every year for the past 5 years. The current economy is hard on everyone. We know a lot of our customers are being asked to save money, and even the ones that are not are being extra careful with their funds. We feel very fortunate because we're relatively well positioned in the market because our products are generally the most economical, even if you don't take into account their durability and warranty. Our customers also know that our products will save them time, which plays into economic decisions.
---
Stephen Noonoo is associate editor of 24×7. Contact him at .