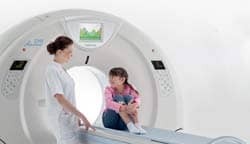 Toshiba America Medical Systems Inc unveils its newest and most advanced CT system, the Aquilion ONE ViSION edition. The system offers a low dose exam with the largest bore, widest coverage, and thinnest slices the company offers.
Equipped with a gantry rotation of 0.275 seconds, a 100 kw generator, and 320 detector rows (640 unique slices) covering 16 cm in a single rotation, the Aquilion ONE ViSION edition features thin slices—500 microns (0.5 mm). The system can accommodate more patients with its 78 cm bore and fast rotation, including bariatric and patients with high heart rates.
Aquilion ONE ViSION edition also includes Toshiba's third-generation iterative dose reconstruction software, AIDR 3D, which incorporates significant system enhancements by reducing radiation dose, compared with conventional scanning.
"Aquilion ONE ViSION edition reduces risk and maximizes returns," said Satrajit Misra, senior director, CT business unit, Toshiba. "It is capable of imaging the entire brain and heart in a single rotation with 500-micron accuracy, and can capture both anatomical and functional data."
Fujita Health University in Japan; the National Heart, Lung, and Blood Institute at the National Institutes of Health in Bethesda, Md; Radboud University Nijmegen Medical Centre in the Netherlands; Monash Medical Centre Clayton, Southern Health in Australia; Hong Kong Sanatorium & Hospital in Hong Kong; and Iwate Medical University in Japan, have all installed the new CT. Future installations include University Health Network—Toronto General Hospital in Canada, and Rigshospitalet in Denmark.
Toshiba launched the Aquilion ONE ViSION edition at the 2012 Radiological Society of North America annual meeting in Chicago this past November.