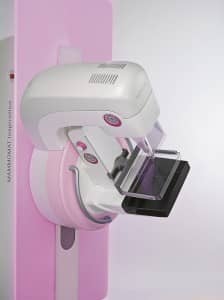 FDA has approved high definition breast tomosynthesis technology from Siemens Healthineers, Malvern, Pa. The unique form of digital breast tomosynthesis (DBT) includes algorithms designed to deliver a heightened level of sensitivity to breast cancer detection and diagnosis over 2D mammography alone.
High definition breast tomosynthesis builds on the established DBT platform from Siemens Healthineers that boasts the industry's widest tomo sweep of 50 degrees, delivers images of exceptional clarity, and is the first solution approved for 3D-only mammograms. The technology incorporates new enhanced multiple parameter iterative reconstruction (EMPIRE) technology, a combination of iterative and machine learning algorithms that provide a clearer, more concise 3D reconstruction.
While EMPIRE technology has been approved as a 3D-only exam, it also includes Insight 2D and 3D, the industry's first synthetic software-generated visualization of tomosynthesis volumes in both 2D and 3D. Insight 2D allows breast imagers to obtain a 2D image from the EMPIRE 3D image set, providing them with a navigational support tool to their 3D-only exams without subjecting patients to added dose. Insight 3D adds new depth to the visualization of the breast anatomy.
"Siemens Healthineers is proud to offer high definition breast tomosynthesis to help our customers increase cancer detection without the need for a 2D image," says Martin Silverman, vice president of x-ray products at Siemens Healthineers North America. "Our new EMPIRE technology can help breast imagers achieve better clarity in both image contrast and detail."
High definition breast tomosynthesis is available as an option on the company's Mammomat Inspiration with tomosynthesis option digital mammography system.
For more information, visit Siemens.