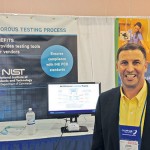 As hospitals struggle with interoperability, organizations like the National Institute of Standards and Technology (NIST) increasingly play a pivotal role. Along with the Integrating Healthcare Enterprise (IHE) Patient Care Domain (PCD), NIST is working to establish coherent standards for medical devices that will allow biomeds to identify solutions that meet the needs of their patient care environments. At the 2014 AAMI conference, NIST computer scientist John Garguilo outlined his agency's efforts to tame interoperability through involvement with such events as the annual Connectathon. 24×7 caught up with him recently by email for more detail about the organization's mission, its ongoing projects with IHE-PCD, and its current effort to develop a harmonized medical device terminology system.
24×7: How did you become involved with NIST? 
Garguilo: I arrived in Gaithersburg, Md, right after achieving my undergraduate degree in computer science at SUNY Potsdam in Potsdam, New York. While working at [the National Institute of Standards and Technology (NIST)], I received my Master's degree in computer science from Johns Hopkins University in 1991.
24×7: What is your role there?
Garguilo: I've spent 28 years as a computer scientist and nearly my entire professional career at NIST, outside of a 15-month period as a senior program analyst for a DC beltway bandit consulting firm building electronic grant application software for the National Institutes of Health. Over the past 8 years, I've served as the project lead for the "Semantic Interoperability of Medical Devices" (SIMD), primarily focused on building software test tools to validate healthcare message exchange (and in particular, medical device communication) based on prominent standards. Such validated information derived at the device, typically as physiologic observations, and often deposited into electronic health records, is critical for many reasons, including patient safety, clinical decision support, alerts, alarms, and medical equipment management. I serve as the co-chair of both the Integrating the Healthcare Enterprise Patient Care Device Domain (IHE-PCD) Technical Committee and the Health Level Seven (HL7) Healthcare Devices Working Group, and have so over the past 4 years and 2 years, respectively.
24×7: NIST's reach is very broad. How would you define the agency's main goals and mission? 
Garguilo: NIST's core mission across five laboratories and two programs is to promote United States innovation and industrial competitiveness by advancing measurement science, standards, and technology in ways that enhance economic security and improve our quality of life.
Within the Information Technology Laboratory, the Systems and Software division has a more focused mission to work with industry, academia, and other government agencies to achieve several goals:
 To accelerate the development and adoption of correct, reliable, and testable software;
To advance the state of the art of software testing;
To lead efforts for conformance testing, especially at the early stage of standards development;
To develop integrated test environments to coalesce systems;
To facilitate the transfer of these activities and technologies into national infrastructures and commercial sectors.
24×7: How does NIST's work affect the healthcare and medical sectors? 
Garguilo: The SIMD work falls within our Health Information Technology Testing Infrastructure program, which is defining a test architecture that includes a framework for testing across any HL7 V2-based application.
The primary impact to the healthcare and medical sectors of the NIST tool set is to provide a rigorous validation capability that is scalable, remote (eg, always available and web-based). It also enables multipartner and automated conformance testing based on well-vetted, constrained specifications as a key step leading to interoperability (but not guaranteeing it).
Additional impacts include more correct and comprehensive standards and specifications via an iterative process, more accurate products released into the economy, and ultimately, fewer operational failures leading to severe consequences, including patient safety, bad decisions, and ultimately, death.
24×7: How has that role changed over time as technology has evolved? 
Garguilo: Technology is constantly advancing and moving forward, thankfully. Our SIMD work continues to iterate, particularly on test method and software development to address measurement science. It capitalizes on stable technologies such as standardized information modeling techniques, nomenclature data sources, and web-based applications and services. This enables industry to test against our tooling 24 hours per day,
7 days per week, 365 days per year.
Having such tool availability has enabled systematic development by product engineers. They can repeatedly try out their ideas, prototypes, pilots, and eventually, products, and ensure they comply with standards along the way.
24×7: What can NIST accomplish that other nongovernment or regulatory agencies can't? 
Garguilo: NIST, as a nonregulatory agency within the Department of Commerce, is traditionally considered a "trusted third party." Simply stated, when NIST researchers are involved with standards development (eg, HL7 and ISO/IEEE 11073) and domain work (eg, IHE), both private and nonprofit organizations understand that the goal is to better the US economy and do so in a nonthreatening manner. Regulatory agencies or other nongovernmental agencies may have the stigma of considering first and foremost their bottom line. Also, NIST scientists have core competencies beyond most other agency resource capabilities, including measurement science, rigorous traceability techniques, and much experience with the development, use, and testing of standards.
24×7: What do HTM professionals need to know about NIST? 
Garguilo: NIST does not do certification! However, authorized or accredited certification laboratories often point to or require use of the NIST test tools—such as across several meaningful use domains.
24×7: Can you discuss the harmonized medical device terminology system that NIST is building?
Garguilo: The Rosetta Terminology Mapping Management System, or RTMMS for short, provides ISO/IEEE 11073 (x73) terminology. It is a role-based, controlled repository that is freely and publicly available.
The system functionality includes a sandbox for "contributing organizations" (typically, vendors) to host local (proprietary) terms, a downloadable set of harmonized (across IHE participants) terms, units of measurement, enumerations, and logic terminology groups. SDO officials are provided with an interface in the system to process proposed new terminology for proper vetting and advancement to the ballot stage of the appropriate x73 committees.
The key benefits of the RTMMS are the harmonization of terminology across vendors via an open consensus process, observation identifiers and co-constraints or associated data, and information that contributes substantially to rigorous semantic validation, as well as aids in the identification of terms that are missing in the current standard. Harmonized Rosetta Terminology, or hRTM, provides a standardized value set in which all users exchange information with the same semantic meaning.
Other important medical device domain groups, including the Continua Health Alliance, which focuses on personal health devices, are leveraging the system as well. The normally pay-for terminology is freely available, as NIST and [the Institute of Electrical and Electronics Engineers (IEEE)] have a royalty-free agreement established.
24×7: Can you discuss NIST's work with the IHE-PCD domain group and its role in the annual Connectathon? 
Garguilo: NIST contributes to a rigorous testing process for the implementation of the IHE-PCD Technical Framework by providing freely and publicly available test platforms. These essentially validate HL7 V2.6 messages, carrying device and physiologic data and observations defined using x73 nomenclature (11073-10101) and domain information objects (11073-10201) as payload.
Two environments are provided for testing: instance and isolated. (Note: we do not yet have an environment for peer-to-peer testing in which the test system would sit among the peers.) The "Instance" environment is used for design and debugging as well at the IHE Connectathon events. The "Isolated" environment is used for IHE's Pre-Connectathon test event, in which one system under test interacts with the NIST test system.
The static Connectathon Tool allows a user to simply paste a message (again, HL7 carrying x73 information) into the interface, execute the validation (push button), and a downloadable result report is provided. The more dynamic Pre-Connectathon Tool allows a user to select the HL7 version (currently V2.6); select the "actor" (role the system is playing, eg, "reporter" or "consumer"); select a predefined test case; enter some configuration information (including IP address and port); and start the test. After executing live connected test cases, the corresponding test case report is provided, giving validation details for each transaction exchanged.
24×7: What do you see as the key priorities for the agency down the road? 
Garguilo: To date, most test systems are built or developed one system at a time. Establishing testing infrastructures that can leverage existing technologies and services provides automated tool sets (with easy-to-use interfaces) in which business process folks can apply their knowledge in a common and consistent manner to produce reusable test artifacts (eg, Implementation Guides, test cases, and, in general, constraints documents). Such artifacts thus become input to critical test services such as validation.
Advanced testing infrastructures are key to contributing to standards development for ensuring the robustness and interoperability of health IT systems, thus removing technical obstacles to implementation and interoperability and accelerating the adoption of cost-effective health information technology.
Another key and critical priority going forward is to provide the resources, financially and otherwise, to write accurate specifications in which testing constructs (requirements and assertions) and conformance clauses are uniformly and unambiguously defined. This may take more time and cost at the front end of the process. However, the reduced ambiguity for implementers (as well as those building test systems) and the reduction in semantic mismatches (ie, lack of process and pragmatic interoperability in which context is understood) downstream when products are released and fail would be a tremendous savings. 24×7
Jenny Lower is associate editor for 24×7 magazine. Contact her at [email protected].