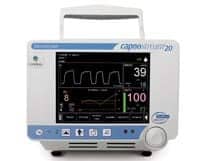 Covidien now offers the Oridion Capnostream 20 patient monitor, a bedside capnography monitor for all hospital settings and patient types featuring Microstream Smart Capnography, a family of algorithms that can reduce clinically insignificant alarms (and alarm fatigue) and help improve patient safety.
The Capnostream 20 patient monitor is a complete bedside EtCO2 and SpO2 monitoring solution, delivering effective airway management by providing an early indication of airway compromise.
Its features include:
Dual parameter monitor that supports current standards of care by providing EtCO2 and SpO2 measurements.
An Integrated Pulmonary Index (IPI ). The IPI algorithm merges four respiratory measurement parameters into a single number that represents an inclusive profile of adequacy of ventilation. It captures and analyzes IPI over 72 hours to show upward and downward trends.
Alarm management. It reduces clinically insignificant alarms with the Oridion Smart Capnography SARA algorithm
Other features include event marking, connectivity with central monitoring, and an internal printer.
Capnography has become increasingly important for meeting continuous patient monitoring needs in hospitals, especially following The Joint Commission's August 8, 2012 Sentinel Event Alert recommendations to monitor ventilation through capnography, according to Covidien.