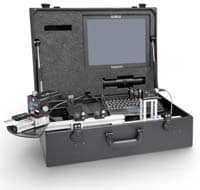 Lighthouse Imaging LLC, Portland, Me, a provider of endoscope image quality test equipment, will now offer the 2,500 hospitals within the network of member organizations and affiliates served by Novation special pricing for Lighthouse's flagship EndoBench tester.
Novation, a supply contracting company for the medical industry, serves the purchasing needs of 65,000 VHA, UHC, Children's Hospital Association, and Provista acute and nonacute member organizations and their affiliates.
Lighthouse Imaging's line of EndoBench endoscope testers enable hospitals to quantitatively measure rigid and flexible endoscope optical quality and performance upon purchase to establish baseline measurements, prior to procedure to ensure patient safety, and after service to verify that repairs were completed properly.
"We are proud to be selected as a Novation supplier, as our new agreement will help the thousands of members it serves to improve patient safety and reduce unnecessary endoscope repair costs," said Mark Waite, Lighthouse Imaging CEO.
In addition to the EndoBench (pictured) and EndoBench XT products offered through the Novation agreement, Lighthouse Imaging offers a full line of endoscopic testing instruments that objectively measure and verify all clinically relevant optical parameters throughout the entire endoscope lifecycle.