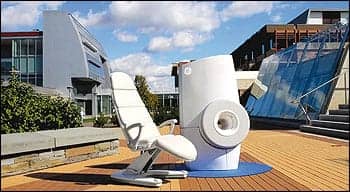 To bring service in-house, fully assess your current devices and the potential for savings.
In years past, imaging manufacturers avoided shared agreements and parts pools. Yet, because of the economic times, more companies, including the big players in the industry, have opened themselves to hybrid models. The situation works out well for health care facilities looking to cut costs without suffering an increase in liability.
"They've bent quite a bit over the years because if it's a shared agreement, it's a very strong partnership, and we're not likely to jump over and look for another company to maintain it," says John Hojnacki, CBET, CRES, BMET specialist, EMH Regional Healthcare System, Elyria, Ohio. "We're very happy working with them, and they give us great tech support."
Still, bringing service in-house on high-end imaging equipment incrementally, or in some cases full stop, is a lofty task, one that requires careful consideration and a thorough understanding of one's existing—and needed—resources.
Taking the Plunge
Before making any decisions, institutions should critically examine their current install base. "Inventory will dictate the feasibility," says Alan Moretti, director of clinical engineering, Loyola University Medical Center, Chicago. "The size of the inventory will allow organizations to have a more internal versus external presence. It's one of the first building blocks. From that perspective, a larger inventory will allow the organizations to not only acquire more risk but the ability to attract and recruit the type of talent required to do an internal type of process."
Grant Smith, CRES, assistant director, imaging engineering and diagnostic support, clinical engineering department, Duke University Health System, Durham, NC, agrees that in-house servicing is ideal for hospitals operating on a larger scale, especially for high-end imaging. At his hospital, the only modality under full contract is nuclear medicine—a very specialized niche.
"Assessing your threshold for risk reward is probably the best approach for institutions that have a larger install base of a particular piece of equipment," Smith says. He adds that hospitals with larger install bases of a certain piece of equipment, such as 20 MRI units from one vendor, "have a continuity of service fleet, so if they have 20 pieces of the same equipment, the likelihood they can find someone who is efficient at managing the entire fleet is good. Any time you have a failure on a single device, it translates to experience on the other 19 devices."
Still, opportunities for other types of equipment management, such as cooperative agreements, exist for programs with smaller inventories, such as the hospital in which Hojnacki works. "Whatever I can put my own hands on, we're saving money if I can fix it," he says, adding that it is not uncommon to receive an $18,000 bill every 6 months, based on OEM charges that can range anywhere between $180 and $400 to come in for repairs, and double time during weekend and after hours.
Baby Steps
Sometimes, financial reasons motivate management to order a full-on internal takeover of servicing. For example, at Johns Hopkins Bay View Medical Center in Baltimore, Chris Jones, biomedical CT specialist and lead imaging services technician, says, "We did incremental in some things and other things we did flat over."
Nevertheless, Smith advises against jumping into in-house servicing of high-end imaging equipment too quickly.
"That's like pulling the rug out from underneath a very powerful group of physicians and customers that don't take transition well to begin with," Smith says. "This isn't like changing mechanics for your car. These are people who believe they have the most important clinical elements in the entire institution. So if they don't have faith and trust, there are going to be problems."
Moretti agrees, saying, "I think the incremental process is probably better and more successful than trying to go full force into a program. It works out very well because it gives you time to strategize your service. It gives time to provide the opportunity to implement and develop track records, which will obviously reflect on bringing in other systems incrementally."
At Duke, a substantial amount of managed assets have zero contracts, including cardiac cath, interventional radiology, and ultrasound. Meanwhile, MR and CT have shared or parts agreements in place. Smith explains that all service models were developed from a core competency. Rather than launching its in-house program with CT or interventional, the hospital started with general radiography, supporting the low-hanging devices first before moving on to higher-end equipment.
"Even at that point, you wouldn't move into a no-contract, even with the correct staff," Smith says. "You would take steps toward moving away from a full contract. You would go to a shared agreement at the initial phase to really test drive the whole market and make sure you've weighed out all of your variables. Once you've established yourself as having the correct staff, the right relations, and the right support in terms of parts, you would probably then consider moving away from a contract entirely."
Training and Recruitment
Recruiting knowledgeable personnel is usually a very difficult challenge. According to Jones, expertise is the most crucial component that must be in place before launching in-house service. With about 15 years of radiology experience and 30 years of biomedical under his belt, Jones already had some of the requisite skill set when he first started his position. Of course, not many people share a similar background. "The biggest problem was getting the people to have an understanding of what radiology is and how to deal with radiology," he says. "Because if you've never worked around radiology and you have no idea what it is about and how it works, and the intricacies that the tech will be talking about, you'll be looking at it blind."
After losing one of his techs, Jones is now in the process of hiring a new one, a search that can take 6 to 9 months. "Our biggest problem was finding someone of the same caliber with the same level of training," he says. "We had guys that applied that were really overqualified, and that was a deterrent as well."
Where, then, should hiring managers look for elusive talent? "We often would talk to some of the service engineers who work in the area," Smith says. "We'd do a national search through recruiting agencies, as well as posters in Web sites. We would look for people who have manufacturer training specific to what our install base would be or similar so that they can be cross-trained."
Even after the right worker is put into place, hospitals still need to worry about fitting continuing education into their tight budgets. Ideally, in-house service programs should be developed in such a way to ensure continuing training, as new equipment and technologies are added into the organization.
However, training is expensive, with a manufacturer's training program running $5,000 a week. Fortunately for Hojnacki, he was able to utilize the offerings of a solid third-party school in his area. "That enabled us to go to a shared agreement on our equipment, and we've been saving probably $20,000 to $30,000 a year for the last 4 years, so that was worth it," Hojnacki says. "Plus, I've been able to fix a lot of problems right on the spot. A lot of the times when you call for service, these companies take 3 or 4 hours to come out here because they might be 2 hours away and already working on a project. Eliminating downtime is very important."
Because training is such a costly investment, departments are faced with another trying endeavor: retention.
"It is wise to have a technician that you believe will stay at the hospital a long time," Hojnacki says. "You start investing a lot of training in the guy, and then he gets up and leaves to get more money. They take all that good training with them, and it's kind of heartbreaking."
For example, when Jones went through his MR and CT training, his employer invested anywhere between $90,000 to $110,000 in him for education. "I'm not going anywhere," Jones says. "But some of these young guys that are around, they're looking for the almighty dollar and not just stability."
Establishing an appropriate and competitive compensation structure is key. "Many times hospitals look at biomed pay structures to acquire talent, and they are a smaller rate than needed for imaging people," Moretti says. According to Moretti, recruiting the right people—generally done in increments—represents one of the biggest obstacles, based on having in place appropriate and competitive compensation structures and plans that will attract that type of talent. "That's always a challenge for hospitals to overcome," he says. "Generally, it takes 6 to 9 months to really acquire the type of person you are looking for."
Ensuring Success
According to Jones, CT and MR scanners are the most time-intensive pieces of equipment with which he has ever dealt. Unlike a straight radiology system with fairly easy fixables, high-end machines consist of a number of different features. For example, in an MR system, Jones must evaluate flight connections, coils, room humidity, temperature of the room, and temperature of the water in the separator package. Additionally, most systems are computer based, which calls for a familiarity with network systems. "This is not a straight linear expression," he says, explaining that it typically takes 1 or 2 hours to determine the cause of an issue. "I can't really say there's one thing I look at. I talk to the technologist a lot to find out what's going on, and just make my best guess from there after looking at the logs."
Smith says biomedical directors should anticipate some level of strife any time they change service models and prepare for the inevitable problems they will walk into upon transitioning from third-party manufacturing to an in-house model. "Any time you ask someone to get rid of their favorite GE, Philips, or Siemens service person who's been there for 12, 15 years, and all of a sudden there's this new person handling all your service, people don't usually say, 'Welcome aboard; we're glad you're here,' " Smith says. "You usually get a little bit more of a push back. They tend to want to resist you a little bit more. You'll get less latitude in terms of scheduling and availability of equipment." And, as he previously stated, earning the faith and trust of your customers will help ease the transition and ensure success.
Imaging equipment produces a higher level of stress, according to Hojnacki. At his modest-sized hospital, one broken x-ray room can wreak much havoc in an environment that only has two. "It's stressful if you don't have a lot of equipment, he says. "Time is of the essence, and you have to keep the cost down."
Therefore, Hojnacki says it is imperative to have open lines of communication with the radiology supervisor.
Moretti also notes the value in developing a good rapport with OEMs, especially those with which you have entered into collaborative agreements. "Our partnership is very good," he says. "The recipe that's worked for us is that we have very competent service providers in our organization that we employ. Our relationship is strong with the OEM because the level of service we're providing out there is at a comparable level [to the OEM]. It takes a lot of pressure and relief off of the OEM workforces and their need for a larger workforce in a region. It also shows very positively on their devices because our interest is the same as theirs: that they are up and running at maximum levels."
Words of Advice
For health care facilities interested in moving their services in-house, Hojnacki recommends they assess exactly how much cost savings they can achieve and take the initiative to present those figures to their management. In his particular case, Hojnacki reports that he alone saves his hospital $100,000. "It takes a while to get management on board," he admits. "A lot of times management feels only the original manufacturer can maintain the system properly. You have to build confidence in these departments before you do something like this. They need to trust that they're going to get good service out of their biomed department."
Moreover, Smith emphasizes that it is absolutely critical to evaluate one's install base and effectively recruit for it. "If you don't have redundancy, you can see how a single person can become a hinge-pin for the demise of in-house groups," he warns. "Size does play a factor in this type of model."
Ultimately, Moretti believes that out of all the various service plans that are available, the best pathway for an organization is internal because of the cost of ownership, believing that a hospital's administration needs to communicate with the clinical engineering department in order to make these kinds of management decisions. "I would suggest clearly understanding what their expectations are and what their deliverables can be through an internal group, understanding what the resources they have or acquire would be, and committing to a program, both internally and financially, once it's developed to make it successful."
---
Elaine Sanchez Wilson is a contributing writer for 24×7. For more information, contact .