By Jenny Lower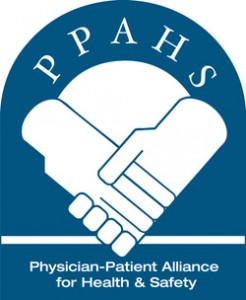 Patient safety forms a sprawling landscape of far-reaching issues that touch on dozens of potential dangers leading to adverse events. The Physician-Patient Alliance for Health & Safety (PPAHS) addresses just three of them: alarm fatigue, blood clots or venous thromboembolism (VTE), and patient monitoring, especially in cases of patient-controlled analgesia (PCA).
If that selection sounds narrow, it might not be as limited as you think: a 2013 study by the online resource Health Grades found that in 2013, blood clots and respiratory failure (along with accidental laceration) accounted for two-thirds of patient safety events over a 3-year period.
"We're trying to pick on big patient safety issues, things where there could be an intersection between innovation and smart people," says founder and executive director Michael Wong, JD. "There isn't a cure for cancer, but we can focus on these patient safety issues because we have the technology and know-how today to prevent them. That's why as an organization we have sort of gravitated toward those issues."
Man on a Mission
A lawyer by trade, Wong originally attended Johns Hopkins University planning to do medical research. He stayed involved in healthcare through his day job and by volunteering in the preinternet days for efforts to promote causes like hepatitis B awareness and smoking cessation.
He became troubled 4 years ago by high-profile cases like that of Amanda Abbiehl, an Indiana senior who in July 2010 was admitted to the hospital for strep throat. She died after receiving a PCA pump without electronic monitoring in place and suffering an opioid-induced respiratory depression. Already an advocate for patient safety issues, Wong was invited to participate in a panel on Abbiehl's death at Notre Dame University, where he met with the girl's parents.
He began querying various hospitals and safety organizations about their efforts to prevent similar occurrences, but felt not enough was being done. At the suggestion of his son, he founded a WordPress blog to help bring awareness to the issue. His interest in alarm safety and blood clots grew from there.
Though Wong had limited experience with social media, his website (at ppahs.org) now draws online visitors from more than 140 countries. He has earned nearly 100 likes on Facebook and more than 1,800 followers on Twitter. A nine-member advisory board includes representatives from the Johns Hopkins Hospital, the Yale School of Medicine, and The Joint Commission, while a supporters page lists another 30 informal affiliates.
"This was a bit of social experiment," Wong says. "Now we have readers from all around the world. I feel the responsibility to continue to provide commentary, engage in research, and bring together expert panels on these critical patient safety issues."
Doubling Down
The PPAHS mission comprises four key areas: endorsing and publicizing expert opinion, surveying healthcare professionals to determine current practices' promoting best practices, and developing safety checklists and advocating for the adoption of standards. An active writer, Wong regularly blogs about related issues and has written a number of articles for various publications, including 24×7.
One of the achievements he's most proud of is the PCA checklist, a distillation of the risk factors that should be considered prior to administering a PCA pump. They include obesity, low body weight, advanced age, preexisting conditions like asthma or sleep apnea, and concomitant medications that can potentiate the sedative effect of opiates.
Safety organizations have known about these dangers for over a decade, but many facilities still fail to check for them consistently. Wong hopes that an accessible format will help eliminate that problem. "A lot of people in the past have talked about raising awareness about certain safety issues, but they haven't always proposed solutions. We want to try to do it in as practical a matter as possible."
PPAHS has developed a similar, interactive risk assessment for VTE in maternal patients that lets users check for indicators and then calculate a total risk score based off their selections. Wong has plans to develop a similar document for alarm safety.
In early 2013, in response to questions raised by students 2 years earlier during the Notre Dame session, Wong and his supporters conducted what he calls the first national survey to assess hospitals' current practices surrounding PCA pumps. Nearly 170 respondents participated. The summary of results—some encouraging, others disconcerting—are available on the PPAHS website. For instance, of those that monitor continuously, 65% agreed that continuous electronic monitoring reduces adverse events, while 34% cited alarm fatigue as a difficult problem. 5% of respondents said alarm fatigue did not concern them at all, which Wong attributes to their institutions having figured out how to manage the problem.
PPAHS is currently in the process of applying for 501(c)(3) status, a move Wong hopes will increase charitable donations and enable further research. He'd like to study the impact of the PCA checklist on safety outcomes. And with the addition of The Joint Commission's new National Patient Safety Goal concerning alarm fatigue, focus on that issue is likely to intensify in the years ahead. As of now, Wong has no plans to expand his initiatives into other areas.
"There has been some progress, but not enough for me to go to Amanda's parents and say 'No other teenager coming into any hospital across the country under the same circumstances as Amanda is going to have the same outcome.' I'm not saying other patient safety issues are not important. But I've always felt if we're going to have an impact today to improve patient safety and health outcomes, let's try to do it the best we can with what we already have."
Jenny Lower is the associate editor for 24×7.