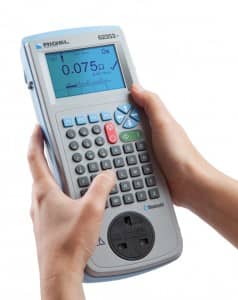 Rigel Medical, part of the Seaward Group, has announced the introduction of its upgraded safety tester, the Rigel 62353 Plus, for the in-service and post-repair safety testing of electronic medical devices to meet the standards required by IEC 62353.
According to the company, the upgrades are in line with changes in test requirements from manufacturers of 24V DC and 48V DC operated medical equipment, such as operating tables and portable lighting installations.
Rigel Medical reports that its new Rigel 62353 Plus tester is equipped with an extended range of insulation test voltages between 50V DC to 500V DC. As a result, four separate insulation test voltages are now provided at 50V DC, 100 V DC, 250V DC and 500 V DC to give the latest tester more flexibility in meeting the routine safety testing needs of medical devices according to the internationally recognized in-service test standard.
Other special design features of the Rigel 62353 include an earth bond "zap" circuit that makes use of preconditioning the contact resistance by using a high current, low energy pre-pulse. In addition, the new tester can reportedly measure and warn of secondary earth paths which are common in hospitals and which may seriously affect the validity of leakage measurements if undetected, potentially leading to false positives and passing medical devices as electrically safe when they are not.
Improved battery power is intended to reduce the downtime between testing, while other features include an easy-to-use facility for testing up to two individual applied parts from different modules or classes (ie, BF and CF class) in either fully automatic, semi-automatic, or manual test modes. The comprehensive testing capability of the safety tester is supported by a large internal memory for the storage of test results, with stored test data being transferred to PC-based asset management and test records databases for maximum traceability. The new Rigel 62353 Plus analyzer tests in full compliance with IEC 62353 and NFPA 99 or AS/NZ3551 respective local versions.
For more information about the new safety testing device or the company's other safety analyzers, patient simulators, testers, and accessories, visit the Rigel Medical website.