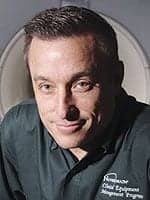 Alan Koreneff
Recently, the North Carolina Biomedical Association (NCBA) announced plans to hold its annual symposium and golf tournament in September, supplanting its traditional December date. This year, the event—complete with educational tracks, vendor exhibits, and even a pig roasting party—will take place September 8 to 10 at the Embassy Suites Charlotte-Concord in Concord, NC. Online registration is currently available on the NCBA Web site. 24×7 spoke to NCBA President Alan Koreneff about what prompted the change and how the event is reaching out to the next generation of biomeds.
24×7: What prompted you to stay with the Embassy Suites venue for a second year after many years at the Pinehurst Resort?
Koreneff: We outgrew the venue at Pinehurst. They had made some renovations that actually reduced the space of the exhibit areas, so we would have had fewer vendors. We were having to spread people around and put people in tents, so we needed to find a place that could accommodate the size that we have now, plus space to grow with us.
The NCBA board is a volunteer organization, and it's a lot of work to put this show on. Having it at Pinehurst year after year helped because you would be working with the same people over and over again. We were at the Embassy Suites last year, and we've actually locked into a 3-year deal.
24×7: Why a change in season as well?
Koreneff: We have always been competing for vendors with RSNA—the huge show in Chicago for radiology. Since RSNA is always the week after Thanksgiving and ours was the first week of December, those weeks overlapped at times and vendors had to make the choice on where to go. And the RSNA show is obviously the much larger, national show.
We basically negotiated with Embassy Suites for the best options they had off their busy times. We also didn't want to move it to another time frame that competed with a different show.
24×7: Why should biomeds who have never traveled to a show before make the trek?
Koreneff: I think our education offering this year is going to be much better than it has been in years past. We have a new track for students that are either in biomed programs or looking to get in, who are looking for some career counseling and to meet with leaders in a lot of the different segments of the industry. OEMs, in-house programs, and third parties are going to be there to talk about career paths and to give them advice.
We're also bringing back a lot of the management and IT tracks that were very popular, and we're going to have some actual training classes, which will allow people to be able to service equipment after taking the classes. We're trying to put an educational offering that appeals more to managers, but one in which the managers see the value in sending their biomeds.
24×7: Any other social events slated?
Koreneff: This year we want to bring back our pig pickin' party. We used to do those years ago, but when we moved to Pinehurst we weren't allowed to do that there. We're probably going to do it off-site, but we haven't firmed everything up with Embassy Suites yet.
24×7: What is your favorite part of the show?
Koreneff: It's kind of split. The networking that goes on is absolutely invaluable, but also to be able to teach classes for biomed techs and to share experiences with them that myself and other managers have had is very rewarding.
---
Stephen Noonoo is the associate editor of 24×7. Contact him at .