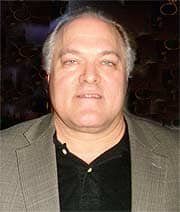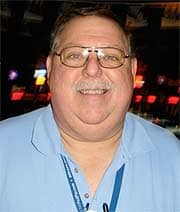 Doug Dreps, MBA, BBA, AASEE (left) and Frank Bodenschatz, CBET (right)
Frank Bodenschatz, CBET, imaging tech III at SSM St Clare Health Center, Fenton, Mo, understands the difficulties of maintaining active membership in a local biomed association. Bodenschatz joined the Gateway Biomedical Society (GBS)—which acts as a resource for the Missouri and Illinois regions—in 1990, when the association was founded. After a few years of active participation, Bodenschatz's parental responsibilities forced him to leave the group. Recently, however, he has had the opportunity to become more involved with the association, currently serving as its vice president. Unfortunately, the association's membership—particularly its active membership—has decreased from when the society first started, and the group's leaders are challenged to find innovative ways to promote participation. "We get around 10 people to come to the meetings," Bodenschatz says. "We're trying to get that back up to around 20 or so. We've been doing e-mails and calling people to let them know. We get a hodgepodge of people from hospitals around here. We do get some of the vendors to come in. I think the turnout is because of lifestyle nowadays. It's hard to get people to come."
GBS' mission—to provide a forum to promote the personal and professional growth and development of its members, and the advancement of the profession—focuses squarely on the improvement of its members. Yet, despite the group's altruistic goals, regular participation and low turnouts remain a consistent issue for the association. "Currently, we have 44 members, but they're not all active," says Doug Dreps, MBA, BBA, AASEE, director, eastern regional operations, Mercy clinical engineering services for Mercy St Louis, and president of the GBS. "They're on and off. They join one year, pay their dues, and then we don't see them at any meetings. We do get some that will come to meetings, but don't want to join."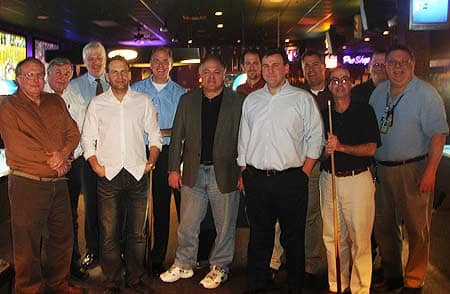 Attendees at the January 18 event at Side Pockets pool hall and sports bar in St Charles, Mo, cosponsored by MEDRAD.
These issues have led both Dreps and Bodenschatz to engage with the current membership and work to find optimal times for the group to meet. "I've asked people if they want to change the meeting times," Dreps says. "Some people get off work at 3:30, go home, and then don't feel like going back out. But a lot of people work until 4:30 or 5. I keep bringing it up, but no one wants to change it."
One event that does draw significant interest from the members is the annual pool tournament, which recently took place in January. It doubles or triples the regular turnout and also acts as a membership renewal drive. The meeting is so popular that the leadership team has received explicit requests to continue hosting it.
New Ideas
These membership struggles are not singular to the GBS. Countless local associations also experience similar difficulties with membership commitment and involvement, but Dreps has at least one idea that has the potential to assist many groups in the same position.
"HIMSS and ASHE have local chapters, but AAMI doesn't," Dreps says. "Maybe our societies could be chapters of AAMI. I've pitched the idea to AAMI, but there are some societies who wouldn't want to relinquish their leadership. I just want a meeting to go to, so being part of an AAMI chapter could create more resources and corporate support for struggling societies."
In lieu of that solution, the GBS leadership team is formulating a plan. One strategy involves coordinating with the heads of biomed departments at local hospitals.
"I am trying to talk to leaders at hospitals," Dreps says. "I'd like to get a leadership meeting, which is kind of outside of GBS, but somewhat inter-related."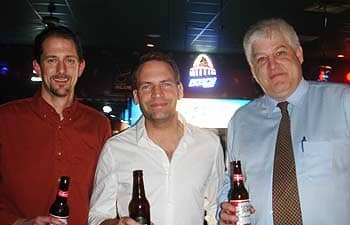 At the January 18 event at Side Pockets pool hall, the top three finishers of the pool tournament were, from L-R: First place, Paul Cain of SSM; second place, Mike Vohsen of SSM; and third place, Jim Anderson of SSM.
Mark Milster, the GBS treasurer, also laid out a plan for meeting more directly with potential members: show up to hospitals with pizza in hand and simply talk with the biomedical and imaging technicians. Though this may begin as an avenue to open a dialogue and attract new members to GBS, this kind of open discussion is not foreign to the association. At several of the society's meetings, attendees will form roundtables to network with their contemporaries and share tips on how to be successful, as well as discuss struggles in the workplace. While these roundtables function as a beneficial tool for local technicians in the St Louis region, GBS members who work in the outlying hospitals may take even more away from these sessions. "The members from the distant areas seem to be hungrier for knowledge," Dreps says. "As long as they can make the meetings, they'll come. A lot of them work in smaller hospitals by themselves, so they don't get to interact with other technicians."
Another strategy the association has used is partnering with local colleges. The group has extended its membership to college students, and some have even been able to secure jobs with the help of the GBS. And, like the leaders of most local biomed associations, Dreps and Bodenschatz both recognize the growing importance of the group's Web presence. Currently, the GBS does not have a dedicated member working on the Web site, a position it is trying to fill. In addition, the group is looking into the use of Web casting to broadcast the bimonthly meetings to a wider audience.
In spite of the small turnout, the leaders of GBS will continue to offer the same quality content to its members and try to help them through a crucial moment in the clinical engineering industry. Be it through offering informational and educational sessions on the growing prevalence of networking in the biomed field, or simply allowing members to interact with one another and share ideas, GBS aims to stay true to its mission statement of improving both its members and the clinical engineering field. "We're trying to get more people to come," Bodenschatz says. "We're trying to do whatever it takes to do it. With Doug's schedule and my schedule, it's been a hectic time. But this year, we're trying to make it a priority to make more time and have more meetings."
---
Chris Gaerig is the associate editor of 24×7. Contact him at .