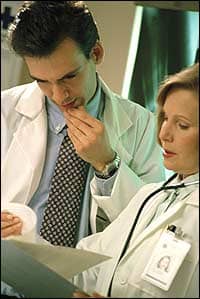 All businesses find that measuring customer satisfaction offers numerous benefits, like reduced costs.
The most powerful tool every business possesses is customer feedback about its products and services. In today's highly competitive medical industry, understanding your customer's needs and perceptions can give you an edge and contribute to your prosperity. In some cases, timely and accurate customer feedback can even be a matter of life and death.
Customer-savvy service teams recognize the importance of not just knowing customer expectations, but being sensitive to changing attitudes and emerging issues every day. This supports the need for measuring customer satisfaction every day, and the ability to use customer feedback to influence changes in service and support delivery.
"The measurement of service satisfaction is critical to effectively and efficiently run our service organization. Without this type of customer feedback, we have no way of knowing the strengths and weaknesses of our service and support delivery," says Tom Chowaniec, senior vice president of customer care for VIASYS Healthcare Inc, Conshohocken, Pa.
Why should service organizations measure quality every day? It does not matter the type of company—a biomedical engineering department, an independent service organization (ISO), or a medical technology company—all businesses find that measuring customer satisfaction offers numerous benefits, such as:
Increased overall satisfaction by delivering better, more consistent service
Maximized service potential using real-time customer satisfaction data
Reduced costs by allocating resources more appropriately
Sharpened employee skills by understanding service weaknesses
Enhanced employee morale with incentives based on customer satisfaction
For ISOs in particular, the benefits may also include improved customer retention by providing timely and complete solutions, and gains in new business through customer referrals.
"There is no magic formula for discovering areas of strength and weakness in a service organization," says William Bleuel, PhD, professor of decision sciences at Pepperdine University, Malibu, Calif. "It's simply a matter of properly analyzing your customer satisfaction data to determine which specific aspects of your service operation have the most impact on your customer."
Increased Overall Satisfaction
For most companies, service is an integral part of their success. Many decision makers believe that world-class service and support are primary components of a purchasing decision. Human resources can integrate service satisfaction information into performance reviews. Once measurement of service satisfaction is underway, a wealth of valuable information is uncovered.
"Our mission at MEDRAD is unsurpassed customer satisfaction for all accounts," says Bob Schmidt, global customer satisfaction manager, MEDRAD Inc, Indianola, Pa. "Every employee, from the president to the field representatives, shares this philosophy. Customer satisfaction is such a critical component for us that it is one of our five corporate goals, and is measured monthly. These high-level goals are constant from year to year and are incorporated into employees' annual objectives, so the customer satisfaction focus is truly embedded in the fiber of our company."
Maximized Service Potential
Feedback from the collection of service satisfaction data can be analyzed several different ways, including by department, region, branch, service type, and product. This allows management to create individual and group programs designed to enhance customer service skills and maximize service performance. It also helps companies monitor progress in each area to determine if maximum service levels are being met. Consequently, measurement tools and feedback ensure that groups and individuals remain accountable for the satisfaction goals put forth.
"Collecting service satisfaction feedback is essential to ensure that every MEDRAD customer is satisfied," Schmidt says. "Utilizing customer feedback ensures that customer requirements are fully understood and fully deployed."
Reduced Costs
To run a cost-efficient service organization, information about what is and what is not working is critical to keeping customers happy. Teams might spend hundreds of hours designing the perfect customer follow-up program, but without a way to measure its impact, money and resources can be wasted. Service satisfaction feedback can help determine areas of weakness within an organization. Programs and processes can be modified based on objectives to improve service satisfaction levels. Once a program is in place, the effectiveness of these changes can be measured to ensure that the service organization is performing with maximum cost efficiency.
"The key is balancing customer satisfaction levels with actual levels of support, and understanding how to deliver what a customer really wants," says Joe Patton, chairman and CEO of Patton Consultants Inc, Hilton Head, SC.
Sharpened Employee Skills
One of the most powerful benefits of collecting satisfaction data is the ability to analyze service down to the technician level. This gives companies the ability to offer targeted training to technicians based on areas needing improvement. For example, a technician might be especially good at repairing equipment, but not very good with customers. Handling the customer entails everything from setting customer expectations properly to always looking at the situation from the customer's point of view. It might prove more beneficial and less expensive to offer that technician soft skills training, as opposed to additional technical training.
Enhanced Employee Morale
Companies that collect customer satisfaction data have come up with very creative ways to motivate employees using this information. For example, some display customer comments to recognize employees who go above and beyond to resolve customer issues. This relatively effortless act can be a catalyst to motivate employees to improve service delivery. Awarding top performing service departments with things as simple as a trophy or a fun outing can create enthusiasm and teamwork. Allocating cash bonuses based on customer service satisfaction results can naturally increase employee satisfaction levels, suggesting that the higher the satisfaction scores, the bigger the bonuses.
"Employees respond to positive feedback," Bleuel says. "Sharing positive customer comments and service satisfaction feedback with employees can enhance employee satisfaction levels. If positioned correctly with rewards for outstanding performance, comparing satisfaction results between groups can create a natural competitiveness among peers and elevate service levels. It can also help employees better understand the importance of their jobs and how their individual performance correlates to higher customer satisfaction levels."
Improved Customer Retention
Strong service satisfaction results can help reinforce service performance statements with the customer base. Verbatim comments collected during the interview process can be powerful tools to help customers understand the company's value as a manufacturer or service provider. Also, unsatisfied-customer alerts can help quickly identify and thwart potential customer issues before they escalate.
"Customer follow-up has an incredible impact on satisfaction," Patton says. "It shows the customer that your company cares about his or her well-being. For corporate customers, it gives them a sense that you are working as a partner to help them provide the best care possible."
Gains in New Business
For ISOs or manufacturers, valid, statistical proof of service quality can enhance the sales process. Service satisfaction information can help customers clearly calculate and understand the return on investment when purchasing costly equipment. They know that better service by a manufacturer or service provider equates to less downtime and higher profits.
"Because service has become such an integral part of the sale, positive comparative service satisfaction results, if used correctly, can boost sales," Patton says.
Benchmarking Service Performance
However they rate, service-savvy managers need to know, "Is this good enough?" They might also ask, "Are we overperforming?" Industry benchmarks provide answers by comparing individual service performance to like service providers. Boasting a satisfaction number has no value if there is not a base for comparison.
"The most important benefit realized from benchmark participation is our ability to measure ourselves [against] similar companies in our industry so we have an additional independent perspective of our performance," Schmidt says.
To determine the value of service satisfaction measurement and benchmarking, consider these basic questions:
Do we measure customer satisfaction for the services we provide?
Do the results of the performance characteristics we measure create actionable items for our organization?
Do we have a benchmark against which to compare our service performance?
If we do not compare our satisfaction data against those of other companies, how do we know if our services are comparable to those of our competitors?
If we do compare satisfaction data against those of other companies, how do we understand and use that data to improve performance?
While measuring satisfaction is valuable in itself, the true test of service quality is comparing service performance to that of other providers.
"Service satisfaction benchmark data gives us the ability to measure our service levels compared to our competition," Chowaniec says. "This is by far the number one benefit of benchmark participation. Without this type of feedback, we cannot fully understand how our customers view our service delivery as compared to our competitors, and ultimately, the customer's opinion is the most important one."
How is customer satisfaction data collected and benchmarked? In most cases, members of not-for-profit industry associations, like the Association for Services Management International, Computing Technology Industry Association, and Service & Support Professionals Association express interest in measuring customer satisfaction and compiling data to compare service capabilities among competitors.
The industry association then partners with an independent research and measurement company to design a customer satisfaction follow-up questionnaire and establish a performance benchmark for the respective industry. Of course, to create a valid benchmark, regular cycles of valid data must be collected.
Once the mechanics are in place, companies transfer service event information directly to the research company daily or weekly, as needed. Information can be transferred electronically, via the Web, or via a customer-secured file transfer protocol site. The research company puts the data into an interview format and utilizes various interview techniques including telephone, e-mail, and Web-based follow-ups to measure the satisfaction of customers who have just experienced a service event.
The research company then compiles and reports customer satisfaction feedback about ease of requesting service, response time, technical ability, professionalism, product quality, completeness, solution time, and so on to individual benchmark participants. Feedback is provided in any number of formats, including hard copy, electronic, and/or Web-based reports, depending on the participant's needs. This enables quick analysis of customer satisfaction feedback on a broad basis, as well as down to the technician, department, and product levels. Consequently, service organizations can quickly identify problems with service delivery and immediately implement solutions.
Each month, the information collected from participants is consolidated into service benchmarks that represent industry performance by type of service, type of product, type of customer, and so on. It is important to note that the specifics of the data gathered remain confidential between the individual benchmark participants and the research company.
The unsatisfied customer alert, or hot-sheet service, is an added bonus offered by some research companies. Because feedback is collected within hours or days of the service event, the experience is fresh in the mind of the customer. An unsatisfied customer alert automatically notifies the service provider when an interviewer comes across an unhappy customer or a customer whose issue is not resolved. This gives the provider an opportunity to take immediate action to correct the problem, which can strengthen customer loyalty and help retain the customer's business.
"Customer alerts are one of the biggest benefits of benchmark participation," Chowaniec says. "If an interviewer comes across a customer who is not satisfied, we are alerted immediately. This is a powerful service that allows us to head off potentially damaging customer situations that might otherwise not have been brought to our attention."
Identifying a Solid Benchmark Program
Not all performance benchmarks are equal. True benchmarks have five very distinctive characteristics:
Consistency: Use responses from like interview questions to establish a benchmark. Benchmarks should not use responses from questionnaires with different types of questions, because this renders the benchmark data invalid.
Validity: Obtain a statistically valid sample for each benchmark participant. A sound benchmark provider must obtain feedback from the correct number of customers for each participant to build and maintain a true benchmark.
Timeliness: Trend ongoing service measurements over time to gather accurate information to make changes. It takes time to establish a credible benchmark.
Confidentiality: Remain anonymous and protect client lists. A true benchmark compares like service providers to one another and includes at least five or more participants. What is more, the research company should keep the participants' customer information completely confidential.
Objectivity: Maintain an objective position by allowing a neutral third party to measure customer satisfaction and administer the benchmark. This approach is necessary to safeguard the integrity of the results.
| | |
| --- | --- |
| Read other customer satisfaction and benchmarking tips in the December 2006 issue of 24×7. | |
"It is critically important that a performance benchmark be objective and statistically valid so that the results are meaningful," Bleuel says. "Otherwise, a company might make decisions based on inaccurate information."
Jean Mork-Bredeson is a contributing writer for  24×7. For more information, contact .