The escalating number of computerized medical devices in use today presents new challenges for hospitals and health care systems. No longer are infusion pumps, ventilators, and bedside monitoring systems stand-alone devices that clinical engineers (CEs) and biomedical medical equipment technicians (BMETs) can easily maintain and troubleshoot. Now, such equipment is integrated with information technology (IT), allowing vital signs data to be collected directly from electrocardiogram monitors and distributed to a patient's electronic medical record (EMR), or data sets for medication dosages, which can be uploaded directly into infusion pumps. All of which is aimed at reducing the possibility of error.
Biomeds are used to having a very good handle on clinical devices, but these advancements represent an added level of complexity to the core technology they have supported for years. As the need increases to interface clinical equipment with hospital networks, biomeds are expected to support devices that are essentially networked computers—in spite of the fact that many who have been in the field for years have little or no IT training.
"The clinical networks we have had experience with over the years have been very well contained, highly isolated networks that don't get impacted by IT issues like security, viruses, routine patches, and updates," says Dennis Minsent, MSBE, CCE, director of clinical technology services for Oregon Health & Science University (OHSU). "I think it's a fair assessment that there is a lack of training in computers for biomeds, and that means we are getting more involved in things outside of our comfort zone."
Michael R. Kauffman, CBET, assistant director of facilities, Reading Hospital and Medical Center in Reading, Penn, agrees that biomeds are lacking in the correct training to meet these challenges head-on.
"I push for more education for my biomed staff because I know how important it is," Kauffman says. "Virtually everything is computerized today, and that means biomeds need to know and understand hardware, software, interfaces, and how computerized equipment works."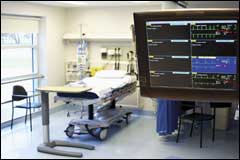 The escalating number of computerized medical devices in use today presents new challenges for hospitals and health care systems.
Training Biomeds To Understand IT
Today's biomeds are regularly being asked to apply knowledge that is beyond the scope of their traditional training, such as understanding how devices communicate with each other so that they can locate the source of a problem, accessing systems so they can perform preventive maintenance (PM), and identifying whether a device has been altered by virus protection.
"A few years ago, I taught a senior-level biomedical engineering class at a local community college, and I was told to follow a standard curriculum and a standard textbook," says Ken Olbrish, MSBE, an enterprise imaging system administrator in the information services department for the Main Line Health System in Philadelphia. "Neither of these touched on IT-related items to any degree, and I would suspect that this is true in many biomed training programs. Even if the programs have been updated, there are thousands of biomeds who have been working for years who are only now just getting exposure to these topics."
How biomeds have begun educating themselves about IT varies. Some take it upon themselves to go home and learn more about computers because they have an interest, while others attend continuing education classes at their employer's request. The options depend on the nature of the biomed's role within a specific hospital, according to Minsent.
"One of our major training initiatives this year has been to get all of the biomed staff, from entry level up to myself as a director, through at least the initial phase of network training so that we are all at a consistent benchmark," Minsent says. "Now we are working with Phillips Medical and taking their 'Networking for Biomed Professionals' course. The first classes are later this month, and my staff is very excited about attending. They see and understand that this is a skill we definitely must have in order to enable us to continue to provide high-valued services to the clinical areas in the organization."
New Tools, New Expectations
Along with the need to understand new technology comes the pressure for some biomeds to take on new roles, like supporting field engineers, who often rely on the hospital IT staff or biomeds to help set up new devices.
"There is a lot of networking information that needs to be set up correctly, and personnel from the manufacturing companies receive only a day or two at best of IT-related training," Olbrish says. "On site they have to follow a manual step by step to set something up, and if the device then does not work and they don't know where to turn, they either need to track down someone back at their corporate office or rely on biomeds or IT at the facility."
In cases where hospitals have a very limited IT staff, that means biomeds may have much more responsibility to help set up equipment, test it, and keep it up to date. To do so, biomeds need to understand how to troubleshoot devices that are not as self-contained as they once were.
"While it used to be something very specific, there are now lots of factors that are outside the device that come into play," Olbrish says. "Now if data doesn't get into the device or to where it's intended, there are a whole lot more places that biomeds need to troubleshoot to find the source of the problem. The issue could be with a specific device, with the network, or with the information system on the back end that's receiving the data. There are a lot more steps involved."
There are some new tools in the biomed's tool kit to assess problems with computerized equipment, like a network tester, which can be plugged into a hospital data jack to determine if it is active. As radio frequency identification (RFID) becomes more commonplace, biomeds also need a good spectrum analyzer to evaluate what is going on in the wireless environment.
"That's the only way to get a good identification and sampling on what types of interference may be impacting a particular device in a particular environment," Minsent says.
The new perspective on the job that CEs and BMETs perform often means that their roles overlap with tasks traditionally covered by IT staff.
"There is the potential for turf battles as IT and biomeds determine who will be responsible for what, and we don't want a war breaking out between our technical departments," Minsent says. "Some groups are more willing to give up responsibilities while others are more aggressive in trying to take responsibility. Therefore, you really need to have leadership in the IT and CE departments who are willing to work together collaboratively. If that doesn't happen, it makes progress on these types of issues very difficult."
Expand Your Comfort Zone
Options for additional education for biomeds vary greatly, from manufacturer-supported training on specific devices to IT classes at community colleges. Both Phillips Medical and GE offer classes on IT and networking that are geared for the biomed,
and organizations such as Healthcare Information and Management Systems Society host annual conferences that have recently included topics like "The Convergence of CE and IT." More and more, local BMET programs are
incorporating IT aspects, while ECRI last year hosted an audioconference called "Navigating New Territories: The Convergence of Medical Devices and Information Technology."
Wherever biomeds decide to pursue more education, they should look for the following IT topics:
A good overview of the IT framework will help biomeds understand the language and environment of information systems. This includes hardware and software components such as input and output, tools, equipment, techniques, and programs; communication and networks; and the components of computer systems, which may include multiple local and remote servers or personal computers.
While not necessary, obtaining A+ certification will give biomeds an understanding of core hardware and operating system technologies, including installation, configuration, diagnosing, preventive maintenance, and basic networking. Network+ certification will broaden a biomed's knowledge of networking administration and support, protocols and standards, and network support.
Familiarizing themselves with various platforms such as UNIX or Linux, as well as those developed for handheld devices, such as WindowsCE or PalmOS, is also helpful in the hospital environment. Within the particular system, they should attempt to understand firewalls, spam filters, and virus-management tools.
While biomeds who have a dual degree in biomed and IT are the kinds of individuals who are very desirable to bring into organizations, because they can comfortably work in both environments, both degrees are hardly a necessity for today's biomeds.
"For existing biomedical staff, it's appropriate to actively seek out training opportunities to bring their level of knowledge and expertise up to a level that allows them to operate without problems and discomfort in this environment," says Dennis Minsent, MSBE, CCE, director of clinical technology services for Oregon Health & Science University.
—LF
Strengthening the Biomed-IT Relationship
Indeed, the biggest challenge for many is the relationship between CE and IT, according to Minsent.
"Some facilities have a positive, strong relationship; in others it's more strained," he says. "Regardless, biomeds and IT staff need to sit down in a collaborative fashion and develop processes to enable both organizations to peacefully coexist and meet the needs of the clinicians in the hospital."
A good collaborative relationship really starts from the beginning, as it did for Minsent, whose hiring interview at OHSU included input from the IT department. After being hired, Minsent was given a position on the IT operations council, which meets regularly to discuss IT-related work and challenges.
"That way the biomedical department had a direct representative on the councils with IT's senior leadership, and that allowed us to more formally cement our relationship and get ourselves working in a more collaborative way," Minsent says. "We've had to execute some fairly substantial projects here in the short time I've been on staff, and without the cooperative relationship, it would have been much more of a challenge."
Having a close working relationship with their IT department was critical in making progress on establishing RFID systems to track devices at OHSU, and in setting up EMRs so they could receive data from equipment throughout the hospital.
"We had our staff get engaged with IT, had the vendor go through many issues in the early stages of development, and planned a strategy that would ensure these systems would work at their fullest potential," Minsent says.
At Reading Hospital, Kauffman agrees that CE and IT staffs need to work more closely toward common goals and notes that his facility uses staff from both departments during every step of the process of implementing new medical technology.
"We had a very large monitoring purchase about two years ago, and IT was on the committee to select those devices," Kauffman says. "IT was also on the committee to select infusion pumps, because we're going to wirelessly interface those. If a patient needs 10.5 mg of heparin but the decimal is omitted when that information is input, that patient can die. The newest infusion pumps have computerized data sensors to catch that, and profiles get updated frequently. IT will be working with us to allow us to distribute that data set out of the IT wireless access and into our infusion pumps."
In any good collaborative relationship there is give and take, and biomeds can actually do a lot to make IT staff more comfortable in the patient care environment.
"We are very comfortable working at the patient bedside while IT is more comfortable working in the background, in data centers," Minsent says. "As more IT devices like electronic patient records are placed in the patient care area, some are struggling with working in that environment. Biomeds can help educate IT staff about the unique safety requirements in any patient care area, and IT can help biomeds understand the hurdles of dealing with a comprehensive IT infrastructure."
Collaboration among departments also allows facilities to avoid some of the confusion about who is responsible for what when problems arise.
"Where there is still a clear separation between IT and CE, there are a lot of issues about who supports a particular device," Olbrish says. "When there is a lot of overlap, it can be unclear to the end user who takes care of a particular problem. If the infusion pump isn't talking to the network, for example, who does the end user call to take care of the problem?"
Minsent points out that the preplanning work with biomeds and IT creates an opportunity to resolve that issue. "It gives us a chance to outline what biomeds deal with—hardware, for instance; and what IT deals with—the network or PACS [picture archiving and communication system]," he says. "And if there is a problem in between, we have created defined escalation processes to decide which department is suited to fixing it. Granted, this wasn't in place the first day that I came here. Setting up such a collaboration and outlining responsibilities and expectations for the departments has matured over the years."
Facing the Future of Health Care
The shift to computerized medical equipment is not only challenging biomeds to learn more, it is greatly changing what work they need to do. For example, newer bedside monitors are being designed in fail-safe mode, which should allow CE departments to seriously consider reducing PM inspections.
"Obviously, our jobs are changing," Kauffman says. "Sometimes I'm saddened by it, but I love my work even if it's a different job than it was 10 years ago."
Minsent feels the same way, and he advises those in the field to embrace the opportunities offered by this recent shift.
"This will very much impact what we're going to be doing in the near future, so we need to accept it, or else we will find ourselves in the position where more of that work will move to IT," he says. "And that in turn will lessen the level of support a hospital would have from a biomed program."
Liz Finch is a contributing writer for 24×7. For more information, contact .