In today's surgical suites, all eyes are not always on the patient, not even the surgeon's. The increasing number of minimally invasive surgeries means many teams conduct a portion of the procedure through a camera lens. As more technology has crept into the operating room (OR), so too have cables, monitors, keyboards, and other equipment. Surgeons can begin to feel claustrophobic and nurses overwhelmed.
To create a more streamlined and controlled environment, hospitals are increasingly moving toward integrated video management systems. The commitment is not one to take lightly. Depending on the extent of a conversion, the cost can run into the millions to purchase, install, maintain, and service the equipment. The speed with which a return is realized will often depend on the motivation for the project, but in some instances, integrated surgical suites can generate new revenues.
Motivation will also help to guide the project, which incorporates several elements, including technology, integration, and construction. "These are very long-term projects. Doing a new room—by the time construction has been completed and everything is installed—could take years," says Duane Mariotti, BSEE, clinical systems engineer, clinical technology, Kaiser Permanente, Riverside, Calif.
Generally, hospitals without the time or money for such projects may choose to retrofit instead. This, however, can also involve construction, and hospitals must make their decisions about whether to build new or work with a given room based on their budgets and physical constraints. A number of factors will play into the project, and biomeds want to be sure they get what they have paid for.
A team approach to the project often works best. Charles Tyree, BMET imaging specialist with Summa Health System's Akron City Hospital, Akron, Ohio, involved related departments at the beginning of the institution's integrated video management project and worked with the surgical teams to assure smooth operations once installed.
"We didn't have less equipment [after the installation]. We actually expanded. And the equipment is a little more complicated than the standard video cart, so it did increase our duties. But the nurses have also assumed more responsibility, even some troubleshooting," Tyree says.
More Components Create More Functionality
How a hospital defines an integrated OR depends on which services are integrated. Generally, these systems are interfaced together and controlled centrally. Typically, the integrated OR features a light source, an insufflator, the surgical system (most often an endoscope), a monitor, and a recording device, which could be a VCR, DVD, or printer. "These would be the minimum," Tyree says.
Add-ons include hospital connectivity, LCD and wide-screen monitors, video switches and routers, high-definition video, C-Arms, the DaVinci Robot, PACS, telemedicine, telestration (an annotation tool), and voice activation.
"Just about any type of video or audio device you would want to use in the OR could be connected," Tyree says.
Video standards range from basic image quality to high-definition and include composite, RGB, S-Video, SDI, DVI, and 1080P HD. Newer advances permit more special effects. "The ability to control the image going to the display allows special effects, such as windowing and smooth zoom and pan," says Edward Priest, acting CEO and director of engineering at Black Diamond Video, Alameda, Calif.
Control is managed through a computerized routing system. Akron City Hospital used standard networking connectivity (Ethernet Cat 5) in its rooms. "The router allows direct control of both the equipment in the room and where the signals are routed," Tyree says. The surgeon and/or nurse can control the devices from a central location.
The surgeon can increase or decrease light intensity or change the rhythm on the insufflator. He or she can dictate and record the surgery with a microphone or present it live as a teaching tool. The surgeon's monitor can produce one image while another display in the room or elsewhere shows another.
"The information and images are available and displayed in some number of redundant monitors. And there is easier and faster access to data from one central solution point," says Bill Greenblatt, vice president of sales and marketing for Quest International Inc, Irvine, Calif.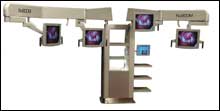 All-in-one video visualization systems provide OR staff ergonomically sound viewing angles of high quality images from anywhere within the operating field.
More Capability Adds More Expense
One central control station can free up space in the OR or more importantly, around the patient. "One of the biggest myths is that a larger OR is better. But larger does not mean more space—the sterile field has not changed. What you need is less equipment around the sterile field," says Paul White, president and founder of CompView Medical, Beaverton, Ore.
Integrated ORs create this space by eliminating the cart, removing equipment from the floors, consolidating, and reducing the amount of cables and wires snaking through the room. "You can mount a monitor on a boom or wall and display all of the information rather than having 15 monitors each displaying different data," says Herb Berkwits, product manager, medical displays, with Quest International.
"Removing carts from the sterile field has several advantages," says Cliff Ratke, CBET, biomedical department director, Redlands Community Hospital, Redlands, Calif. "The main one is providing a safer environment, with fewer devices and cables on the ground in the sterile field. Customized positioning of monitors provides better ergonomics for the surgeon and the rest of the team. And not having to move equipment around from room to room facilitates a longer life span and promotes continuity within the OR, ultimately decreasing room turnover time."
White concurs that time is saved, impacting not only the set-up, tear-down, and cleaning of a room (wheeling in a cart can take 15 minutes), but also a patient's time under anesthesia, and the surgical team's physiological stamina. "We are seeing evidence that the cases themselves are going faster," says White, acknowledging that formal studies are needed to confirm this.
For ORs with control located outside the room, even more space becomes available, and staff can control devices from outside the sterile field. "Since the technology can accommodate long lengths of signals, the router can reside in the OR or in a separate location," Priest says. A new processor from Black Diamond Video can control four rooms from one unit.
The new workflow may create extra hands. Akron City Hospital's integrated ORs feature voice activation, and surgeons who use it are able to adjust equipment themselves. The staffer who would have handled that is then available for other tasks. "Surgical teams used to always need an extra pair of hands, and now they have them," says Tyree, adding that traditional ORs would have to page someone to bring forgotten or replacement equipment.
On the other hand, if the system goes down, then the room may be unavailable until repaired. "Anything electronic or mechanical will fail eventually. Depending on your failure, the room may now be closed," says Tyree, noting that it's harder to switch equipment in an integrated system than on a cart.
Carts do have the advantage of saving money. "Carts are useful if trying to save money, because they can be moved from one room to another, but they do bring with them a lot of extra hardware," Berkwits says. "And unless the cart is completely wireless, there is a tangle of cables, power, and data that trail with them and create extra crowding in an already crowded room."
More Focus Leads to More ROI
Integrated ORs may not be the solution for facilities trying to save money, particularly in the short term. "Regardless of how large or small a facility is, if it is not willing to spend $1 million or more to integrate its ORs, then it is not serious," Tyree says.
Mariotti notes that $250,000 per OR would not be an extraordinary cost. But it will vary according to the complexity of the system.
"Items to consider include construction costs; the number, type, and size of monitors; integration with PACS, EMRs, and other imaging equipment; video quality; and special features, such as videoconferencing, telestration, et cetera," Ratke says.
Return on investment (ROI) can be realized, even quickly, but it takes effort. If turnaround time in the OR does increase, then so can volume. Many hospitals find that the integrated ORs attract both new physicians and new patients. "We found that within a fairly short time we've attracted new physicians who want to perform minimally invasive surgeries, but the hospital had to do its marketing homework," Tyree says. Eventually, physicians will come to expect their hospitals to offer these services.
Softer returns are seen in patient outcomes. "It's hard to put a figure on enhanced patient care," Berkwits says.
More Options Mean More Decisions
Because the projects are so expensive, it's important to approach them carefully. "Integration is not inexpensive, and people need to make sure they truly understand what they are trying to accomplish," Mariotti advises. What is the system for? What components will be integrated? What connectivity is needed? Will it be a teaching tool? Will teleconferencing services be needed? How many rooms will be converted?
If integrating a room for today, it's important to consider the future. "A needs assessment should take into account the immediate and long-term plans for a facility," Greenblatt says. Most experts advise building in additional conduits the first time to accommodate later add-ons.
Budget and architectural constraints should also be taken into consideration. More components mean more cost. "Each time you add more capability, you add more cabling," Tyree says. He cautions that integrated ORs require quite a bit of space for these cables, and space can be an issue, particularly in the decision to upgrade or build from scratch. Some experts suggest that new builds may be easier and less expensive for older rooms, which may not have the space, lighting, or electricity needed in the completed room. Others feel that upgrading can be more cost-effective by avoiding construction costs. All-in-one systems do exist that can be brought in to upgrade a room quickly.
White estimates that building from scratch can run $400 to $700 a square foot, and that upgrading is cheaper. Ratke says the installation of the ceiling-mounted boom and monitor arms can be one of the more expensive undertakings of an integrated OR.
Another factor to consider is how long the project will take. Can the hospital operate with the room not available? If so, how long can the hospital go without using the room?
"The cost to build from scratch is usually not driven by the need for an integrated OR. There are many factors that drive the decision to renovate or build from scratch: state/government compliance, hospital growth, and capacity are typically the major factors," Ratke says.
More Details Require More Attention
Once the decision to move forward has been made, biomeds want to get involved in the project "as early as the design phase," Ratke advises. They may also want to involve other departments, such as construction, media services, and IT.
"Typically, an architect and/or equipment planner will help with infrastructure requirements and space utilization," he adds. "As far as technology, the integration vendor of choice will help draw out the desires and requirements from the hospital. Based on that input, there are usually a number of solutions to accomplish the hospital's ultimate goal."
Tyree notes that vendors differ in the amount of assistance they can offer. Some will provide the equipment requested and require the hospital to set it up; others provide consultative services from beginning to end, from blueprinting to training.
Biomeds want to ask the right questions, particularly regarding connectivity. Signals are routed from analog video sources through routing equipment to the displays. "If you rely on the router to convert the signal to the proper display format, the signal is susceptible to loss over long lengths of cable," says Priest, suggesting that signal converters at the source can eliminate this problem.
Tyree concurs that biomeds want to be assured they are getting what they have paid for. If they have paid for high-definition, they should be sure it is being delivered. He notes that initially, Akron City Hospital's installation was losing its high-definition signal within the system. Somehow, the image was captured in high-definition but not displayed that way.
However, Tyree cautions that all focus should not be on the set up. How the equipment will be supported after the warranty should also be considered, and he advises biomeds to ask these questions upfront. "We've found the equipment is prone to breakage and expensive to repair, so we've negotiated longer warranties," Tyree says.
Once the equipment is installed, biomeds maintain the first line of defense should it break down. In some instances, the nurses may do some troubleshooting, but the equipment is still under the biomed's purview.
"As they do with all other hospital equipment, biomeds play a key role in providing ongoing quality, compliance, performance, and functionality of equipment; making sure everything is interfaced and working properly; and assuring that if another piece of equipment or software is added, that it doesn't have an impact on anything else and that the hardware is running at 100% optimization," Berkwits says.
Keeping problems to a minimum is a goal of many biomed departments and video management system vendors; few want to have a patient on the table when an issue arises. "Once a patient is on the table, there is no going back. We can't just say, 'Oops, the equipment isn't working. Come back,' " Mariotti says.
Biomeds, therefore, keep an eye on the equipment to make sure that the surgical team is able to keep its figurative eyes on the patient.
More Procedures Drive More Integrated ORs
Like many hospitals, the Summa Health System has been moving toward integrated operating rooms (ORs) in its three hospitals over the past few years as the number of minimally invasive procedures has grown. The Mayo Clinic, Rochester, Minn, lists close to 100 procedures in all disciplines, including cardiovascular, gastroenterology, gynecology, neurology, orthopedic, otorhinolaryngology, and urology. "Minimally invasive surgeries offer better outcomes and shorter stays and may entice people who would otherwise delay a procedure," says Paul White, president and founder of CompView Medical, Beaverton, Ore.
Referring to a 2006 report from iData Research Inc, Vancouver, BC, Canada, Cliff Ratke, CBET, biomedical department director, Redlands Community Hospital, Redlands, Calif, notes that since the year 2000, there has been a concerted effort to increase OR efficiency via the process of OR integration.
"In 2006, the US market for video and high-tech, PACS, and image guided surgery was valued at $2.64 billion," Ratke quotes. "For only the integration component, it is estimated the market for integrated ORs will grow at a compounded annual growth rate of 20.6% from 2003 to 2013."
"Integrating the OR is just another step in the electronic storage and capture of data that has been occurring," says Duane Mariotti, BSEE, clinical systems engineer, clinical technology, Kaiser Permanente, Riverside, Calif, referring to electronic medical records, laboratory information systems, radiology information systems, picture archiving and communication systems, and billing systems. An integrated OR can bring these systems together to put all of the information available on a patient at the surgeon's fingertips during a procedure.
Renee DiIulio is a contributing writer for 24×7. For more information, contact .