Following the philosophy set by the Queen, the biomed department has become a vital resource in the hospital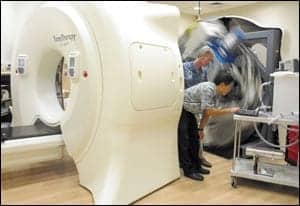 When most people think "Hawaii," they immediately conjure up images of luaus, pineapples, and sunsets. Yet, for more than a million people, the islands are where they play and work.
"A lot of people will say, 'You're working in Hawaii; it mustn't be very hard,' but that's not the case," says Glenn R. Perry, CBET, manager of clinical biomedical engineering. "We do make the best of what we have as far as free time, that's for sure, but in no way does it reduce our efforts for the hospital."
Located in Honolulu on the island of Oahu, The Queen's Medical Center (QMC) is the largest nonprofit hospital in Hawaii as well as the Aloha State's first general hospital. Queen Emma and King Kamehameha IV started the hospital in 1859 to care for the citizens of Hawaii. "The Royal couple personally campaigned door to door to raise funds to create a hospital to treat the people of Hawaii, who suffered from an influx of disease that seriously threatened the Hawaiian race," Perry says.
Today, the facility houses 505 licensed acute care beds, 31 emergency department rooms, and 17 main operating rooms, three of which are dedicated to cardiac care. The 8,325 active medical devices are tended to by 30 members in the clinical biomedical engineering department, which is composed of equipment techs, BMETs, specialists, clinical engineers, and managers—all of whom report to Dennis Burns, the director of facilities and biomedical engineering.
Becoming Self Reliant
Much of Hawaii's appeal is its distance from the "rest of the world." That also poses one of the biggest challenges for biomeds tasked with keeping a major metropolitan health care organization up and running.
"Being in Hawaii, you don't have the same level of local vendor support as you do in the contiguous 48, and that can be a challenge," says David Valentini, manager of communications, biomedical engineering, who has worked at QMC for more than 11 years. "Because of that, we have to be a little bit more self-reliant; as much as possible, we do our own maintenance."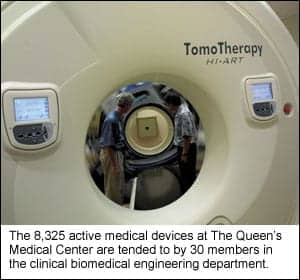 The result is a team of biomeds and clinical engineers with a broad range of experience. Employees come from a variety of backgrounds—military experience from several branches, education from schools across the country, and on-the-job training—all of which enables them to perform most of their own repairs and upkeep.
Taking care of their own is nothing new for QMC. It has, in fact, been a way of life for the hospital since Perry joined the staff more than 20 years ago. At that time, purchase agreements usually included the opportunity for in-house biomeds to receive the same level of training as the vendor's own field representatives.
"We would actually negotiate with them to have them train us as if we were their own employees and to consign us some parts," Perry says. "That would give them their sale and would give us the equipment we needed, while allowing us to be able to take care of it ourselves."
Not only did that enable them to maintain their own equipment, but it also allowed them to assist other medical centers in the community.
"We are not doing it right now, but for many years, we provided service for a number of outside vendors," Perry explains. "I would work both in the hospital and also out in the field, all of which was managed by the larger Queen's Health System."
Today, most major manufacturers have technical representation in Hawaii, but those individuals are often working for seven or eight different companies, which can complicate things for the team at QMC.
"In my area we don't really have any maintenance contracts, so if we do need something that's beyond what we can do, we just go with 'time and materials,' " Valentini says. "Because the local tech help represents many manufacturers, sometimes you have to get on the phone and ratchet it up a few notches to get people to give the problem the attention it deserves. I hate to have to do that, but sometimes it comes to that."
Being so far west has also had an impact on QMC's ability to connect with companies on the mainland during regular business hours. During standard time, Hawaii is 5 hours behind the East Coast.
"If there is something that really needs to get done at the hospital, you have to think ahead. Sometimes you make phone calls from home or catch up on e-mail before or after hours," Perry says. "Our idea is that there really is no compromise and it's not a good enough excuse to say you couldn't reach them. You just have to find a way to do it."
Access to the World Wide Web has made a huge difference not only in being able to communicate with vendors, but also in providing invaluable access to information and training materials.
"There is no lack of available information, especially with Webinars and video-on-demand. Of course, we can also go to manufacturer's Web sites and most of the material is available electronically now, all of which makes a big difference," Valentini says.
In addition to the online education opportunities, biomeds at QMC receive ongoing training—whether on-site or by attending classes out of state—and regularly attend industry meetings and conferences.
Divide and Conquer
Like most biomed departments, the one at QMC has evolved through the years to best meet the needs of its internal customers. Unlike most biomed groups, Queen's department is actually divided into three subsections: clinical, imaging, and communications.
"Initially it was just the biomed shop, but we soon realized the disciplines were changing. For example, it wasn't just the manager who had a computer with everyone else at their desks with tools; we were seeing more and more network connections," Perry says. "The more the shop grew, the more opportunities we had to save the hospital money and provide better service."
One of those sections—communications—is an example of how the position has progressed to include a myriad of responsibilities, many of which fall far outside of the average biomed's purview.
As the telecommunications manager for the hospital, Valentini oversees all telecommunications vehicles, including the telephone switches, the wireless phone system (about 95% of the campus is wired), the nurse call system, the call lights, and the intercom and public address systems.
His team also maintains the fire-management system, which involves everything from alarms to sprinklers. Along with the other biomed managers, he assumed part of the facilities oversight duties when Burns took the helm for that department.
"An example of how we get things done here: I'm also the parking manager for the hospital. Go figure. I'm a biomed manager and a telecom manager, and I'm also the parking manager," Valentini laughs. In the part of town where QMC sits, parking is a hot commodity. "Parking at Queen's is a huge issue, because there is not enough space for employees, so it's managing that, the contracts, and the complaints."
This type of all-hands-on-deck attitude at QMC takes the job description "performs other duties as required" to a new level even when dealing with emergencies, such as after the state's recent earthquake.
"I was lucky enough to have two technicians who were actually scheduled here on that Sunday," Perry recalls. "The first thing they did was to make rounds to verify that the monitoring systems had all seamlessly switched to our backup UPS."
Once those duties were complete, the biomeds jumped in to help with the triage: turning off unnecessary equipment to save power, handing out flashlights, and setting up fans.
Hurricanes are also a constant threat for the islands. In the aftermath of 1992's Hurricane Iniki, people came into QMC to seek shelter—despite the fact that the category 4 storm landed on Kaua'i, not Oahu. Plans are already in place to accommodate this response in the future.
"Because Queen's serves as the only level 2 trauma center in Hawaii and is the main trauma center in the Pacific Basin, we are currently working on a plan to have the whole campus, not just emergency centers, powered up with even larger generators," Perry said.
Doing What it Takes
Going hand-in-hand with the ability to take care of any piece of equipment in the hospital, the state's remote location also demands that the biomedical team be ready—and willing—to tackle anything.
Priority shipping, for example, is taken for granted on the mainland. But for Hawaii, next-day delivery is not next day. With few exceptions, it takes at least 2 days to receive something considered overnight.
"If it is a part we don't have in stock, or something that is really expensive, that's the biggest challenge because it's a matter of ordering and time. You may know what the problem is, but you have no way of getting the part," Perry says. In such cases, the crew at QMC gets creative. "We've had vendors actually put the parts in the cargo hold of a commercial airplane heading for Hawaii. Then we just meet the flight at the airport."
This innovative approach has also produced a group of very self-sufficient biomeds and clinical engineers.
"All of our personnel are motivated and self-directed. People know what they need to do and are empowered to order things, make decisions," Valentini says. "I will delegate assignments to my techs; they take it and run with it. Empowerment is key; it improves morale, and our techs know if they need something we will help them out. They meet us halfway, we meet them halfway—all of the time."
Subscribing to this philosophy has earned the department a reputation as the "go-to" group in the facility. That status grows as the biomed team continues to be active participants in the hospital, often going beyond what is required in their job description.
"We have gotten calls because somebody's old-fashioned adding machine won't work, and we will always send somebody to see if they can get it running again," Valentini says. "The department's motto is, 'We're always here for you'; and people are used to calling us because they know we have some good people."
Perry concurs, saying, "From the very beginning, our philosophy has always been, 'If you are asked anything, help out as best you can.' We firmly believe that we are not just fixers and PMers; we are a resource."
That generous attitude is reflective of the "island spirit" pervasive in the 50th state. It also harkens back to the facility's original purpose.
"The main driving force of the hospital is the Queen's wish. It's in our mission statement, that our service is extended in the spirit of aloha as guided by the vision and ideals of our founders," Perry says. "We are reminded all of the time the reason the hospital was started, and it carries on throughout; there's no question."
Dana Hinesly is a contributing writer for 24×7. For more information, contact us at [email protected].