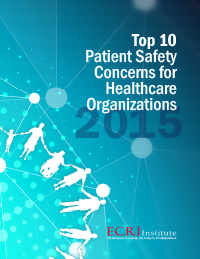 For the second year in a row, ECRI Institute has published its annual list of Top 10 Patient Safety Concerns for Healthcare Organizations to help facilities target their efforts to improve patient care.
"This is more than just a list; it's a reminder that, despite the attention given to patient safety over the last 15 years or so, we can do better," said William Marella, MBA, executive director of operations and analytics, ECRI Institute Patient Safety Organization. "Healthcare providers, regardless of what setting they practice in, can start with our top 10 list of patient safety concerns and use it to guide their own discussions about patient safety and improvement initiatives."
Alarm hazards top ECRI's 2015 list, encompassing alarm fatigue as well as alarms that fail to activate at all due to poor configuration. Data integrity related to health information technology systems, which appeared first on last year's list, remains a key concern. In addition, appropriately managing patient violence has also emerged as a troubling challenge for clinicians, with one ECRI PSO member hospital reporting at least 15 incidents per day.
To arrive at the 2015 list of safety concerns, ECRI Institute Patient Safety Organization reviewed its database of patient safety events, root-cause analyses, and custom research requests submitted over the last year by healthcare organizations and its partner PSOs. The full list for 2015 includes:
Alarm hazards: inadequate alarm configuration policies and practices
Data integrity: incorrect or missing data in EHRs and other health IT systems
Managing patient violence
Mix-up of IV lines leading to misadministration of drugs and solutions
Care coordination events related to medication reconciliation
Failure to conduct independent double checks independently
Opioid-related events
Inadequate reprocessing of endoscopes and surgical instruments
Inadequate patient handoffs related to patient transport
Medication errors related to pounds and kilograms
The complete report may be downloaded from the ECRI website (registration is required).