By Kurt Woock?
Clearly demonstrating why someone should pay for a product is not always easy for marketing professionals. The product might function well, but its attributes might be unfamiliar. The product's attributes might be fine, but they might not be that different from competitors' products. Greg Alkire, vice president of sales and marketing for Pronk Technologies Inc, Sun Valley, Calif, does not come off as if he faces those quandaries often. In his opinion, Pronk's products sell themselves. Pronk's mission is to put customer happiness first. Following that mission, Pronk engineers develop products that are often a fraction of the size and half the price of the closest alternative. With a product line like that behind him, Alkire does not need to do much convincing. That is not to say that Pronk's success is unearned: Its products spend years in development. Instead, the simple but hard-earned recipe for success finds Pronk in a good position for 2013. Alkire shared with 24×7 details about Pronk's strategy of innovation and its new product that could again raise the bar in test equipment.
24×7: How did you get started with Pronk?
Alkire: All of my experience in different disciplines in a manufacturing environment really helped when I joined Pronk, which was just getting off the ground at the time. It was very small—there were only four of us. What was unique about it was that three of us had worked together closely for a long time and were long-time friends. We had deep respect for one another in terms of what we could bring to a new company, and we trusted one another, which is huge.
24×7: What led you to switch to a new, unknown company?
Alkire: It was all about who they were and the product concept they had. Pronk started with one product, called the SimCube. It was so different from anything else on the market. It was a once-in-a-lifetime opportunity. SimCube was an NIBP simulator that was one-tenth the size and half the cost of anything else on the market. It was designed by Karl Ruiter, the president and chief engineer, who had spent 2 decades designing NIBP monitors. He knew a lot about noninvasive blood pressure monitoring. So his design worked really well.
24×7: So, in your own terms, what has Pronk become after nearly a decade in business?
Alkire: Pronk is a company that focuses on making the customer happy by designing products that make their job easier and more efficient. We make products that are portable and easy to use. By thinking about the customer before worrying about the checking account, we've found that the money will come.
24×7: How has the business grown since the launch of that first product?
Alkire: Roughly 3 years after the SimCube, we launched OxSim, a pulse oximeter tester. Like the SimCube, it was one-tenth the size and half the cost of its nearest competitor. That formula is what we're known for. Plus, I don't know of any other company that drop tests their products 50 times before bringing it to market. Part of the reason we do that is when Pronk was new, we had to gain people's confidence that we were making reliable products. I think the idea was, "We need to make this something that biomeds can count on." Think about the biomedical engineers in the field—they deal with broken stuff all the time. So the last thing we wanted to do was to make a simulator that didn't last.
A Quick Take
24×7:
What is your background in the field?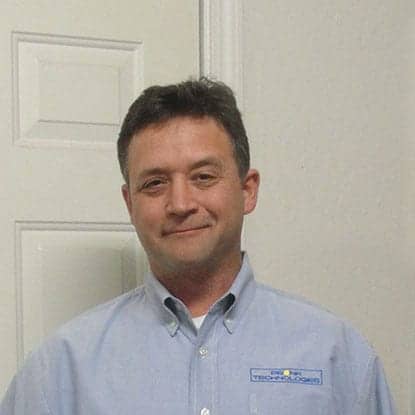 Alkire: I had my formal electronics education in the US Navy as an electronics technician. Soon after leaving the Navy in 1994, I went to work for MDE, a medical device company that made patient monitors. That's where I met most of the people I work with today. I was there for 9 years. I started out as a repair technician. I had eight jobs in 9 years, including director of tech services, technical support, service support, quality assurance, regulatory affairs, operations, sales, and purchasing. That gave me a great background.
24×7: Has your role changed?
Alkire: A little bit. First year I was doing sales. Beginning in the second year, I was tasked with expanding our sales organization and doing marketing. I stay involved in a lot of different aspects of the company because of my past experience, like doing extensive validation testing on products.
24×7: What were Pronk's highlights during 2012?
Alkire: 2012 was an extremely exciting year for us. We've been developing a product for the past 4 years. Like our other products, we were operating under the formula where we miniaturize what was currently available and make it a lot less expensive. We started designing an IV pump analyzer that would be the first palm-sized design—portable, integrated, and half the cost of others. We spent much of that time making it fast, rugged, and reliable, but what we wanted most was to make it accurate to within 1%. We achieved that last year. Called the FlowTrax, it enables our customers to test IV equipment faster and easier than before. They can take it in their car and up to patient floors without lugging a big cart behind them.
24×7: When can customers order FlowTrax?
Alkire: We shipped 40 of them over the last several months to some key accounts in a limited-release production run. We took them to real customers to use in real-life situations and got their feedback, resulting in some changes in the design hardware and software. We've started shipping full production units this month.
24×7: So your customers know FlowTrax is available?
Alkire: In November, we contacted about 200 customers to let them know we were accepting orders, because they had been waiting for a couple years. We wanted to give them first access to the new product. We have a backlog of orders on the books and shipments going out the door right now.
24×7: Making products that are considerably smaller and less expensive: That seems to be the best of both worlds. Often, companies—and customers—are forced to choose one or the other. Can you share an example of how you found an engineering solution to a problem that cut unnecessary size and cost?
Alkire: Our president and chief engineer really thinks outside the box. He comes up with creative solutions to deal with barriers. For example, with the IV pump analyzer, we were able to make it so small by using a single moving pair of optical sensors that race up and down, unlike others on the market that need to have 10 or 20 sensors stacked on top of one another that don't move. By doing that, we could achieve much faster results and make it a lot smaller.
24×7: With the constant push for smaller and more affordable products, how has Pronk changed what the field of test equipment does?
Alkire: The biomedical test equipment market seemed somewhat mature when we came in. The model at that time was a biomed shop with multiple technicians, sharing one set of large, high-priced test equipment. There wasn't a lot of energy going into making analyzers smaller, more state-of-the-art from manufacturers. I think we woke it up with portable, more affordable equipment. Now each of those biomeds could have their own set of equipment for the same total equipment cost; working in parallel, the same team could test more devices faster or more in-depth than before. Customers quickly recognized this was a competitive advantage in their own market of testing and repairing equipment they were responsible for. So we've really shifted, if not changed, the market paradigm.
24×7: Where do you see room for other improvements?
Alkire: We are always looking around at existing products that we think are too large and more expensive than we think they need to be. We also think about when it makes sense to integrate multiple devices, so biomeds can reduce the equipment to carry and minimize the effort to maintain all those separate tools. The SimCube, for example, was an NIBP simulator plus a multiparameter simulator, which is often a second device a biomed has to carry, plus a digital manometer, which could have been a third device to carry.
With the FlowTrax, we've done something similar. It's an IV pump analyzer, but it's also a full-feature pressure meter that measures both vacuum and positive pressure all the way to 75 PSI (and measures temperature). Nobody has ever done that in an IV pump analyzer that I'm aware of. Even small details count. It also has a digital stopwatch, which biomeds need to carry. So with our products, you have fewer devices, smaller devices, and less to calibrate. That's our company philosophy coming through.
24×7: So in the end, what sets Pronk apart?
Alkire: We really, truly think about the customer first. In designing our products, we focus on smaller, easier-to-use tools. After the sale, we make sure that our customers get all the support they want and need, and in a timely manner. We don't nickel-and-dime our customers by charging for service or accessories we think should be core to the product. We care about quality, and we care about being able to respond to customers when their needs change or if the market changes around them. To illustrate this, we shipped hundreds and hundreds of SimCubes out, and after 4 years we still hadn't felt the need to charge customers for a single warranty repair. This experience led us to create a standard 4-year warranty for all of our products. We're very concerned about the customer being happy first, and our customers have responded in a way that shows they appreciate that—which sustains our business. We're thankful for that. 24×7 February 2013 Industry Insider
Kurt Woock is the associate editor of 24×7. Contact him at