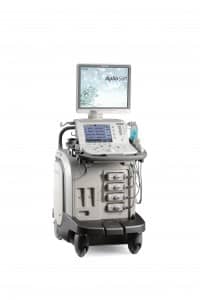 Toshiba America Medical Systems is showcasing its upgraded Aplio 500 Platinum series ultrasound system at this week's American Institute of Ultrasound in Medicine conference in New York. The upgraded system, now equipped with Toshiba's Innovation 2016 tool, features 3D Superb Micro-Vascular Imaging (SMI) and 3D Shear Wave technologies.
Toshiba's SMI technology provides enhanced visualization of low-velocity flow, which enables clinicians to see smaller vessels in and around areas like tumors and lymph nodes in all three dimensions. 3D SMI also improves the anatomical visualization of certain microvascular structures without the need for more invasive modalities.
Finally, 3D Shear Wave offers improved visualization of tissue stiffness of the liver in three dimensions, helping with the visualization of hard lesions. Additionally, the propagation mode supports ease of use of the shear wave mapping for repetitive scans.
Maria Piazza, director of Toshiba's ultrasound business unit, says the upgraded Aplio 500 Platinum system provides customers with a safer, less-invasive ultrasound option. "Toshiba understands that incorporating technologies to make ultrasound more patient-friendly and improve workflow gives our customers a worry-free experience so they can focus on delivering what matters most: patient care," she says.
For more information about the system, visit Toshiba America Medical Systems.