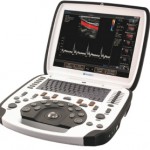 The uSmart 3300 Ultrasound System, announced last week by manufacturer Terason, is the second in the company's line of portable ultrasound products. The device features the company's Smart Resolution Imaging, which combines  CDP beam former technology and IIR signal processing to heighten the clarity and definition of the resulting image.
The unit features a high-contrast LCD with a170-degree viewing angle, as well as the company's "smart console design," in which a durable, impact-resistant design is coupled with ergonomic soft-key positioning and toggle buttons intended to reduce keystrokes and increase productivity and efficiency.
Read more about the uSmart 3300 on 24×7's Ultrasound Community.