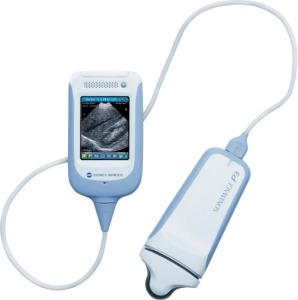 Konica Minolta Medical Imaging has donated a Sonimage P3 handheld ultrasound device to Covenant Community Care, a faith-based, nonprofit community health center that operates six clinics throughout Detroit. According to an announcement, the group plans to put the equipment to use providing diagnostic imaging and prenatal care for patients who lack insurance and would otherwise be unable to afford an ultrasound.
According to the announcement, three out of every five children in Detroit live in poverty, and the infant mortality rate there is two and one half times of the national rate—at 15 per 1,000 live births. Nearly 6 of 10 infants that die in Detroit did not receive adequate prenatal care, reports Konica Minolta.
The Sonimage P3 is a portable ultrasound machine that gives clinicians the ability to help patients in a variety of settings, at the point of care. Because it has a relatively small footprint and weighs less than a pound, this handheld device can help accelerate and improve interventions and decision making time, according to the company. Intuitively designed like a smartphone, the Sonimage P3 equips users with a noninvasive tool that allows them real-time access to information for improved patient care.
For more information about the Sonimage P3, visit the Konica Minolta Medical Imaging website.