Toshiba Corp is presenting its healthcare solutions for the first time at the HIMSS Annual Conference and Exhibition underway in Chicago, April 12-16, 2015. The 2015 gathering marks the first year that the company is exhibiting under the Toshiba corporate umbrella, Toshiba says, reinforcing its position in the healthcare industry. The company will showcase how Toshiba technology can provide solutions for every point in the healthcare continuum—from admission to discharge, follow-up, home monitoring, and ongoing wellness.
"HIMSS, known to be a hub for healthcare IT leaders, is the ideal venue to share how Toshiba can address this group's biggest concerns, including patient engagement, enterprise integrated architecture, and healthcare mobility," said Satoshi Tsunakawa, president and CEO of the Toshiba Corp.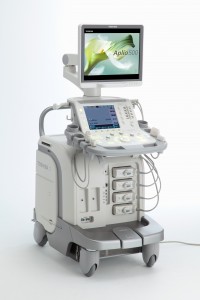 The company is debuting its latest portfolio of image-management strategies and imaging-centric business intelligence products and services. It is also previewing activity monitoring sensors, which draw from Toshiba's experience in its semiconductor business. According to the company, the integrated, customizable solutions on display can help create efficiencies leading to better care and lower costs.
The company's portfolio includes medical imaging equipment such as the Aquilion CT family, the Vantage Titan and Elan MR systems, the Aplio 500 Platinum ultrasound system, and the Radrex x-ray system, which will be exhibited virtually. Also on display are multifunction products that enable physicians, nurses, and other authorized users to share data and streamline processes across the healthcare enterprise and support the implementation of electronic health record (EHR) systems.
For more information, visit the Toshiba website or the company's HIMSS booth (#6439).