Sotera Wireless has announced that it has collected more than 1 million hours of patient vital signs data, thereby achieving the most comprehensive data set compiled from a wearable monitor for medical-surgical hospital patients.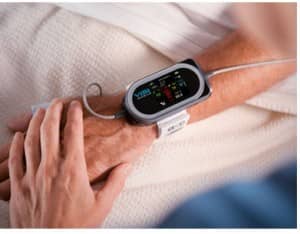 The de-identified vital sign data was collected from more than 35,000 patients monitored by the company's ViSi mobile system and stored in a cloud-computing database. According to Sotera, the information has already been used to improved alarm management in hospitals and promises to render additional patient care benefits in the future.
The data reportedly encompasses a range of digitized information collected by the ViSi mobile system, including raw waveforms, derived data such as heart rate, respiration rate, pulse rate, SpO2, blood pressure and temperature, and detail on alarms that have occurred. Sotera says that using this data to construct retrospective simulations is could help optimize processes, patient assessment, and outcome prediction.
The ViSi mobile system is a wearable platform that continuously monitors all patient vital signs and wirelessly communicates data to clinicians. System alerts can be programmed to notify clinicians of fluctuations that signal any deterioration in a patient's health. This use of surveillance monitoring is designed to enable a successful response to rescue situations and prevent adverse events.
In a study published last year in The Journal of Clinical Monitoring and Computing, Sotera validated its approach to data collection against two previously published datasets. The new study demonstrated how the collected data drove the development of powerful analytical tools used to support evidence-based alarm management.
For more information, visit the Sotera Wireless website.